Strawberry Cantaloupe Sorbet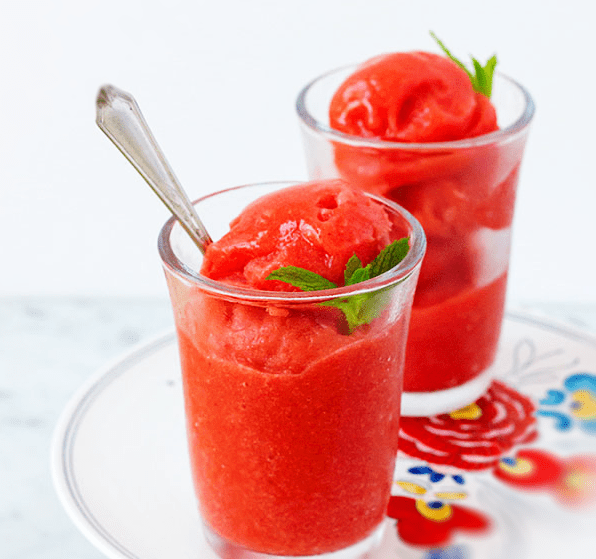 The real surprise in making this sorbet is how insanely amazing strawberries and cantaloupe taste together. The combination is almost watermelon-like, yet on a whole other level.
By Brittany Everett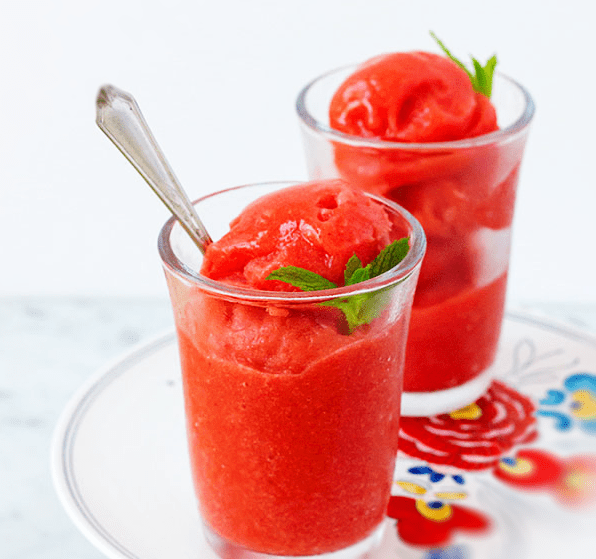 The secret to the wallop of flavor this sorbet is packing: a sneaky simple syrup. It has just a hint of lemon and mint – not enough to overpower the fruits, but enough to make them sort of dance around excitedly in your mouth.

Strawberry Cantaloupe Sorbet
The real surprise in making this sorbet is how insanely amazing strawberries and cantaloupe taste together. The combination is almost watermelon-like, yet on a whole other level.
Author:
Brittany Everett, adapted from Garrett McCord, via Simply Recipes
Ingredients
Simple Syrup
⅔ cup granulated sugar
½ cup water
1 teaspoon lemon zest
⅓ cup mint leaves, packed
Sorbet
3 cups strawberries, hulled, large ones cut in half
2 cups diced cantaloupe (about 1" dice)
1 tablespoon lemon juice
1 tablespoon vodka (optional - keeps the sorbet from freezing completely)
pinch of kosher salt
Instructions
Make the simple syrup: combine all ingredients except mint leaves in a small pot. Cook over medium heat until the sugar has dissolved and the mixture is simmering, remove from heat. Add the mint leaves and stir. Let the syrup sit for 10 or 15 minutes to steep. Strain out the mint leaves and lemon zest.
In a blender, combine the strained syrup with the remaining sorbet ingredients. Process until thoroughly pureed. Pour the mixture into a bowl, cover and refrigerate for at least a couple hours, until very cold. Churn according to your ice cream maker's instructions.
Brittany Everett
A graphic designer by day, Brittany enjoys cooking, eating, photographing and discussing food with every other waking moment. She created Kitchenette, a food blog dedicated to making delicious comfort foods from scratch and with love.