Olive Oil Gelato with Rosemary and Strawberry Jam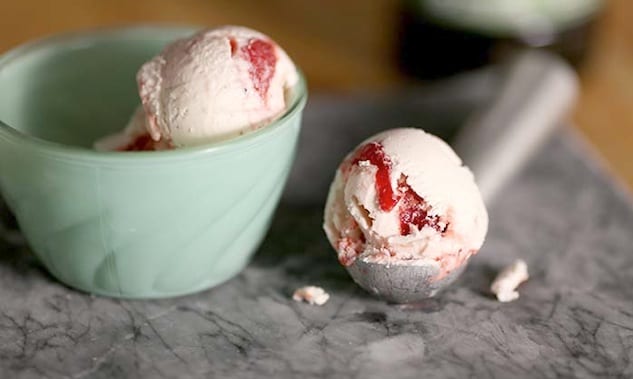 Deep-red strawberry jam is folded into a mascarpone and olive oil gelato. Steeped in rosemary for that added touch of sophisticated flavor, this gelato is a summer treat.
By Debra Smith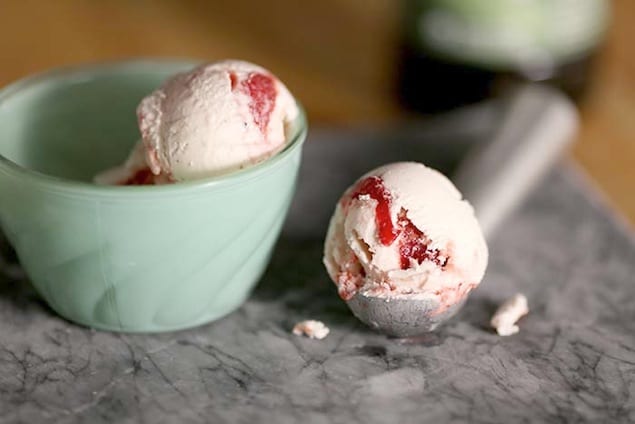 We combined our favorite olive oil gelato recipe with the in season, deep red, sun-kissed strawberries. It is heaven.

Olive Oil Gelato with Rosemary and Strawberry Jam
Deep-red strawberry jam is folded into a mascarpone and olive oil gelato. Steeped in rosemary for that added touch of sophisticated flavor, this gelato is a summer treat. Gelato base Slightly Adapted from Jeni's
Ingredients
2 cups whole milk
1-½ tbsp tapioca starch
3 Tablespoons softened mascarpone
⅛ tsp sea salt
⅔ cup sugar
2 Tablespoons corn syrup
1 teaspoon rosemary, finely chopped
1 cup heavy cream
¼ cup olive oil
4 Tablespoons strawberry jam
Instructions
In a small bowl, mix tapioca starch with 2 Tablespoons milk until dissolved and set aside
In a medium bowl, stir together mascarpone cheese, salt, cream and olive oil until smooth; set aside
Fill a large glass bowl with water and ice for the ice bath; set aside
Combine the remaining milk, sugar, corn syrup and rosemary in a large saucepan; bring to a boil over medium-high heat and cook for 4 minutes. Remove from heat and slowly whisk in tapioca starch mixture. Return to medium high heat and cook, stirring, until slightly thickened, about 1 minute; remove from heat
Place the saucepan into the ice bath and gradually whisk the mascarpone mixture into the hot milk mixture until smooth and cooled
Once cooled, pour into a gelato maker (or frozen ice cream maker canister) and process until thick and creamy
Alternate layers of ice cream and strawberry jam into a chilled storage container and freeze until firm, at least 4 hours or overnight
Remove from freezer 10 minutes before serving to soften slightly
See Also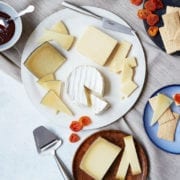 Debra Smith
Debra and 'The Professor', Midwest-based husband and wife freelance videographers, photographers, writers, storytellers, and publishers of the Smith Bites. Using images, words, music and video, they connect the stories about food, friends and family to the world around them.