Strawberry Limoncello Charlotte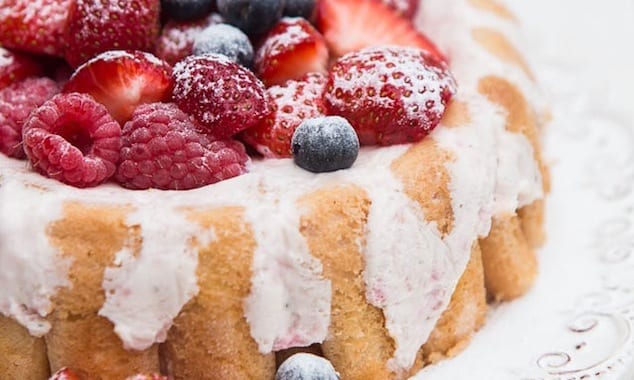 Delicate ladyfingers soak up the summery limoncello and strawberry liquid. The ring of soaked cake surrounds a rich strawberry mascarpone mousse.
By Simone Van Den Berg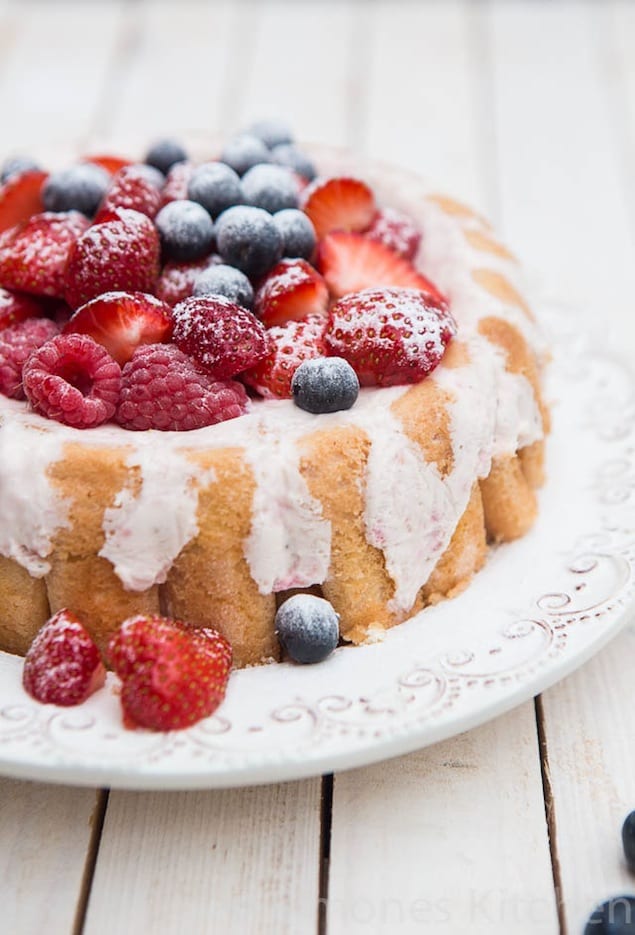 The base of this recipe comes from the book Desserts by Janneke Philippi, but the end result has very different flavors. It wasn't a complete succes but it was absolutely delicious!
Our charlotte has limoncello and strawberry juice to tip the lady fingers and strawberry mousse to put into the creamcheese.

Strawberry Limoncello Charlotte
Delicate ladyfingers soak up the summery limoncello and strawberry liquid. The ring of soaked cake surrounds a rich strawberry mascarpone mousse.
Author:
Simone Van Den Berg
Ingredients
150 ml strawberry juice
6 tbsp limoncello
200 gr ladyfingers (approximately, depending on your form)
2 (or 3) gelatin leaves
150 ml Strawberry mousseaardbeienpuree
3 tbsp of sugar
375 gr mascarpone
150 ml double cream
1 package of vanilla sugar (= about 8 gr)
150 gr strawberries, raspberries and blueberries
icing sugar for dusting
charlotte mould or springform of about 20 cm
clingfilm
Instructions
Prepare your mould by putting in clingfilm in it. Make a mixture of 3 tablespoons of limoncello with the strawberry juice and put this into a shallow bowl so you can dip the ladyfingers in it.
Dip the ladyfingers in the mixture with the sugarside one by one into it and put them against the outside of your mould. Keep doing that until the ring is complete.
Soak the gelatin leaves for about 5 minutes in a bowl with cold water
Put the strawberry mousse into a small saucepan and heat this gently with the sugar. Stir until the sugar is dissolved and it is warm enough to add the gelatin leaves. Stir until dissolved.
Whisk the mascarpone together with the double cream to a firm mass. Add the strawberry puree and the remaining 3 tablespoons of limoncello and stir it all through.
Pour the mixture into your mould and cover with ladyfingers (which are again dipped into the strawberry juice mix)
Your ladyfingers that you placed against the wall of your mould will likely be too long. We broke them of at the right length after it had been in the fridge but you can choose to do that now. Put the charlotte into the fridge for at least 4 hours or better yet, the entire night.
As soon as it is set properly put a plate on top of the mould and turn it upside down together. Remove the mould and the clingfilm. Garnish the charlotte with strawberries, raspberries and blueberries and dust with icing sugar
Simone Van Den Berg
Simone van den Berg is a Netherlands based freelance food photographer and food blogger. She has a passion for cooking, food and travel, which she shares on her blog Simone's Kitchen and of course right here on Honest Cooking.