Dessert Cheese Plate with Cinnamon Plum Jam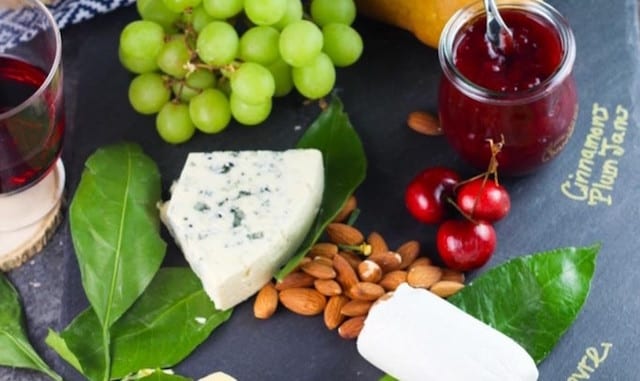 PARTNER POST – Be inspired to create beautiful cheese boards with Castello cheese. And what goes better with cheese than wine? Enter to win a trip for two to Napa, California.
Easily create an impressive dessert cheese plate in just a few simple steps, wine included. Plus, make a tasty addition of tart cinnamon plum jam.
By Erin Rebecca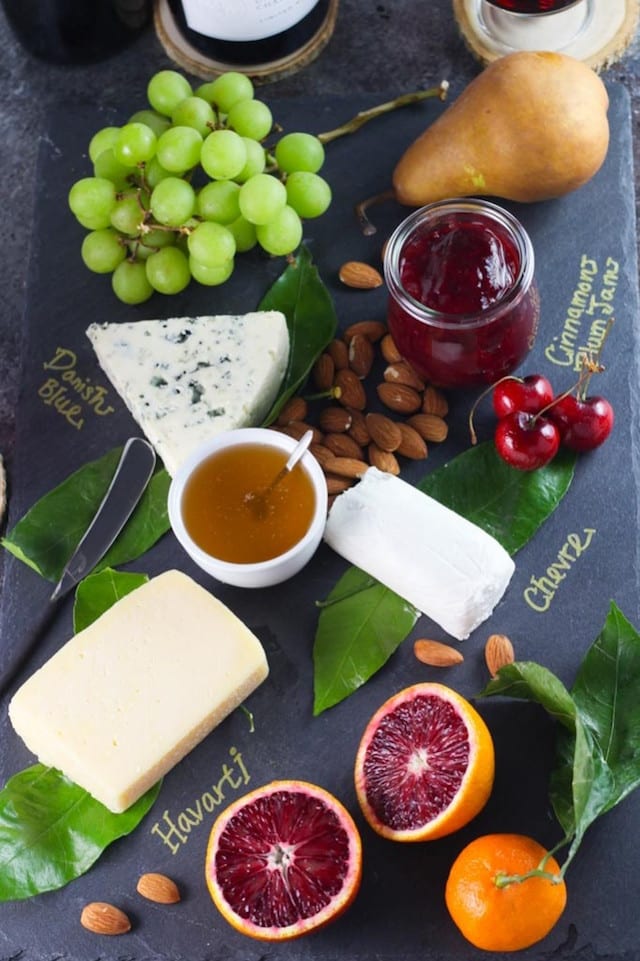 It's always nice to have a impressive cheese platter to serve when you may have company coming over. I created this "gold themed" board to serve during this year's award season. Honey, almonds, and a golden pear lend themselves to the theme, and perfect with Castello cheeses.
You can make these platters as casual or elegant as you'd like. Plus, you can vary the cheeses and condiments to suit your personal tastes, or color theme. Use grapes, lavender, and plums to create a purple platter, swap in strawberries, jam and cherries for a Valentine's day red-hued dish, or go all green with pistachios, green grapes and green apple. The possibilities are endless AND it's easy to do in just four simple steps!
First, choose your cheeses:
I like to choose a maximum of three cheeses, each of a different milk variety, country of origin, style or age.
Examples include:
A sheep's milk, goat's milk, and cow's milk cheese.
Italian Mozzarella di Bufala, Provolone and Asiago.
A hard cheese, a soft cheese, and a semi-soft cheese.
A young cheese, a moderately aged cheese, and a well aged cheese.
Remember that just about any fine cheese can be turned into a dessert course. Even stinky cheeses work well if you pair them with some sweeter elements.
Be sure to allow the cheeses to come to room temperature before serving. This allows the flavors to really blossom and show their true potential. I like to remove them from the refrigerator 30-60 minutes before serving.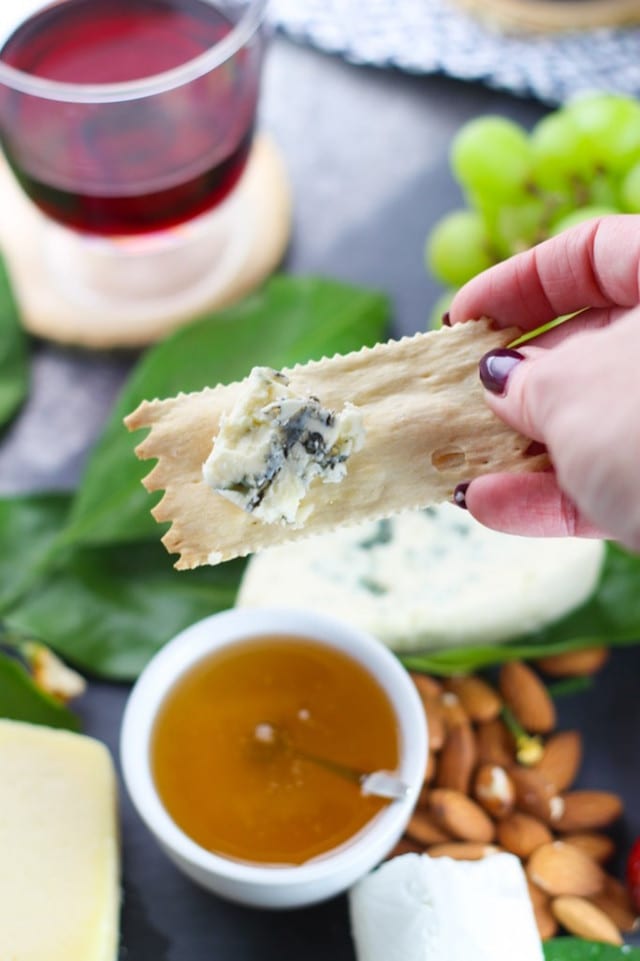 Second, choose your serving platter:
I like to use a slab of slate or a flat wooden board, being sure that it is large enough to hold the cheeses without crowding them. Arrange the cheeses with the cut sides facing out, and with a small cheese knife for each variety. I also like to label the cheeses so that guests know what they're snacking on. These pens are great for writing on slate, ceramic or glass platters. Alternatively, you can use these cheese labels to label the varieties.
To finish the platter, I like to add some greenery. Here, I used orange leaves. You can also check with your florist about other green leaf varieties that may work, or search in your garden. Just be sure that the leaves aren't poisonous and free of pesticides. Fresh herbs work nicely as well.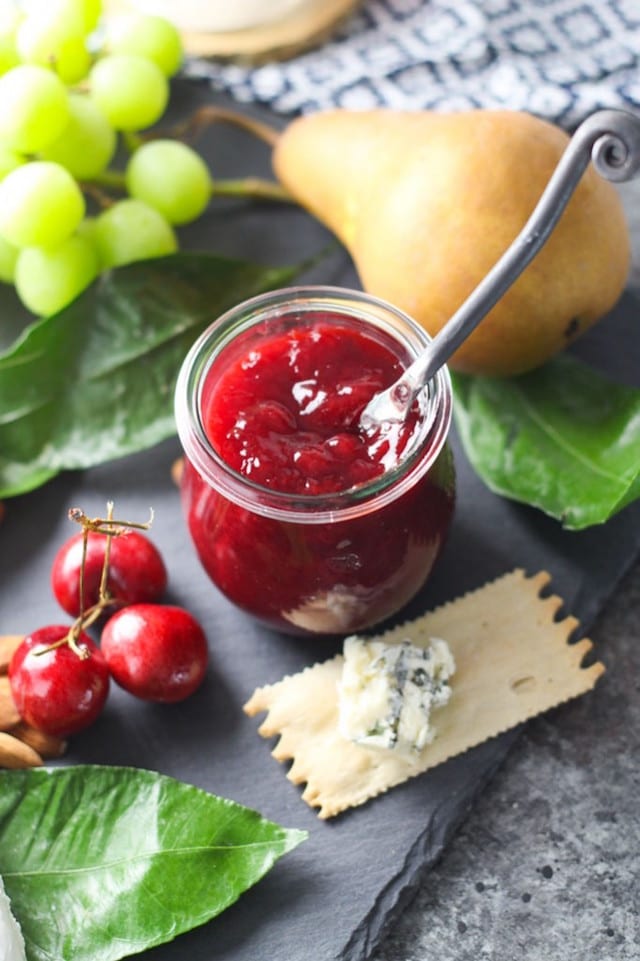 Third, choose your accompaniments:
Fruit: Try fresh figs, grapes, pears, apples, and stone fruits like cherries, plums and apricots. Dried fruits also work well.
Nuts: Marcona almonds, hazelnuts, and toasted pecans help to highlight the sweet and nutty qualities in cheese.
Honey: Its sweetness can turn just about any cheese into dessert. It's exceptionally tasty with blue cheese. You can serve different varieties of honey, just like the cheeses. Try a clover honey, a blackberry honey, and a wildflower honey.
Jam: Apricot, raspberry and cherry jam are great choices. I served a Tart Plum & Cinnamon Jam alongside my cheeses (recipe below).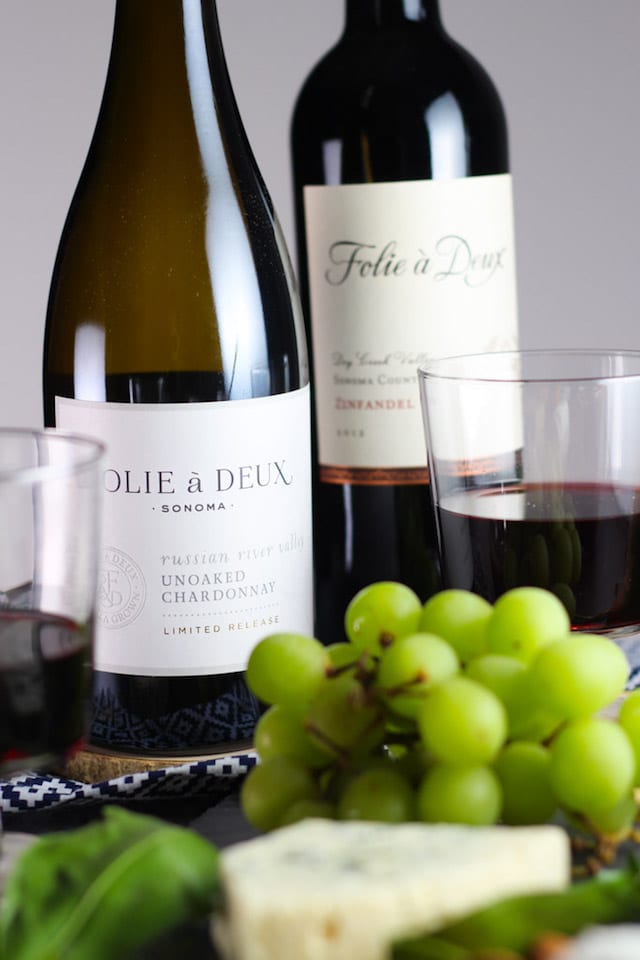 See Also

Fourth, don't forget the wine:
Different wines compliment different cheeses.
Light Cheeses (i.e. goat cheese, feta, young cheddar) go with an unoaked or lightly oaked white wine such as Pinot Gris, Chardonnay, Riesling, Sauvignon Blanc, or Chenin Blanc, or a light-bodied red wine, such as Pinot Noir.
Semi-Hard Cheeses (i.e. manchego, gouda, parmesan) can stand up to bigger-style red wines such as Merlot, Tempranillo, Zinfandel.
Pungent Cheeses (i.e. blue cheese, stilton, gorgonzola) pair nicely with sweet, dessert wines like Port, Sweet Riesling, Ice Wine, and Sherry.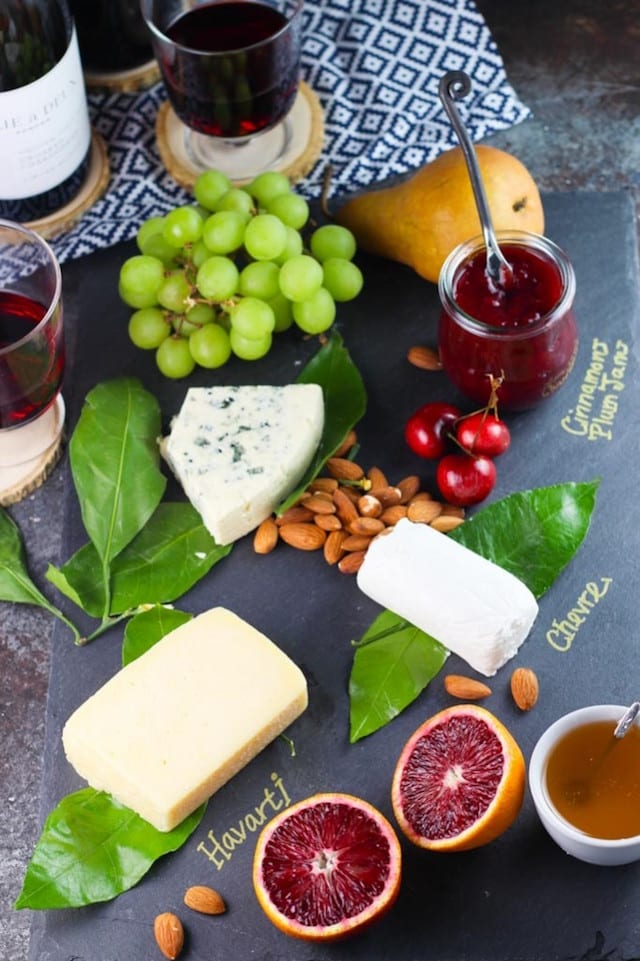 Can't go wrong wine option:
If you'd like to select just a couple wines that go with a variety of cheeses, choose a light-bodied Pinot Noir as your red wine, and either a Riesling or unoaked Chardonnay as your white wine. I chose a Folie à Deux unoaked chardonnay, and it paired nicely with all three of the cheeses (blue cheese, havarti, chevre) on my platter.
Don't forget to enter into Castello's sweepstakes! You could win a trip for two to Napa, California!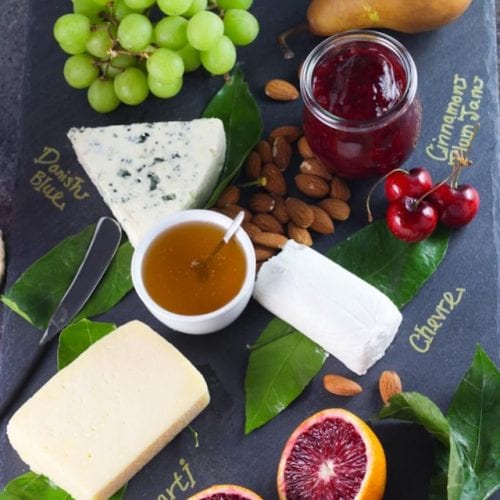 Cinnamon Plum Jam
Erin Rebecca
Easily create an impressive dessert cheese plate in just a few simple steps, wine included. Plus, make a tasty addition of tart cinnamon plum jam
Ingredients
1

pound

plums

pitted and coarsely chopped

1

lemon

zested and juiced

¼

cup

honey

1

cinnamon stick

½

cup

water
Instructions
Add plums, honey, cinnamon stick, water, zest and lemon juice to a medium sauce pan. Bring to a simmer over medium heat.

Reduce heat to low and let simmer for 30 minutes, stirring occasionally, until thickened. Transfer to jars and let thicken at room temperature for an hour. Remove the cinnamon stick and refrigerate until ready to use.
Notes
NOTE: The jam will keep for up to a month in the fridge.
Erin Rebecca
I'm Erin - a self-taught weeknight cook. I occasionally like to delve into the more complicated recipes, like homemade pasta, Cioppino, and boeuf bourguignon. But for the most part, I work full-time, come home, pour a glass of vino and start cooking away.