There are those moments we just give in, indulge, and never say a thing. This recipe also has a little secret of its own, and between you and this cake, no one will ever know…
By Chelsia Rief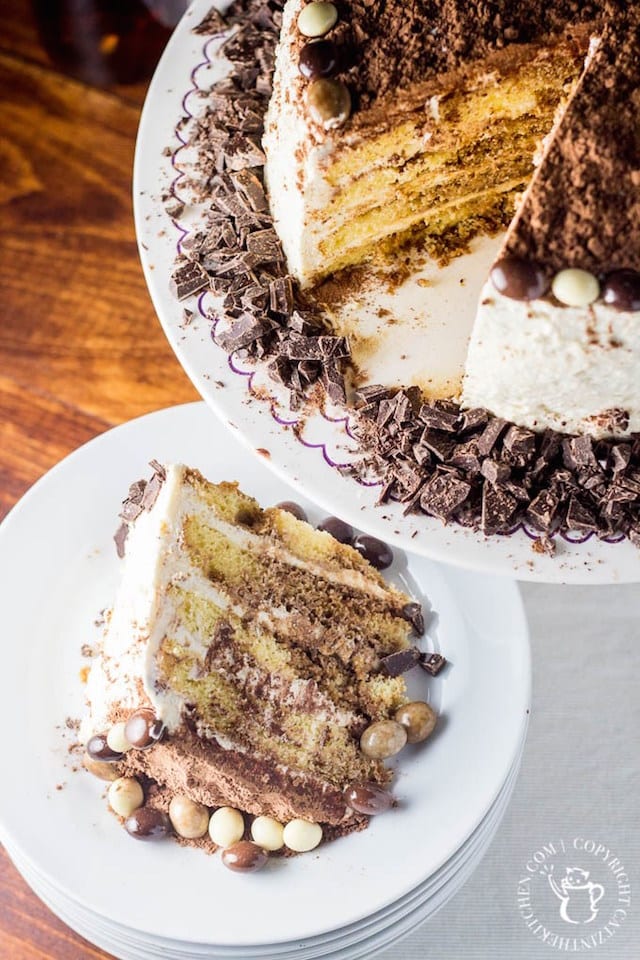 I've met very few people who don't like tiramisu. After all, what's not to like? Espresso, mascarpone cheese, cocoa…the list of ingredients involved in the preparation of this delectable Italian treat is borderline dreamlike. I'm not a big fan of overly sweet desserts, and one of the things I've always loved about tiramisu is that while it's creamy and indulgent and wonderful…it's not terribly sweet.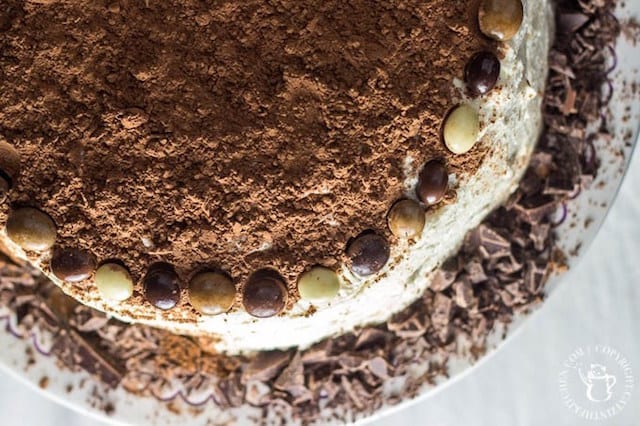 This particular take on tiramisu, in addition to being in cake form, incorporates a bit of cognac (very little, but it really adds to the flavor), dark chocolate, and chocolate-covered espresso beans! So, just to recap, we're at:
Espresso.
Mascarpone cheese.
Cocoa.
Dark chocolate.
Cognac.
Chocolate-covered espresso beans.
I mean…what is even happening there. How is it possible that this many amazing ingredients can be part of the same recipe? Shouldn't the time-space continuum collapse on itself or something? Cliffs should be falling into the sea with fireworks in the background while the aurora borealis fills the sky.
Or something to that effect.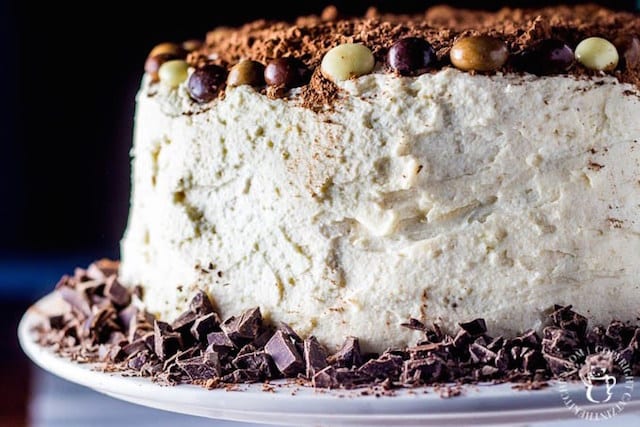 So, now that we've established the reasons why this is something you would want to put into your mouth, let's talk about the recipe. When you're eating it, it tastes like a masterpiece. Like something only an accomplished baking professional could conceive of, let alone execute. And yet I, while I am many things, am most certainly not anything remotely resembling an accomplished baking professional. Not even an unaccomplished baking professional. Truthfully, I don't bake. You know that top part of the oven? The part with the burners and the open flame? That's my territory. The bottom part, with the door and the racks and the timers and other frightening apparatuses (you'd think it would be apparati, but it's not – I checked)? I don't really know what's going on there.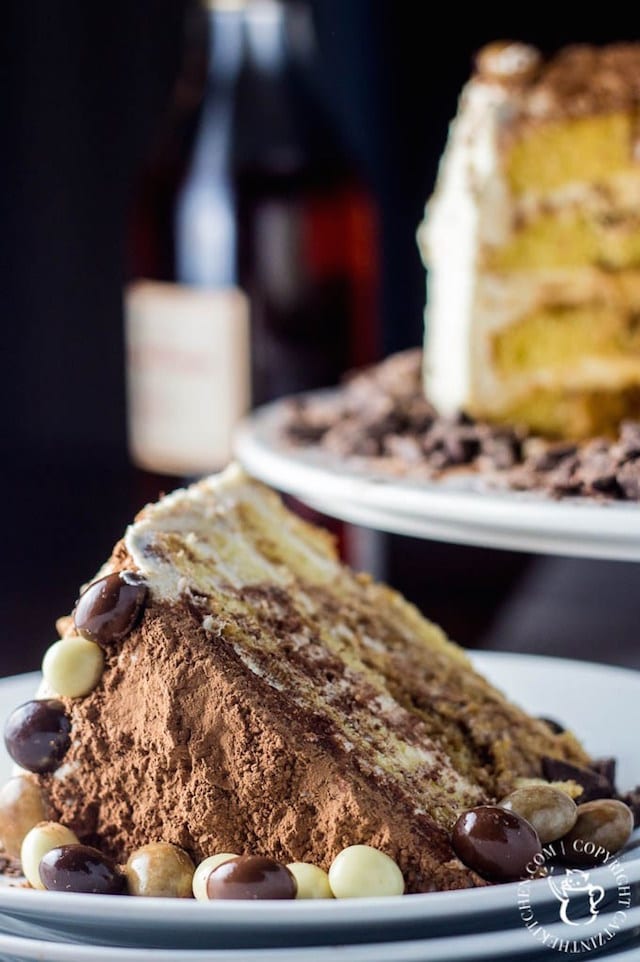 Luckily for all involved, and maybe for you, too, the base for this gourmet-seeming culinary delight is a simple yellow cake mix from a box! That's right – even I can't mess that up. The reality is that boxed yellow cake mix is just yummy. It's moist and spongy and wonderful, especially when topped with chocolate frosting. Even at this point, when Chels and I cook virtually all of our meals from scratch, I can't bring myself to turn my nose up at a boxed yellow cake mix. It's just too good.
So…can you handle a boxed cake mix? Good. Then you can handle this recipe.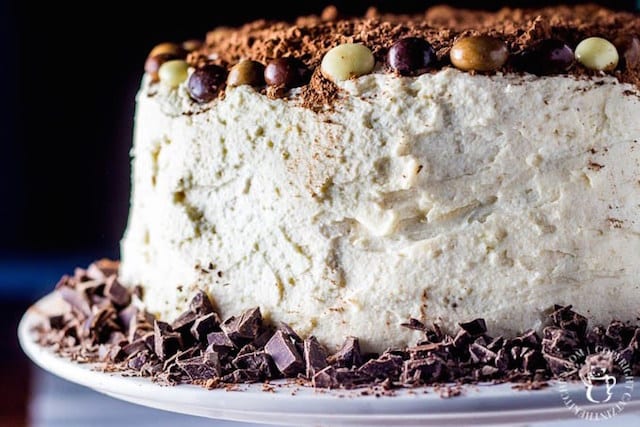 The frosting is rather wonderful, but it, too, is easy. It's a mixture of mascarpone cheese (yum!), powdered sugar, unsweetened homemade whipped cream, and just a bit of cognac. Not too sweet, but just the right amount of amazing. And that boxed yellow cake? Yeah, you've basically soaked it in a mixture of espresso, cognac, and powdered sugar.
If you're salivating a bit at this point, that's okay – I was (am), too.
Make it for a holiday get-together, a birthday, Valentine's Day, or just because. The point is…make it. You know you want to.
Print

Tiramisu Cake with Chocolate Dipped Espresso Beans
---
Author:

Chelsia Rief

Yield:

1

2

1

x
Cake base
1

recipe of your favorite yellow cake
Moistening syrup
¾ cup

hot brewed espresso

2 tbsp

cognac

2 tbsp

powdered sugar
Frosting & Filling
3 cups

mascarpone cheese

1½ cups

powdered sugar

2 tbsp

cognac

3 tsp

vanilla extract

1 cup

heavy whipping cream
Topping & Garnish (optional)
2 tbsp

unsweetened cocoa (we use Hershey's!)
About

40

Chocolate-covered espresso beans

4 oz

dark baking chocolate (60% cacao or higher – we use Ghirardelli!)
---
Instructions
Preheat oven to 325 degrees. Line the bottoms of two non-stick 9 inch cake pans with parchment paper, and grease the parchment and sides of the pans with shortening.
Prepare cake mix per box directions and divide evenly between the two pans.
Bake for 25 minutes, or until a toothpick or knife stuck in the center comes out clean. Remove from oven and cool in pans for 10 minutes. Run a knife around the edge of each pan and carefully remove the cakes and transfer them to a cooling rack. Cool completely.
Mix ingredients for moistening syrup in a small bowl, and set aside to cool.
Using a stand mixer if possible, beat mascarpone cheese, powdered sugar, cognac, and vanilla extract in a large bowl on medium speed until completely smooth.
In another large bowl, beat heavy cream on high until stiff peaks form. Fold into mascarpone mixture gently, until completely combined.
Carefully cut each cake in two horizontally. Place one of the layers on a platter or plate and moisten generously with one fourth of the moistening syrup. Spread 1 cup of frosting/filling mixture evenly across the layer. Repeat for remaining three layers, and then coat the sides of the cake completely.
If desired, finish by sprinkling cocoa on top of the cake, arranging espresso beans on top, and chopping baking chocolate and spreading it around the base of the cake.
Refrigerate for at least three hours before serving – overnight if possible.

Chelsia Rief
Hi, I'm Chels! You'll find me in the kitchen most days – either that or the desk around the corner from the kitchen. No doubt about it – the kitchen is the center of my little household. I believe cooking together and eating together helps keep us together!