A grilled fingerling potato salad with a mustard dressing is not your traditional potato salad. Take it all out to the grill for a perfect summer side.
By Marcie Bidou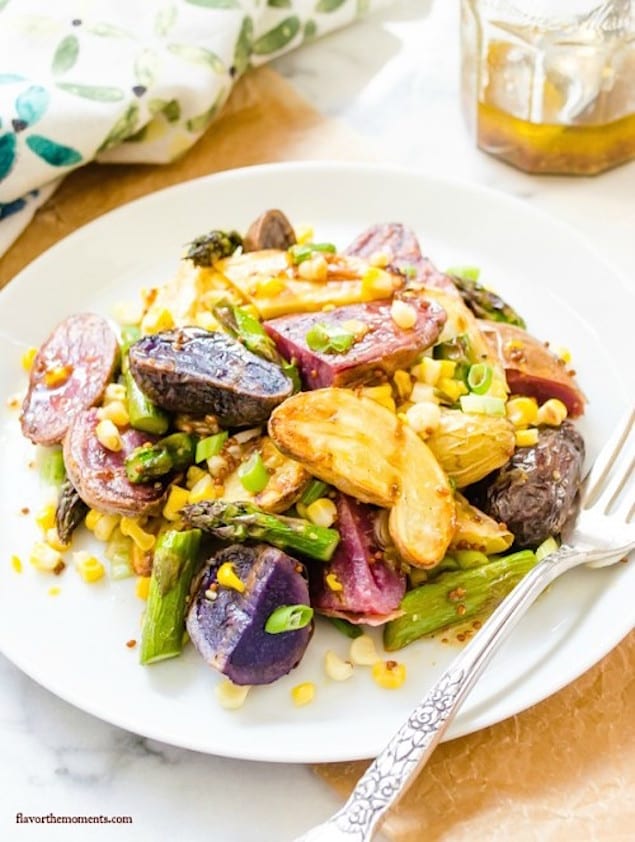 I've served this potato salad to a number of family members on different occasions, and every time, the reviews were great.
I love grilling my side dishes all summer, which has included potato salad ever since I discovered how great sweet potatoes were on the grill. I figured if I love sweet potatoes grilled, my favorite tri-colored fingerling potatoes would be incredible, too. Tell you what, smoky potato salad is where it's at.
Fingerlings are great on the grill because they're all fairly small. Halve them lengthwise and toss them up in olive oil, salt, and pepper, and grill them for about 15-20 minutes depending on thickness. Those gorgeous grill marks make the salad even more appetizing than your average old potato salad. Then when you add gorgeous grilled produce like asparagus and corn, things can only get better.
See Also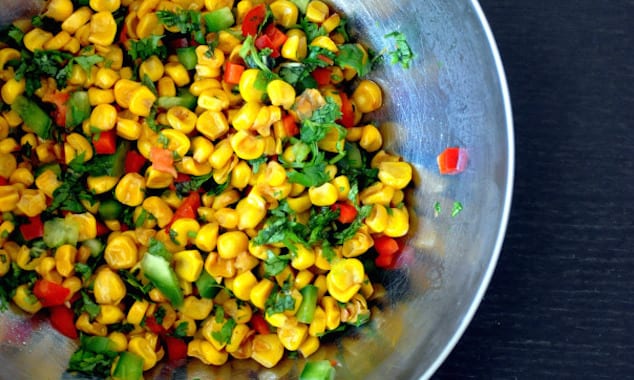 What makes this potato salad really lively, however, is the big, bold flavor of the whole grain mustard vinaigrette. This is same vinaigrette I used for my Grilled Salmon Nicoise Salad, and I can't seem to get enough of it. The vinaigrette is toned down with maple syrup, which is the perfect combination with the mustard.
If you don't have asparagus or corn, use what you've got. Think bacon, chopped hard boiled egg, and any fresh herbs you have….the list goes on. This salad is fully customizable for any meal, and is guaranteed to give regular potato salad a run for its money and then some.

Grilled Potato and Vegetable Salad with Mustard Vinaigrette
A grilled fingerling potato salad with a mustard dressing is not your traditional potato salad. Take it all out to the grill for a perfect summer side.
Ingredients
For the dressing:
1½ tablespoons white balsamic vinegar (red wine may also be substituted)
1 tablespoon whole grain mustard
1 tablespoon pure maple syrup
¼ cup extra virgin olive oil
salt and pepper, to taste
For the potato salad:
2 tablespoons extra virgin olive oil, divided
1 lb. fingerling potatoes, halved lengthwise
4 asparagus stalks, tough bottom stems removed
1 ear of corn, husk and silk removed*
3 green onions, chopped (both white and green parts)
2 tablespoons chopped fresh basil
Instructions
Prepare the dressing:
Place the vinegar, mustard, maple syrup, salt, and pepper, to taste, in a small bowl. Add the olive oil in a slow steady stream while whisking constantly. Taste and adjust the seasoning as necessary and set aside.
Prepare the salad:
Preheat the grill to medium. Toss the fingerling potatoes and asparagus in the olive oil and season with salt and pepper.
Place the fingerling potatoes on the grill cut side down. Cook for 10 minutes or until nicely charred, then turn. Cook another 5-10 minutes, or until softened. The skin will begin to wrinkle when they're done. Remove from heat and place in a large bowl.
Place the ear of corn on the grill. Grill for about 15-20 minutes, turning about every 4-5 minutes, or until nicely charred. Remove from heat and let stand until cool enough to handle.
Place the corn on a cutting board and place on it's side. Using a sharp knife, cut the kernels from the top down on one side, then turn and continue removing the kernels until all of them have been removed. Add the corn to the potatoes.
Place the asparagus on the grill in an even layer and grill for 6 minutes, turning halfway through. When cool enough to handle, slice on the bias in 1" pieces and place in the bowl with the potatoes and corn.
Place the green onions and chopped basil in the bowl with the potato mixture, and toss with enough of the vinaigrette to coat. Serve warm and enjoy!
Notes
Frozen or canned corn may be used as a time saver. Simply heat according to package instructions.
Potato salad can be customized with whatever you have on hand. Crumbled bacon and chopped hard boiled egg are great alternatives as well!
Dressing may be made in advance and stored in the fridge in an air tight container.
Marcie Bidou
I'm a wife, mother, and food blogger, residing in the San Francisco Bay Area. I graduated from culinary school in March 2014, and I'm a food blogger at flavorthemoments.com, where I publish a combination of my own recipes and adaptions of others. My style of food is fresh, seasonal, and always homemade.