Death by Chocolate: Full Day Menu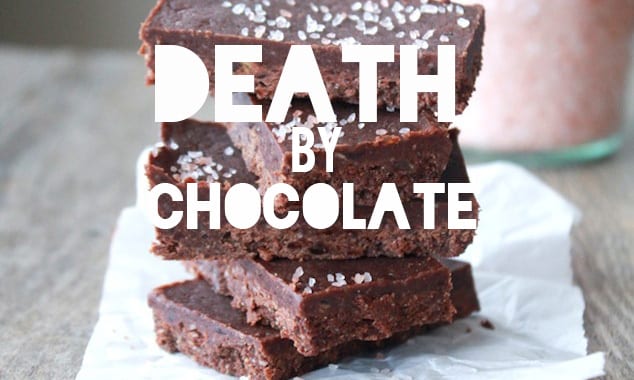 For a day complete with cocoa beans, here is a decadent menu to get you from breakfast to dinner, if you make it that long, with chocolate making an appearance in every bite. It is delicious, but also potentially deadly. Proceed at your own risk.
By Annelise McAuliffe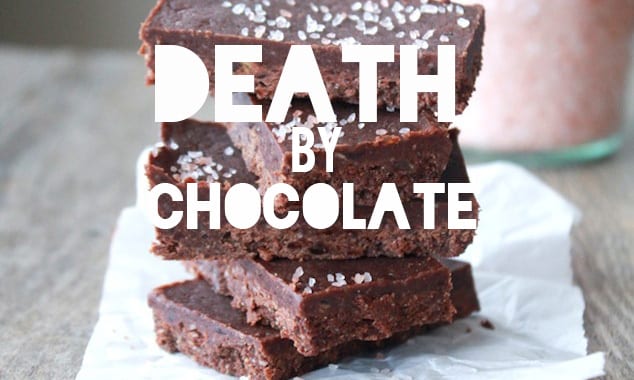 Dark chocolate, cocoa powder, rich browns, and bittersweet undertones, they are all for the chocolate lovers of the world. If you are gonna go, it might as well be with a tummy full of chocolate. For a day complete with cocoa beans, here is a decadent menu to get you from breakfast to dinner, if you make it that long, with chocolate making an appearance in every bite. It is delicious, but also potentially deadly. Proceed at your own risk.

Double Chocolate Chip Waffles
For an indulgent start to your day, besides melting some cocoa into your morning cup of joe, try these rich chocolate waffle studded with more chocolate chips. Rather than sticking to maple syrup, get creative with your toppings. Dare we say chocolate syrup? Get the recipe here.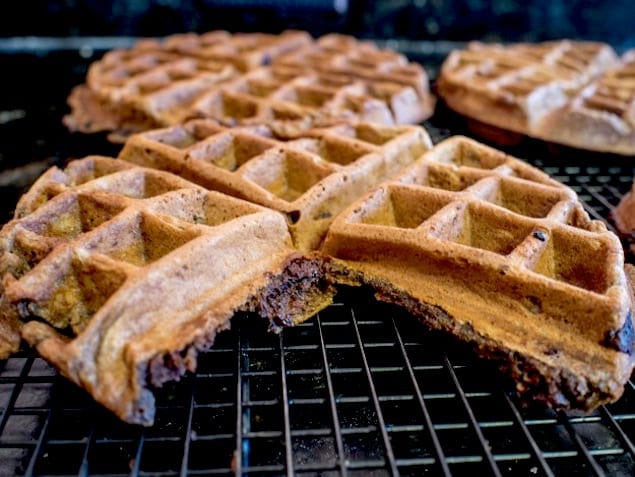 Almond Butter Cocoa Nib Smoothie
Cocoa doesn't always have to be in a sugary candy form. To begin your day of after a work out, this smoothie is like a peanut butter cup, only way better for you. Get the recipe here.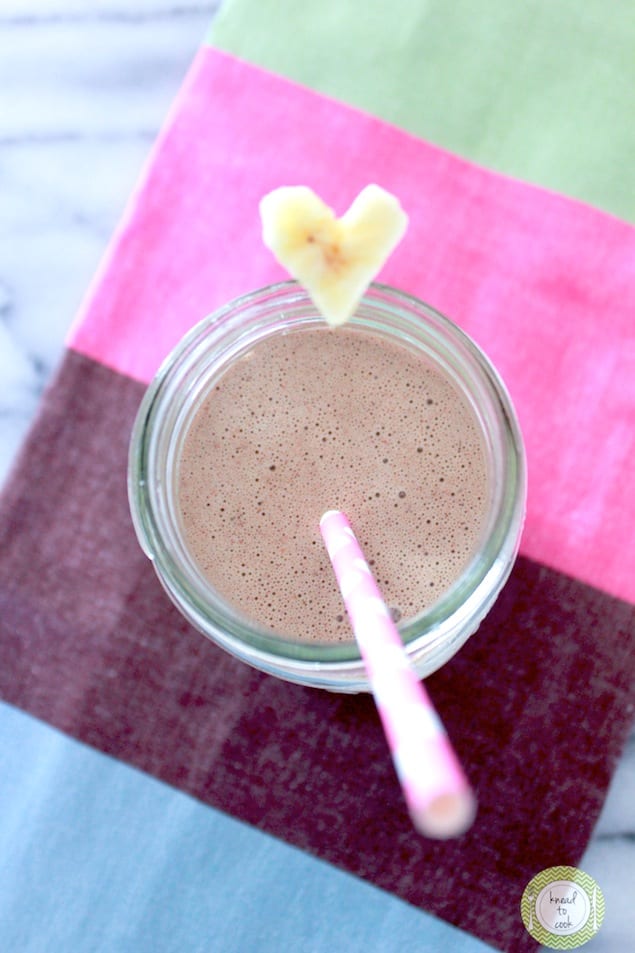 Gluten-Free Banana Oatmeal Bars
Vegan chocolate banana bars are made with ground gluten-free oats. With added protein and no refined sugars, you will feel great about the melty chocolate squares. Get the recipe here.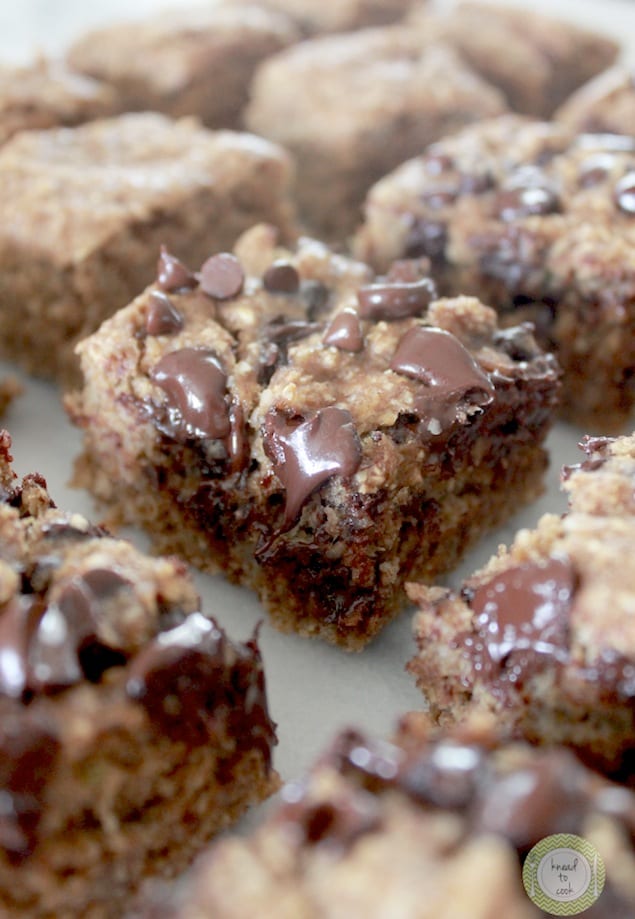 Double Chocolate Oatmeal
Flax meal, egg whites, and cinnamon are whisked into a quick cocoa sauce and stirred into cooked oats. Add dark chocolate chunks and coconut to complete the rich flavor. Get the recipe here.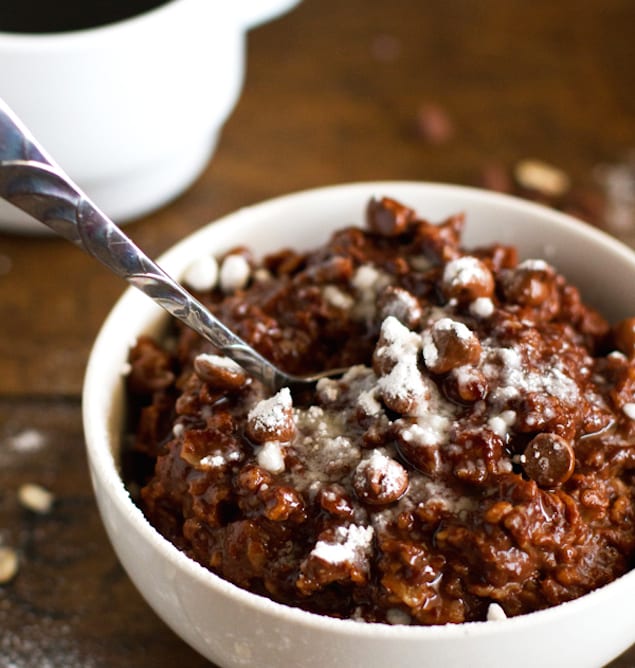 http://pinchofyum.com

Pear Salad with Chocolate Vinaigrette
Add a new level to plain balsamic dressing with a touch of melted milk chocolate. Use over spinach and fruit salads. Get the recipe here.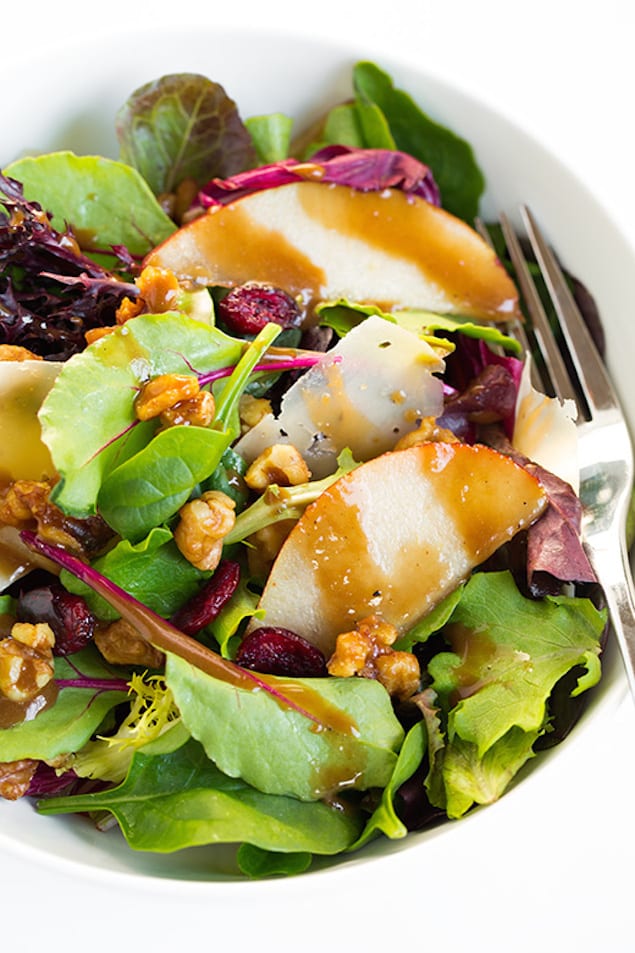 www.cookingclassy.com
Chocolate Dipped Orange Segments with Chili-Salt
Get you fruit fix at lunch with gourmet oranges. Juicy orange segments are dipped in dark chocolate, then sprinkled with a mixture of salt and chili for the perfect combination of sweet, salty, and spicy. Get the recipe here.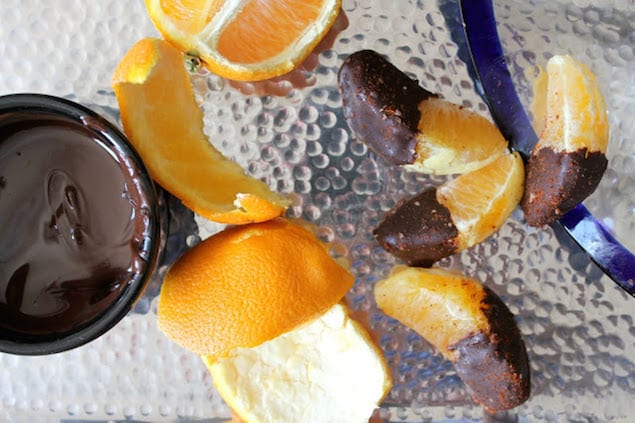 Black Bean Chocolate Chili
Smokey and spicy chipotles, chilies, and bitter chocolate makes this a bowl full of savory goodness. Top with sweet coconut flakes and chocolate chips to add a sweet element to the chili. Get the recipe here.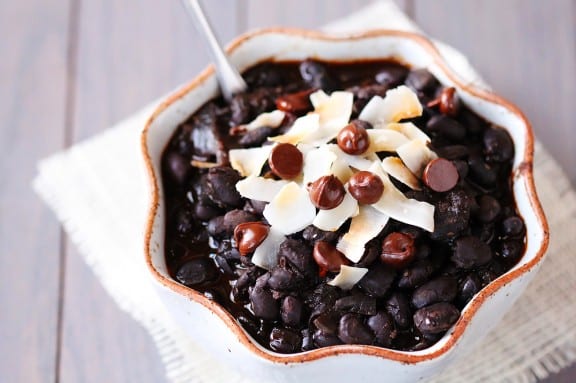 http://www.gimmesomeoven.com
Eggplant Caponata
Serve on top of a sliced baguette for an open-faced sandwich. The chocolate comes into this dish at the very end, when shavings are stirred in to the mix to sinfully melt in with the rest of the flavors. Get the recipe here.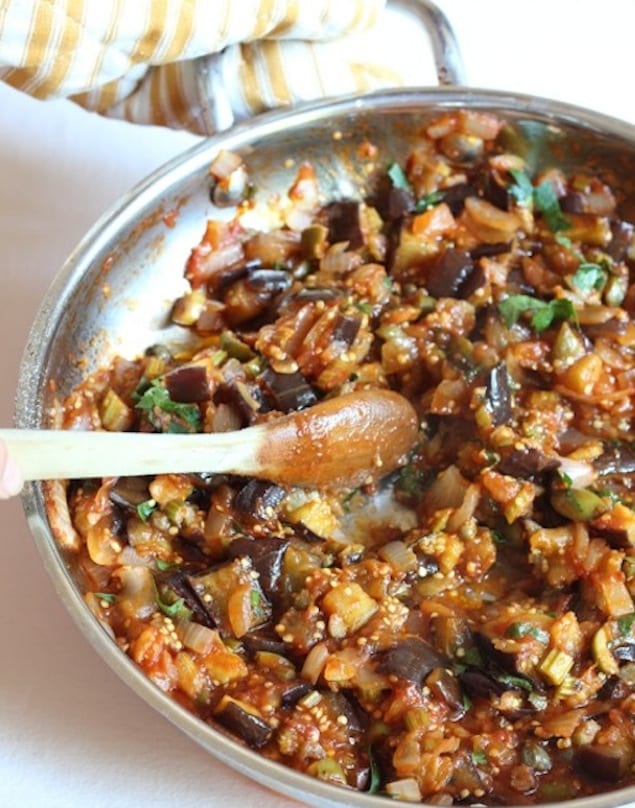 theitaliandishblog.com

Chocolate Stout and Coffee Rubbed Rib Eye
Create an earthy rub just like a traveling cowboy would have. Chocolate in this recipe comes in beer form. The recipe only used one cup, so you'll have to drink the rest. Get the recipe here.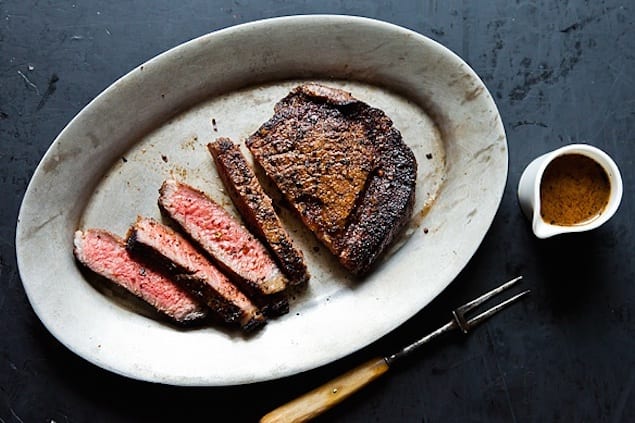 Photo by James Ransom
Chicken Wings in Chocolate Mole Sauce
This mole incorporates peanut butter and unsweetened cocoa powder for a rich, and full-flavored dish. Get the recipe here.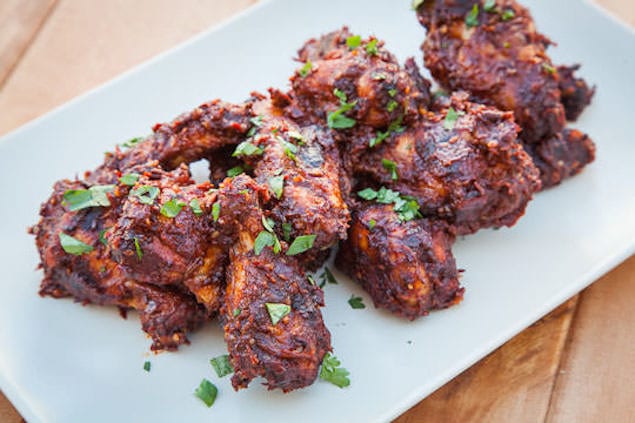 www.eatthelove.com
Chocolate Truffle Tagliatelle
Complete with cocoa nibs, this creamy pasta is a chocoholics dream come true. Add nuts and fresh herbs for crunch and a bit of brightness in the rich dish. It may be more labor intensive to make your own pasta, but it is totally worth it. Get the recipe here.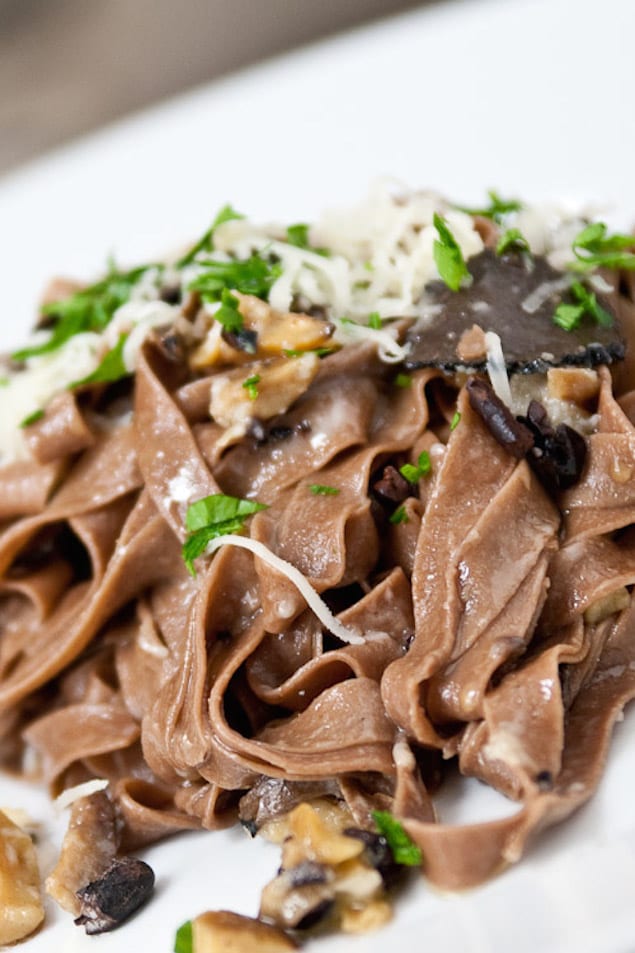 http://norecipes.com

Himalayan Sea Salt Brownies
On to dessert and the category that chocolate has been stereotyped in. These brownies are gluten free, vegan, and too good to be true and you don't even have to turn on the oven to get your chocolate fix. Get the recipe here.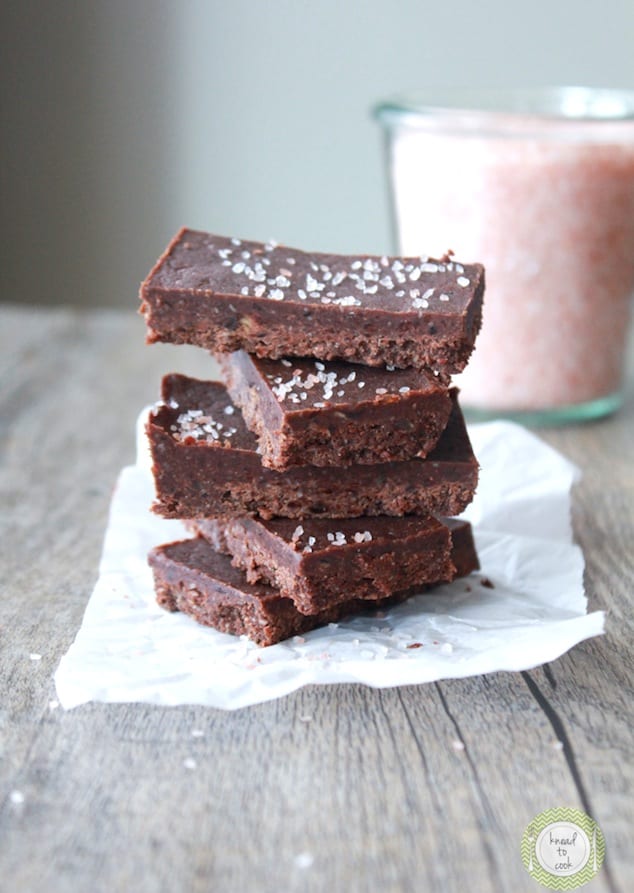 Red Wine Chocolate Truffles
Have your wine and chocolate, but this time all in one bite and maybe a glass of wine on the side still, too. These simple dark chocolate truffles are rich, classic, and all to easy to pop in your mouth. Let them melt on your tongue and enjoy the lingering bitterness. Get the recipe here.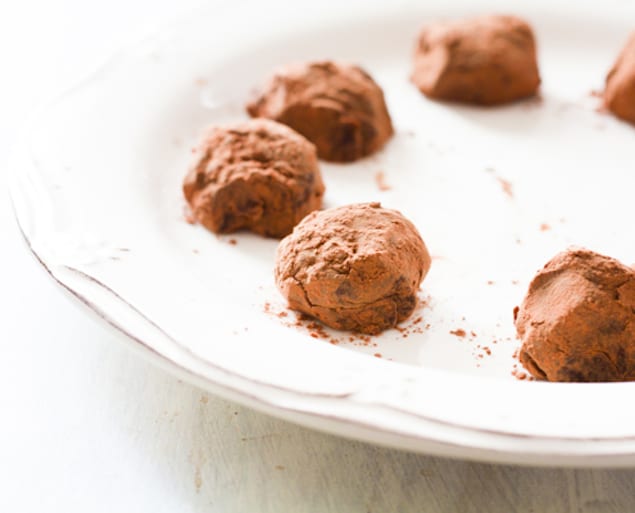 Fig and Chocolate Gelato
Last, but certainly not least, is a delicious, frozen dessert to refresh your senses. The base recipe for this gelato is inspired by Pellegrino Artusi's century-old Italian recipe for gelato di cioccolata. This is an ice cream to keep you up at night. Get the recipe here.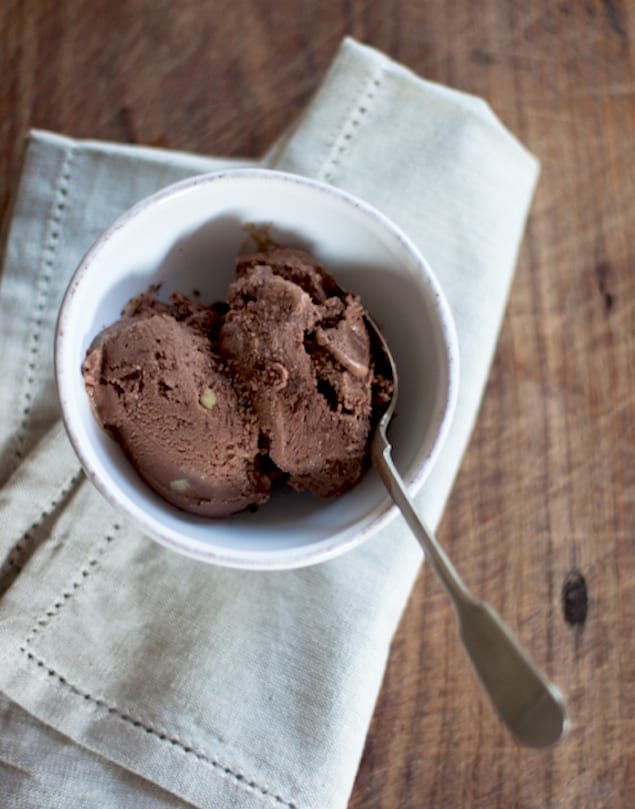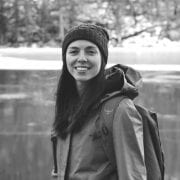 Annelise McAuliffe
Mandatory family outings to the Detroit farmers' market and nightly home-cooked meals cultivated Annelise's respect and curiosity for food. A graduate of The Culinary Institute of America, she spends her free time in New York City recipe testing, eating breakfast all day, and dreaming up international culinary adventures.