Heirloom Tomato and Herb Eggplant Spaghetti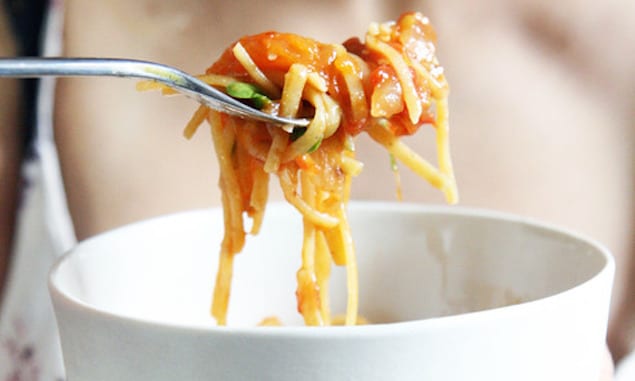 This marinara sauce is light and refreshing, hearty with umami, spiked with arugula micro greens. The marinara sauce is sweet, delicate, yet robust and satisfying. When paired with perfectly cooked spaghetti and crispy eggplant everything seems to fall into place, everything seems to make sense. This is why good things take time, and can't be rushed.
By Mariela Alvarez Toro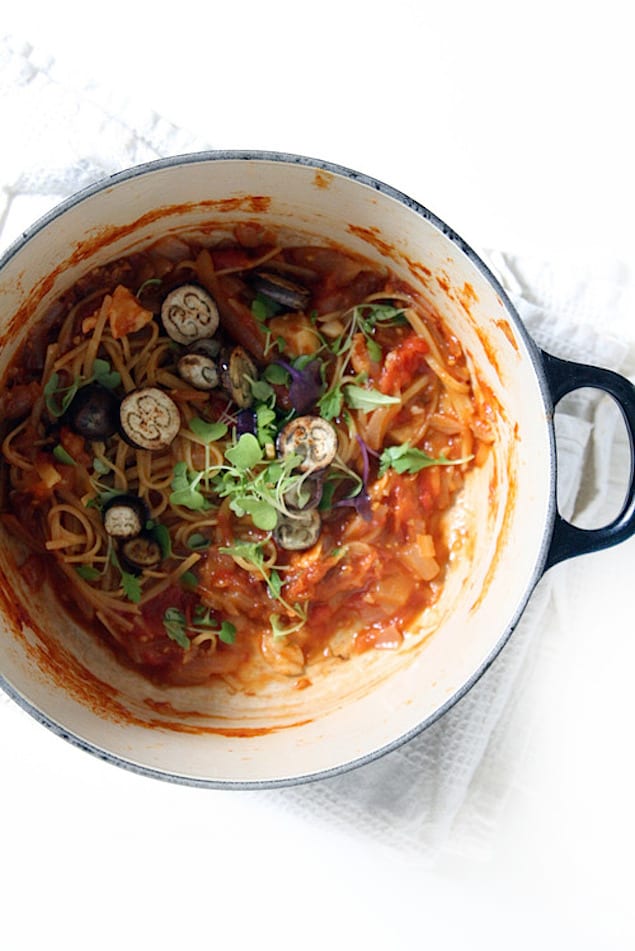 New York minutes are like springs. They stretch far enough only to collapse with full force into themselves. The pace of life is fast, and it is difficult to slow down, even after returning home from a long day. You walk out the door and boom! You heart starts beating with that of the City's, your feet moving with everybody else's. We are constantly moving and stopping feels like a luxury left behind wherever we came from. Us New Yorkers, we deal with it. We scream. We curse. We hustle. Sure, we take breaks but these escapes usually happen in in unexpected places (cramped yoga studio, back of a cab, an empty subway car, anyone?). My escape? You know it involves a knife and a cutting board, a pot, slowly simmering over a burner, transforming amazing ingredients into meals I can share with others.
While minutes seem short outside my kitchen, the few ones I spend in there are precious, and I try to stretch them just far enough for them to collapse as soon as I step out.
With an over abundance of sweet heirloom tomatoes on the kitchen counter, I found myself indulging in a slow, full hour plus of cooking, without rushing over the onions caramelizing fast enough, or the wine evaporating too slow for everything to be ready in time. I let the ingredients cook slowly, as if transported to a different place where thing don't need to be done by yesterday. The outcome: sweet, sweet perfection!
This marinara sauce is light and refreshing, hearty with umami, spiked with arugula micro greens. This marinara sauce is sweet, delicate, yet robust and satisfying. When paired with perfectly cooked spaghetti and crispy eggplant everything seems to fall into place, everything seems to make sense. This is why good things take time, and can't be rushed.
This recipe requires time; an abundance of time in Manhattan minutes. But these few extra minutes are delightful and worth the investment. Even magic happens.

Heirloom Tomato and Herb Eggplant Spaghetti
A marinara sauce that is light and refreshing, hearty with umami, spiked with arugula micro greens. Pair with perfectly cooked spaghetti and crispy eggplant.
Author:
Mariela Alvarez Toro
Ingredients
½ pound heirloom tomatoes (about 20 Roma tomatoes)
2 tbsp. olive oil
½ large onion, chopped
6 cloves garlic
½ tsp. chili flakes
couple sprigs of basil, 7-8 leaves
¼ cup dry white wine
4 oz. dry spaghetti, GF or regular pasta
6 fairy tale eggplants or alternatively ½ small eggplant
1 tbsp. olive oil
Handful of herbs, such as parsley, or micro greens (arugula works best!)
Olive oil for plating
Instructions
Wash and pat dry tomatoes. Using a pairing knife, make a superficial 1-inch cross cut at the bottom of each tomato. Set aside. Prepare an ice bath by placing several ice cubes in a large bowl with 4-5 cups of cold water. Set aside. Place a large pot with 4-5 cups of water over high heat. Bring water to a simmer. Drop half of the tomatoes into the water. Cook for 30-60 seconds, skin should be slightly wrinkly. Remove tomatoes and drop into water bath. Repeat with remaining tomatoes. After four to five minutes in ice water, drain tomatoes and peel skin off pulp. Place pulp in a bowl and using your fingers, crush lightly.
In a large pot, preferably a dutch oven if you have one, place 2 tablespoons of olive oil over medium heat. Add chopped onion and a hefty pinch of salt. Cook for seven to ten minutes. Add peeled garlic cloves and chili flakes. Stir and cook for a minute. Add crushed tomato pulp into pot with onions and garlic. Add wine and basil. Stir. Reduce heat to the lowest and cook for 40 to 45 minutes, stirring occasionally. If sauce becomes dehydrated, add wine, or alternatively, water, about a half cup at a time as necessary
When the Marinara is fifteen minutes to being ready, place water in a large pot. Bring to a boil. Add a bit of oil, about a tablespoon, and a pinch of salt. Add pasta and cook for 8 minutes, or until al dente (soft with a bite!). Drain, keeping about ½ cup of the cooking water.
As the pasta water starts to cook, simultaneously, start cooking the eggplant. Place a tablespoon of olive oil in a skillet. Heat until smoking. Place eggplant that has been cut into cubes, or ½ inch disks if using fairy tale eggplants. Cook 4-5 minutes on each side until golden, crispy, soft. Remove from heat when ready and set aside.
When pasta is ready, transfer into pot with marinara sauce. Stir in ½ cup of pasta water and stir. Add eggplant. Stir. When ready to serve, add microgreens, and a drizzle of olive oil.
Devour while hot.
Mariela Alvarez Toro
Recently graduated with from Harvard University's Graduate School of Design. She has recently completed "People in Food-Space", an ethnographic study on the cultural production of taste in space. She has also examined post-soviet food production systems and housing projects in Havana, Cuba. Originally from Puerto Rico, Mariela has been living in the United States for eight years. She has involved herself in both teaching and practice, while writing on food at tastyplan.com. Her goal as a food writer is to cook creatively, using the best ingredients to find new flavor combinations every day.