Chocolate Chunk Ice Cream Made with Roasted Bananas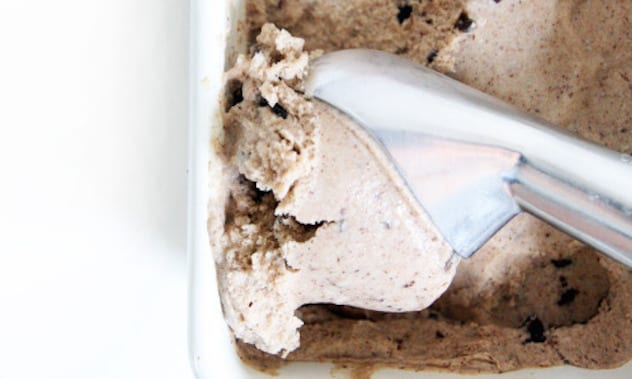 Rich roasted bananas make every bite of this ice cream a perfect combination of sweet, salty, creamy, and crunchy. It is made with coconut milk for a delicious, dairy-free finish.
By Mariela Alvarez Toro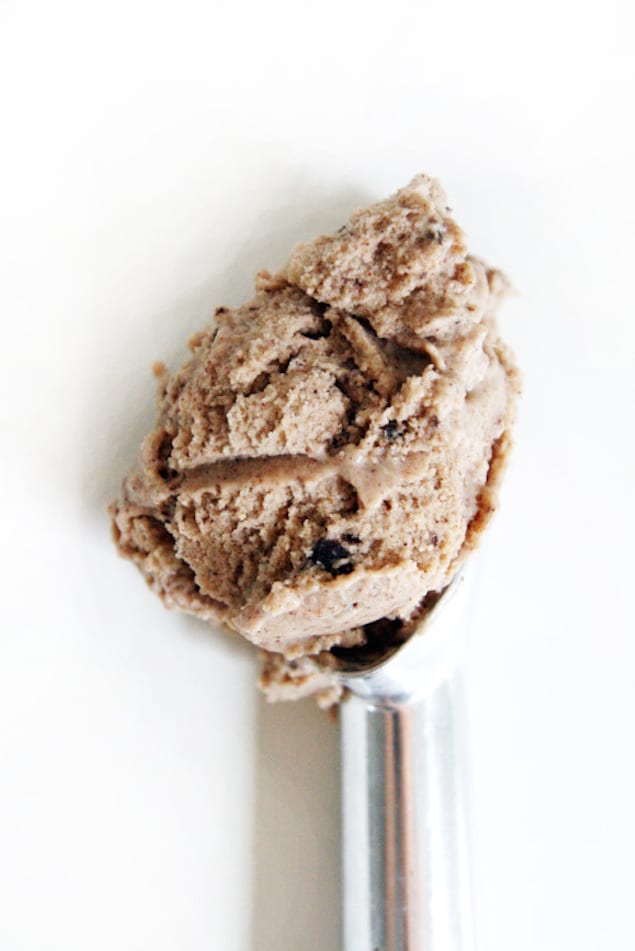 This is a celebration-worthy ice cream recipe. After receiving Sarah Britton's cookbook a couple weeks back, I was inspired to recreate her Rawkin' Funky Monkey Ice Cream with a couple of tweaks. As I read over her recipe, I was immediately taken back to my mother's roasted bananas, served hot, oozing with caramelized sugar, butter, and cinnamon, topped with vanilla ice cream and whipped cream. If I try hard enough I can feel the cold ice cream dancing in my mouth, delight in every bite. I had to make that into an ice cream. I wanted the deep, dark flavors of caramelized sugar to come through in a different way, a texturally rich, healthy frozen treat.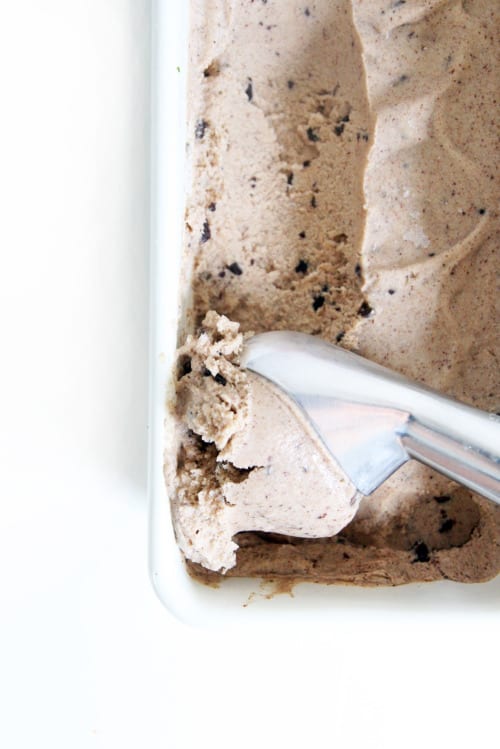 To achieve this level of deliciousness, first roast super ripe bananas until fork tender, sweet, and caramelized. Then whip into perfection with rich coconut milk, raw dates, cinnamon, and a tiny little bit of maple syrup. Once churned, add dark chocolate chunks to the ice cream for texture, bitterness, and crunch.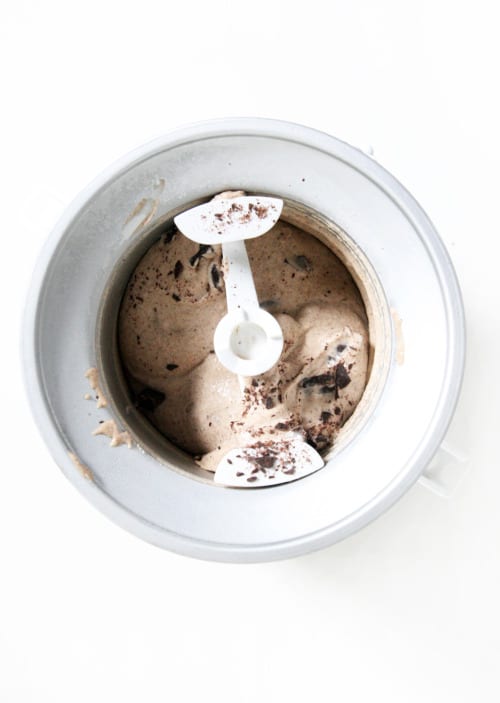 Each bite is a perfect combination of sweet, salty, creamy, and crunchy. This Roasted Banana and Chocolate Chunk Ice Cream is addictive, and, as writing for a blog can be, rocky, slightly bitter, but mostly sweet.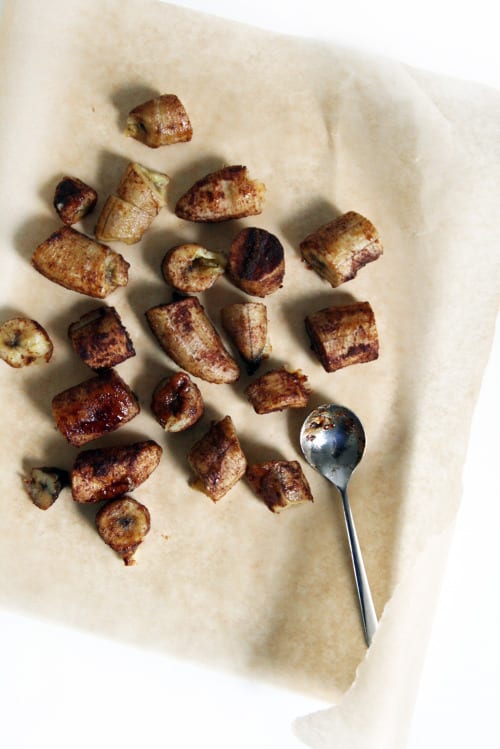 Chocolate Chunk Ice Cream Made with Roasted Bananas
Rich roasted bananas make every bite of this ice cream a perfect combination of sweet, salty, creamy, and crunchy. It is made with coconut milk for a delicious, dairy-free finish.
Author:
Mariela Alvarez Toro
Recipe Type:
Dessert, Ice Cream
Ingredients
4 ripe bananas
1 tbsp. coconut sugar
1 tbsp. olive oil
1 ½ tbsp. cinnamon, divided
4 pitted medjool dates
1 can coconut milk
1 cup water
pinch of salt
2 tbsp. maple syrup
75 grams dark chocolate
Instructions
Preheat oven to 450 degrees Fahrenheit. Peel and slice bananas into 2-inch chunks. Place in a bowl with coconut sugar, ½ tablespoon cinnamon powder, and a tablespoon olive oil. Mix until bananas are well coated. Place in a foil wrapped baking sheet. Roast for 20 minutes. Remove from oven and set aside. Cool for about fifteen minutes.
Place roasted banana, medjool dates, coconut milk, water, salt, maple syrup, and 1 tablespoon cinnamon in a blender. Pulse until smooth. Transfer ice cream mix into a large bowl. Cover with a plastic wrap, and refrigerate for 2-3 hours. Fully cooling the ice cream mixture now will make for better ice cream later.
Transfer cooled mixture into an ice cream maker, following the manufacturers instructions churn until ice cream, looks like a thick smoothie. Transfer to a sealed container and freeze. Let ice cream thaw 10-15 minutes before serving.
Mariela Alvarez Toro
Recently graduated with from Harvard University's Graduate School of Design. She has recently completed "People in Food-Space", an ethnographic study on the cultural production of taste in space. She has also examined post-soviet food production systems and housing projects in Havana, Cuba. Originally from Puerto Rico, Mariela has been living in the United States for eight years. She has involved herself in both teaching and practice, while writing on food at tastyplan.com. Her goal as a food writer is to cook creatively, using the best ingredients to find new flavor combinations every day.