From cauliflower crust pizzas to whole, roasted cauliflowers, there seems to be no limit to the culinary potential in this cruciferous vegetable. Here are 10 of our favorite cauliflower recipes demanding the spotlight.
By Danielle Isbell
This article has been posted with permission and originally appeared as 10 Creative Cauliflower Recipes to Make Now on Relish
The Cauliflower Craze
It is officially the year of the cauliflower. From cauliflower crust pizzas to whole, roasted cauliflowers, there seems to be no limit to the culinary potential in this cruciferous vegetable. Plus, cauliflower is known for its cancer-preventing properties. So we ask: why not put it in everything? Here are 10 of our favorite cauliflower recipes demanding of the spotlight.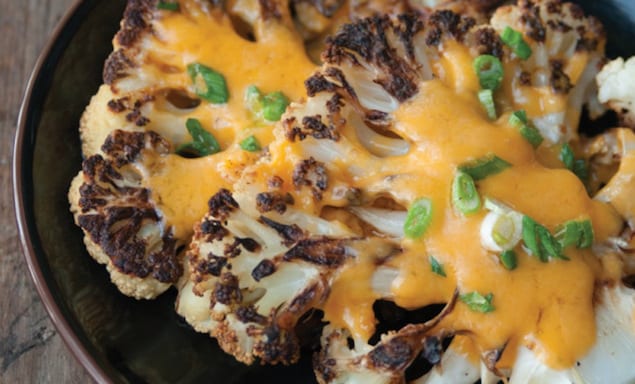 Erin Gleeson
Cauliflower Steaks
This ridiculously simple recipe is perfect for the vegetarian craving a savory treat. The cheesy delight can be served as a hearty side or a unique appetizer for guests. Get the recipe here.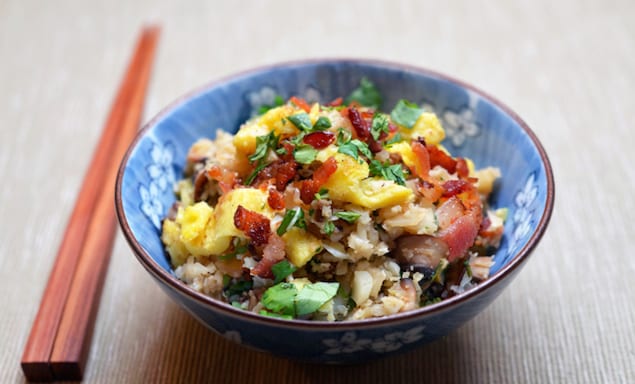 Henry Fong
Paleo Asian Cauliflower Fried 'Rice'
We love fried rice, but for those attempting a Paleo lifestyle, rice grain is out of the question. Not to fear! This dish features cauliflower as a replacement for grains and includes bacon, vegetables and ginger. Whether you're Paleo or not, this dish is a great way to feature cauliflower in an innovative and tasty way. Get the recipe here.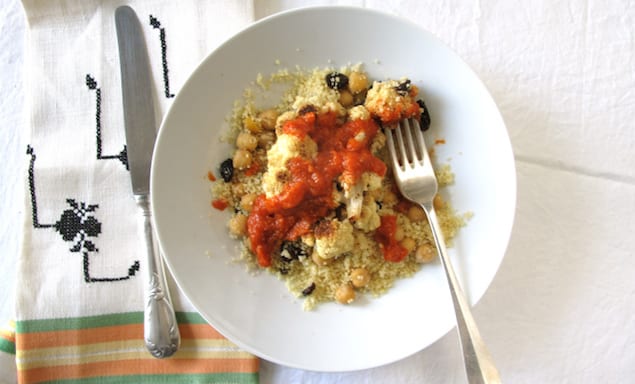 Teresa Blackburn
Spicy Couscous with Cauliflower, Garbanzos and Sultanas
This recipe requires roasting the cauliflower to produce a caramel-like sweetness while maintaining its almost-meaty cauliflower texture. The cauliflower is then paired with spiced couscous and roasted red pepper sauce to make for an alluring meal. Get the recipe here.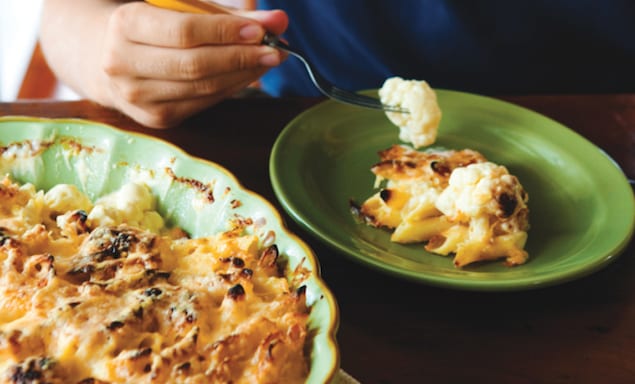 Relish
Cauliflower Mac and Cheese
Who can say no to mac and cheese—especially to this gourmet, cauliflower-enhanced version? The cauliflower adds texture to the decadent combination of penne, ricotta, Swiss and cheddar cheeses for a dish you won't soon forget. Get the recipe here.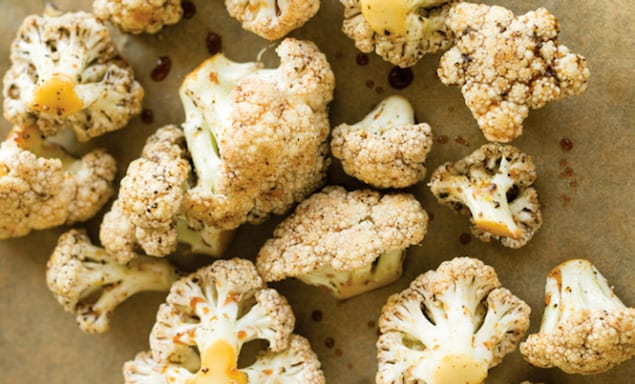 Relish
Pepper-Roasted Cauliflower
This simple side is a quick way to spice up your veggie intake. Rather than serving cauliflower as a raw side, prepare florets in a mixture of sherry, oil, pepper and sugar before cooking them in the oven. If you love extra kick, throw in jalapeño at the end! Get the recipe here.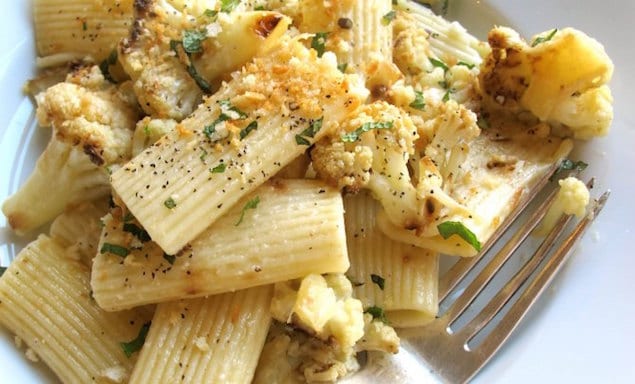 Teresa Blackburn
Pasta with Roasted Cauliflower and Breadcrumbs
This pasta dish is the perfect solution to any carb craving. It is prepared with panko (Japanese breadcrumbs), cauliflower florets, chunky rigatoni and topped with Pecorino Romano cheese and mint—yes, mint. Pair with a bright Italian red wine and you're all set for the evening. Get the recipe here.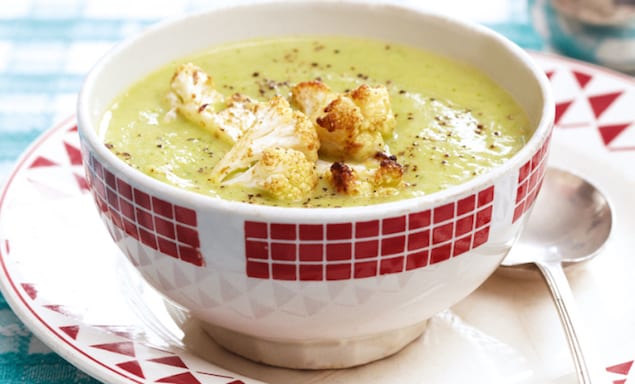 Georgia Glynn Smith
Cauliflower and Arugula Soup
Heavy on the cauliflower, this soup is a refreshing twist on healthy comfort food. The soup stars potato and arugula, is spiced with cumin, pepper, and is topped off with thyme-roasted cauliflower. Get the recipe here.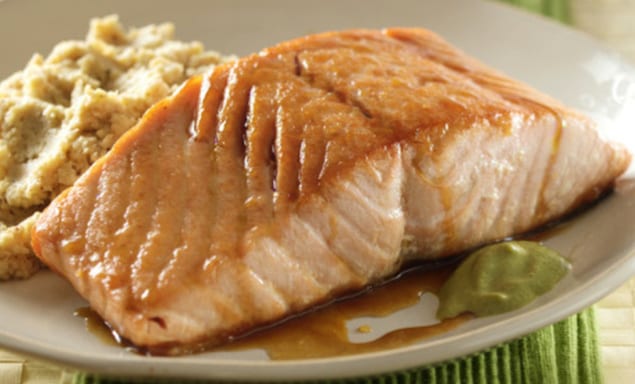 Photo by Mark Boughton/Styling by Teresa Blackburn
Simple Salmon Supper with Roasted Cauliflower
The cauliflower side paired with this salmon is roasted before being pureed in order to provide layers of flavor. As an added tip, if you prefer creamier cauliflower puree, add a bit of plain yogurt. Get the recipe here.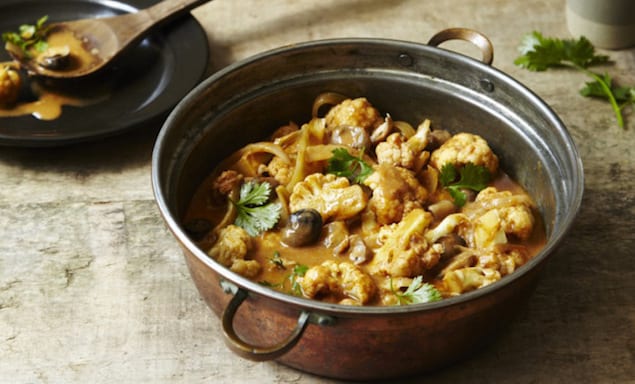 Clare Winfield
Cauliflower and Mushroom Curry
Paleo curry? Sign us up! The warm, aromatic spices keep this dish full of flavor and the light coconut milk gives it a creamy Eastern flare. You won't want to miss this creative, healthy take on cauliflower. Get the recipe here.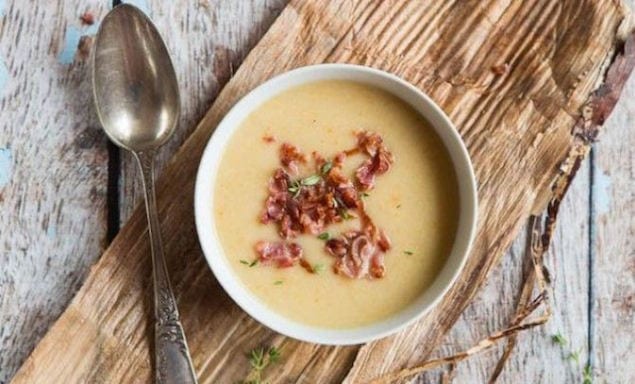 Simone Van Den Berg
Cauliflower Coconut Soup with Crisp Bacon
This soup is full of fried vegetables (including cauliflower, naturally) coconut milk, and bacon. These three superstar ingredients make for an unforgettable soup, so cozy on up and indulge in this one-of-a-kind dish. Get the recipe here.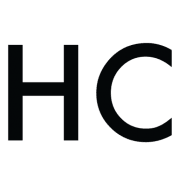 Relish
Offering more than 14,000 recipes plus features and DIYs on cooking, dining and entertaining, Relish celebrates America's love of food. Relish is about honoring cooking traditions while exploring new trends and ideas, which is why millions of people turn to both Relish.com and Relish Magazine for special occasion recipes, quick and easy weeknight suppers and culinary adventures.