Delights of Dijon — Grilled Walnut-Mustard Chicken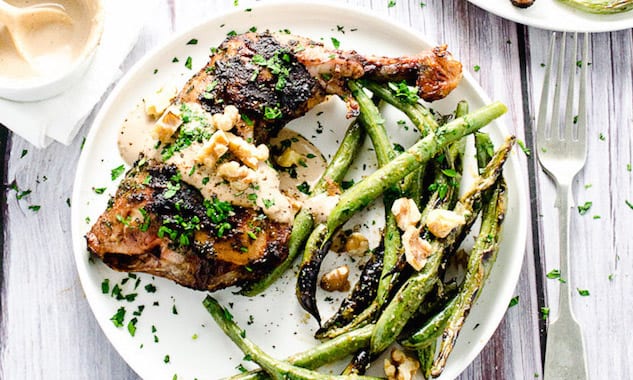 PARTNER POST — Discover the unique flavors of the Dijon region with Maille.
Earthy with a touch of sweetness, simple grilled chicken is rubbed with a bold walnut and white wine mustard sauce and served beside matching green beans.
By Kristen Stevens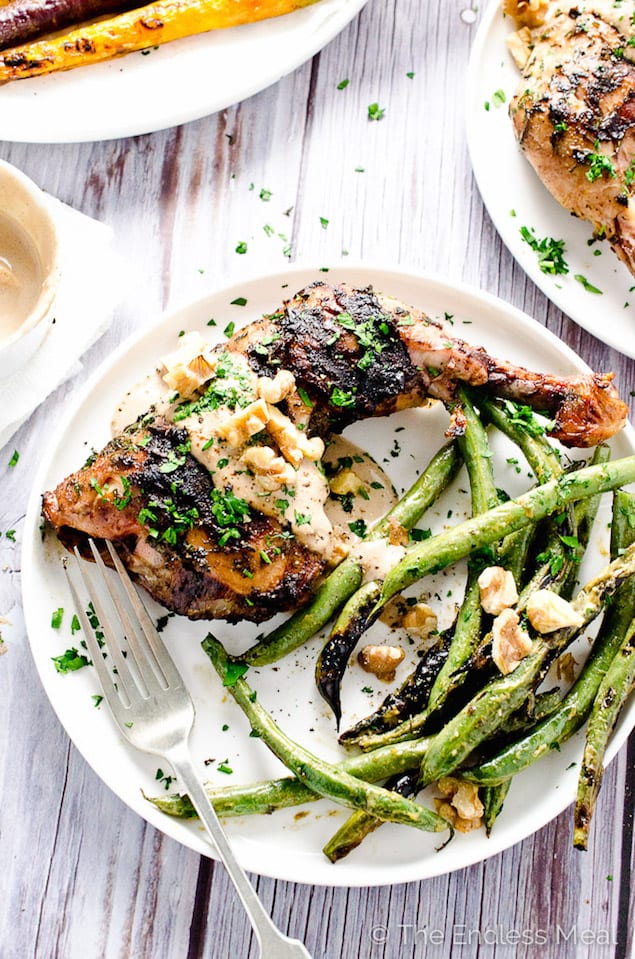 Where do I even begin with this chicken? It's tender, flavourful, simple to make and it's drizzled with a 5-minute, dairy-free mustard cream sauce. It's rubbed with Maille's walnut and white wine mustard which, if you haven't tried it yet I'd suggest getting yourself a bottle asap. It has a nutty and earthy favour with a tiny touch of sweetness. It reminds me a little of black garlic. I wanted to keep things simple with this recipe in order to really highlight the flavour of this very special mustard. It's very strong and assertive and bold-flavoured dreamy.
My two favourites are the walnut mustard and Maille's extra special on-tap white wine mustard. Maille has a line of 5 on-tap mustards that are poured into earthenware pots and sealed with cork stoppers. The on-tap white wine mustard that I received was extra creamy and very strong. It's unmistakably Dijon, but about 100x better than any I've ever tried before. I was tempted to eat the whole bottle, one tiny little spoonful at a time, but came to my senses just before the green beans went on the BBQ.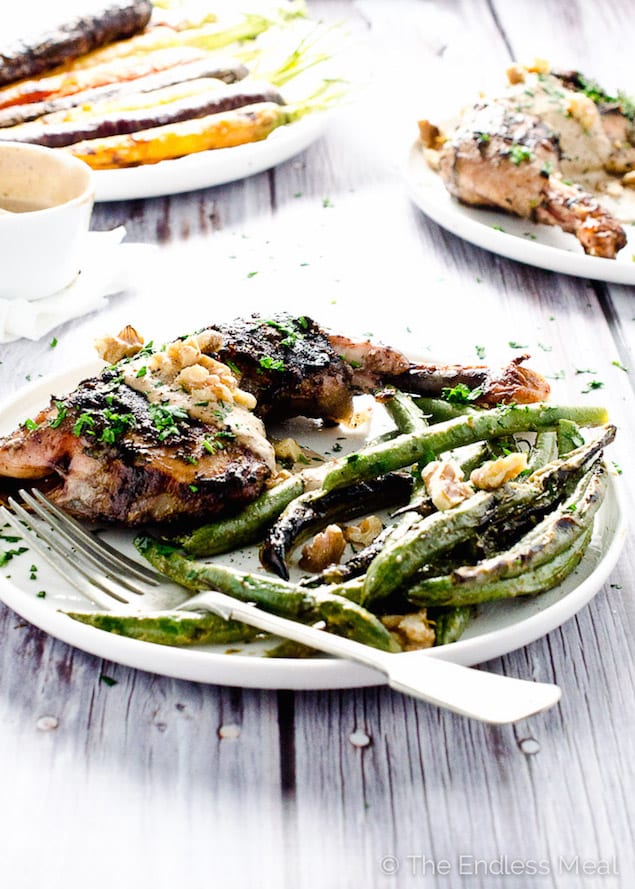 On-tap mustard + green beans + walnut mustard chicken = 1 awesome dinner.
See Also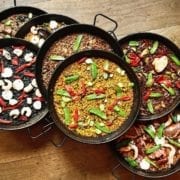 Pop quiz: How many flavours of gourmet mustard does Maille make? Choices: a) 1 b) 4 c) 34
If you guessed 34, you win! I promise to share my grilled mustard chicken with you. Hurry over quick to collect your prize; this chicken's too good to last long.
[fve]https://vimeo.com/126301319[/fve]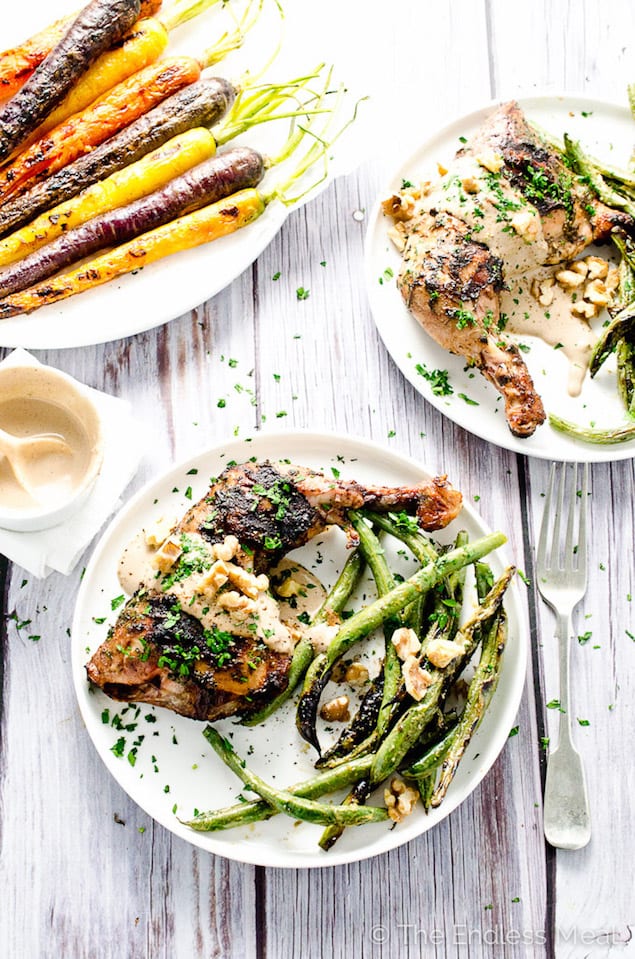 Delights of Dijon — Grilled Walnut-Mustard Chicken
Earthy with a touch of sweetness, simple grilled chicken is rubbed with a bold walnut and white wine mustard sauce and served beside matching green beans.
Ingredients
For the walnut cream sauce
½ cup toasted walnuts (see notes)
½ cup water
1½ tablespoons Maille walnut white wine mustard
1 small clove garlic
¼ teaspoon balsamic vinegar
Sea salt and fresh cracked pepper, to taste
For the mustard chicken:
4 chicken legs
2 tablespoons Maille walnut white wine mustard
½ teaspoon sea salt
2 tablespoons finely minced parsley
1 tablespoon finely minced thyme
Chopped walnuts, freshly cracked pepper and parsley, to garnish
For the green beans:
4 handfuls of green beans
1 teaspoon olive oil
¼ teaspoon sea salt
1 teaspoon Maille on-tap white wine mustard
Instructions
Preheat the grill to medium low.
Place all of the walnut cream sauce ingredients in a blender and blend on high until it everything is smooth and creamy. Season to taste with sea salt and freshly cracked pepper.
Rub the chicken legs evenly with the Maille white wine mustard. Sprinkle the chicken with sea salt, parsley and thyme. Place the chicken legs skin side up on the bbq and let then grill for 15 minutes. Flip the chicken legs over and let them cook for another 5-8 minutes, or until the chicken reaches an internal temperature of 165 degrees.
Toss the green beans with the olive oil and sea salt. Pop them on the grill once the chicken has been on for 15 minutes. Let them grill for 5-8 minutes, or until they are tender but still crisp and they have many have grill marks on them. Toss the beans with the Maille on-tap white wine mustard an serve immediately.
To serve: Drizzle the chicken with the walnut mustard sauce and sprinkle some chopped walnuts over top and the green beans on the side.
Kristen Stevens
Kristen is a Vancouver based chef, recipe developer and founder of The Endless Meal. She's passionate about creating and sharing healthy, whole-food recipes made from local and in-season ingredients.She's also the owner of a small underground restaurant where she gets to cook and share her food with local foodies every weekend.Her favourite things are her camera, bourbon sours, sailing the waters of BC's beautiful coast and anything super spicy.