Sweet Potato Totchos with Korean-Style Pork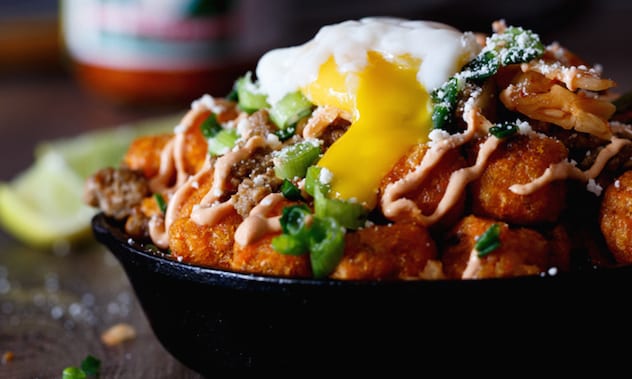 Be it for brunch or a game day appetizer, tater tots loaded like nachos with bold Korean flavors like pork, kimchi, avocado, and gochujang aioli are sure to be a party.
By Chris Cockren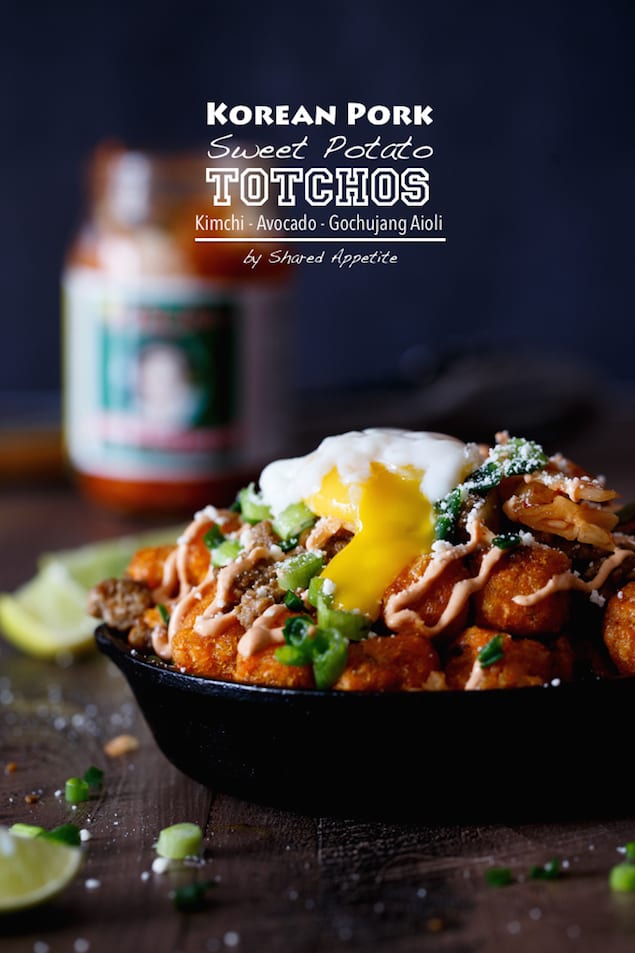 As an adult, I've learned to embrace the 'tots. Still not in place of fries of course, but as its own separate entity. Topped with all sort of goodness. For an unforgettable bacon and egg breakfast or a legit game day version of a loaded baked potato.
And now, it's time to combine bold Korean flavors with crispy sweet potato tater tots for a dish of epic totcho greatness: Korean Pork Sweet Potato Totchos with Kimchi, Avocado, and Gochujang Aoili. Oh, and a poached egg. Because… runny yolk. Duh.
Love this idea? There's more!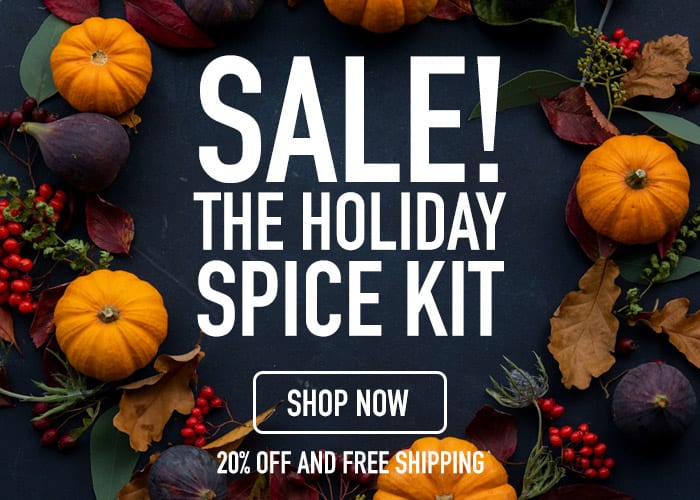 Click here to try bacon, egg and cheese totchos.
Or, loaded baked potato nachos. You won't be sorry!

Sweet Potato Totchos with Korean-Style Pork
For brunch or an appetizer, tater tots loaded like nachos with bold Korean flavors like pork, kimchi, avocado, and gochujang aioli are sure to be a party.
Recipe Type:
Appetizer, Brunch
Ingredients
1 (20-ounce) bag frozen sweet potato tater tots
Korean Pork (recipe below)
1 bunch scallions, chopped
¾ cup kimchi, chopped
1 avocado, chopped
⅓ - ½ cup cotija cheese or queso fresco, crumbled
2 - 4 Poached eggs (completely your preference)
Gochujang Greek Yogurt Aioli (recipe below)
for the Korean Pork
¾ pound ground pork
1 tablespoon olive oil
2 tablespoons soy sauce
1 tablespoon brown sugar
1 tablespoon mirin
1 teaspoon toasted sesame oil
¼ teaspoon garlic powder
¼ teaspoon onion powder
¼ teaspoon ginger powder
for the Healthy Gochujang Aioli
½ cup plain Greek yogurt
1½ tablespoons gochujang
⅛ teaspoon paprika
⅛ teaspoon garlic powder
⅛ teaspoon onion powder
Kosher salt
Instructions
Cook sweet potato tater tots according to package directions. Top tots with Korean pork, scallions, kimchi, and avocado. Drizzle with the gochujang aioli and sprinkle with cotija/queso fresco. Top with poached eggs and devour.
for the Korean Pork
Combine soy sauce, brown sugar, mirin, toasted sesame oil, garlic powder, onion powder, and ginger powder in a small bowl.
Heat olive oil a medium skillet over medium-high heat. Add pork and cook, stirring and breaking into bite-sized pieces, until browned and just cooked through. Add sauce and stir, cooking for about 1 minutes, until it creates a quick glaze on the pork. Remove from heat.
for the Gochujang Aioli
Combine all ingredients in a small bowl. Season with Kosher salt. Can be made ahead and refrigerated until ready to serve.
Notes
To create a clean drizzle of the Healthy Gochujang Aioli, place in a ziploc bag and snip the corner to create a makeshift pastry bag.

If you can't find sweet potato tater tots, feel free to substitute regular tots.
Chris Cockren
Chris is a New York based food blogger that loves bringing friends and family together through food. On his blog, Shared Appetite, Chris chronicles his culinary adventures of eating his way in and around NYC, as well as cooking and entertaining at home.