Chocolate ice cream doesn't get any better than when it's perfected at home. This recipe has the very helpful assistance of an ice cream maker, which makes it even easier!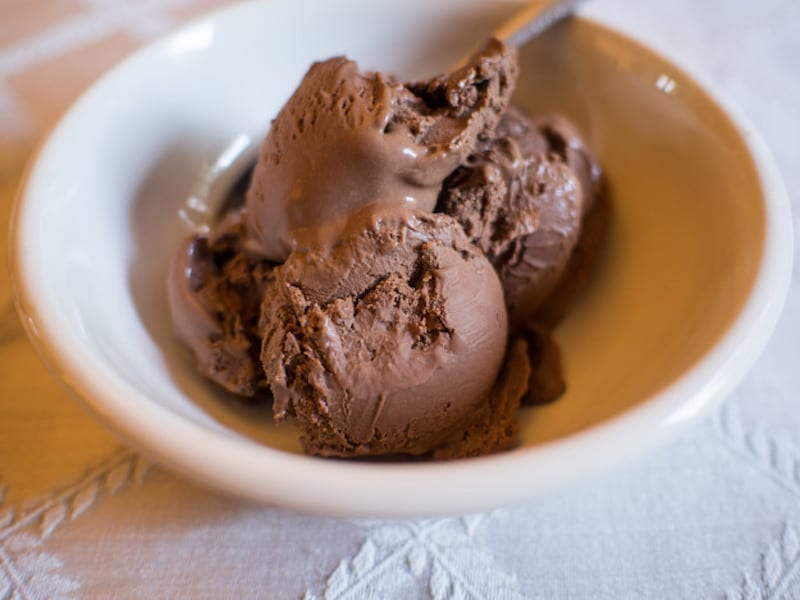 I got an ice cream maker. According to the directions, I just add half and half and cream and process. Twenty-five minutes later– Chocolate Ice Cream. Well, yeah, it was chocolate ice cream. But gritty. Definitely not Ben & Jerry's New York Super Fudge Chunk. So, I researched how to make chocolate ice cream and avoid the horrid grittiness. Recipes included ingredients that varied from heavy cream to half and half to whole milk to cream cheese. Sugar was always in the mix with eggs or cornstarch offered as thickeners. But what explained the "gritty" texture?
According to various experts, the heart of the problem lies with water. There's water in the milk or half and half. The more water, the grittier the ice cream. Some bloggers use sweetened condensed milk or cream cheese to avoid the use of liquid milk products and their dreaded water. With every substitution, there is usually a downside. So, what's the downside of using cream cheese or sweetened condensed milk? Some reviews criticized these recipes as not really "feeling" like ice cream in their mouths. Or not really melting. Say what now? Ice cream pretty much has to melt.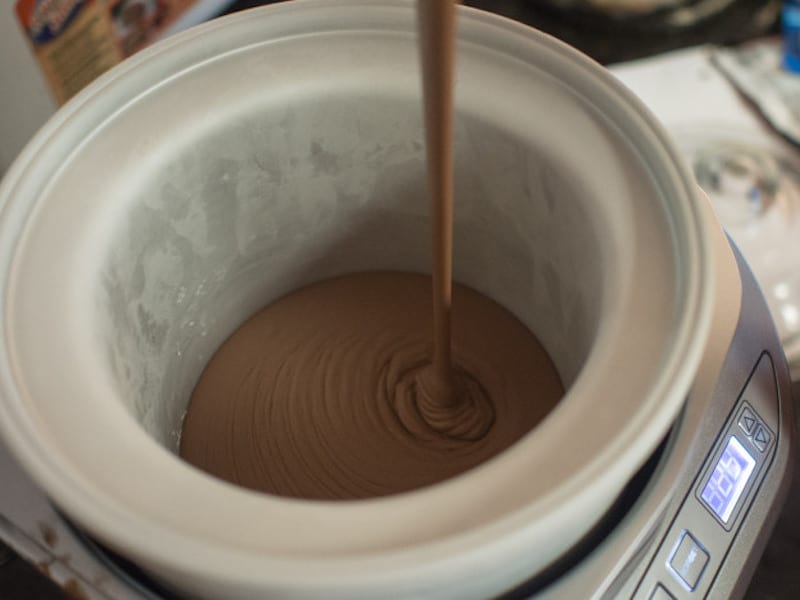 So, I ran across David Lebovitz's recipe on Brown Eyed Baker for chocolate ice cream and he pretty much followed the standard 5 egg yolk recipe, but added admonitions to keep the water to a minimum. In other words, simmer the milk base and let the water evaporate. Cover the ice cream base after it's cooled off, then watch for condensation and wipe it off so that it doesn't end up back in the ice cream. Little steps that add up to some completely wonderful ice cream. I made only a few minor alterations. This recipe produces a very rich and intensely chocolate ice cream. Truly amazing.
First, some warnings. Making your own ice cream isn't something you do because it's cheaper. It's really not. It's fun, sure! You can make your own combinations. But cheaper? No. However, you control the ingredients. You can make it GMO-free or organic.You can use pastured dairy products, which taste amazing!! Additionally, you can omit ingredients that may not be particularly good for you, like emulsifiers. Emulsifiers are added to make commercial mouthfeel "creamier". You've seen them in the best of ice creams: polysorbate 80, soy lecithin, guar gum, and carrageenan are but a few. Recent studies have indicated that these emulsifiers may play a part in metabolic syndrome and increase inflammation by interacting with gut flora. (http://www.foodnavigator.com/Science/Food-emulsifiers-linked-to-gut-bacteria-changes-and-obesity) Lovely, I know. Who doesn't love a good "gut flora" discussion while making ice cream? The emulsifiers are needed to keep the ice cream smooth during its trip from the factory to the store and your house when temperatures are so variable and melting and refreezing occurs. When you make your own ice cream, there is no travel time, so no need for emulsifiers!!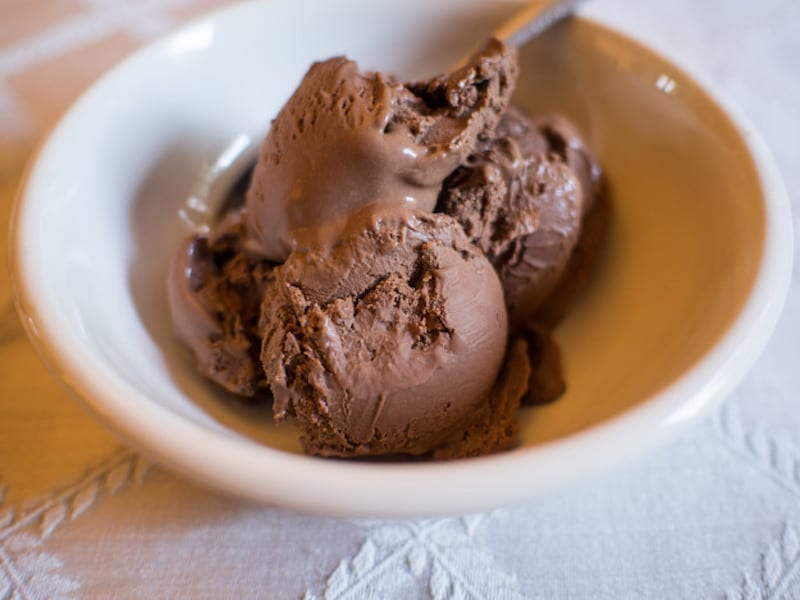 Get out your ice cream maker and give this a go. I promise you won't be disappointed and you'll be making ice cream on your terms.

Homemade Chocolate Ice Cream
Ingredients
2 cups heavy cream
3 tablespoons unsweetened Dutch-process cocoa powder (I used regular cocoa powder)
5 ounces bittersweet chocolate, chopped (I used Ghiradelli bitterwseet)
1 cup whole milk
¾ cup granulated sugar
Pinch of salt
5 large egg yolks
½ teaspoon vanilla extract
½ teaspoon chocolate extract
Instructions
Warm 1 cup of the cream and the cocoa powder in a medium saucepan, over moderate heat, whisking constantly to incorporate the cocoa into the cream. Bring to a boil, then reduce the heat and simmer at a very low boil for 30 seconds, whisking constantly. Remove from the heat. Add the chopped chocolate to the cream mixture, stirring until smooth. Add the remaining cream and stir well. Pour the mixture into a large bowl, scraping the saucepan as thoroughly as possible, and set a mesh strainer on top of the bowl.
Using the same saucepan, combine the milk, sugar, and salt and place over medium low heat. In a separate medium bowl, whisk together the 5 egg yolks. Temper the yolks by slowly pouring the warm milk into the egg yolks, while whisking constantly. Once the egg yolks are warmed, pour them back into the saucepan.
Stir the custard mixture constantly over the medium heat with a heatproof spatula, scraping the bottom as you stir, until the mixture thickens and coats the spatula (170°F on an instant-read thermometer). Pour the custard through the strainer. Make sure to squish (technical term) all the yolk mixture through the strainer and scrape the bottom of the strainer into the chocolate mixture. Once the custard is through the strainer, stir it into the chocolate mixture until smooth. As the mixture cools, the stir in the vanilla and chocolate extracts. Cool completely and place, covered, in the refrigerator. Check periodically for condensation and wipe off the lid and sides of the storage container.
Chill the mixture thoroughly (up to 8 hours), then freeze it in your ice cream maker according to the manufacturer's instructions. (If the cold mixture is too thick to pour into your machine, whisk it vigorously to thin it out.)