A simple fava bean toast served on sourdough with fresh mint and creamy ricotta cheese.
By Valentina Mariani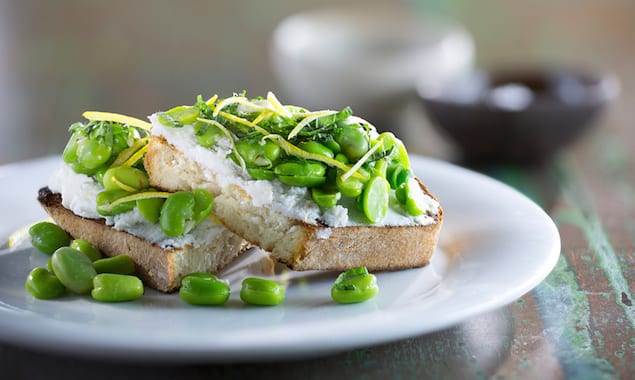 www.therefinerybar.co.uk
Served in the amazing restaurant The Refinery in London, a one-of-a-kind place in the city where you can find the perfect treat, from creative cocktails to boutique beers and fine wines.
Here lunchtimes can be as quick or as languid as you like, and this is the perfect dish for the ones who want to keep things fresh while tasting amazing flavors and ingredients. The preparation is quite easy to do at home.

Broad Bean Bruschetta
A simple fava bean toast served on sourdough with fresh mint and creamy ricotta cheese. This recipe is easily adjustable and flexible to create more servings.
Ingredients
Fresh ricotta cheese x 100g (3.5 ounces)
Blanched broad beans x 100g (3.5 ounces)
2 slices of sourdough bread
Half a lemon
Handful of mint
Instructions
Toast the sourdough and rub with a bit of fresh garlic.
In a bowl mix the broad beans with salt and pepper and juice of half a lemon.
Pour the broad beans over the top of the ricotta.
Sprinkle the mint over the top.