PARTNER POST: Get ready to feed a holiday crowd with appetizer recipes paired perfectly with food-friendly Cavit wines.
A perfect finger food that isn't too heavy, check out these holiday-ready smoked salmon cream cheese bruschetta with just enough flavor and crunch.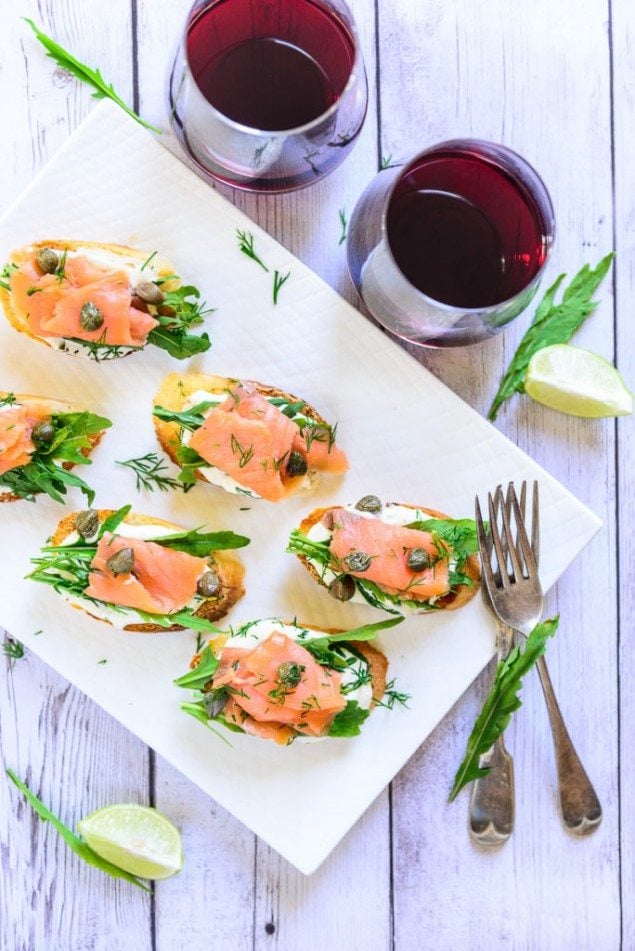 Making appetizers is really fun and especially if they are meant for the holiday season! In the past I've made Herb and Garlic Roasted Prawns and Baked Dukkah Crusted Chicken. For the upcoming holiday season, I wanted to make something which I can perfectly pair with a red wine. Now generally Smoked Salmon goes well with a red wine, so I made this Smoked Salmon Cream Cheese Bruschetta. Bruschetta is an antipasto which is referred as hors d'oeuvre or simply an appetizer in the Italian cuisine. It is made by smothering bite sized bread with various types of toppings as you like. Though I have already tried Guacamole Bruschetta once, making Smoked Salmon Cream Cheese Bruschetta proved to be a rewarding experience. This Italian dish can be perfectly paired with Select Red Blend from Cavit wines.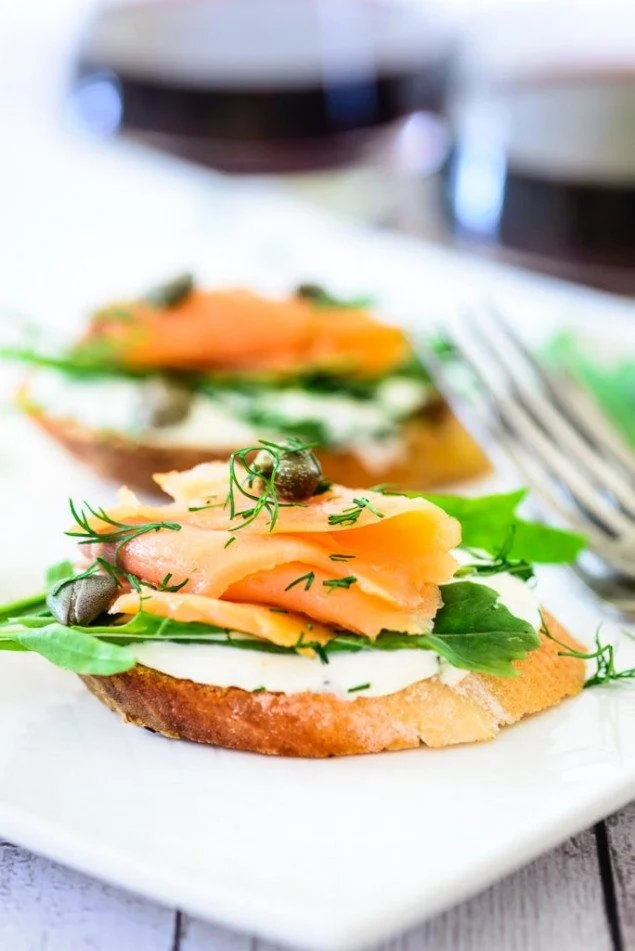 Smoked Salmon Cream Cheese Bruschetta is a wonderful finger food prepared by topping a baguette with smoked salmon, herbs, cream cheese, rocket leaves and more. I loved Smoked Salmon Cream Cheese Bruschetta more because it has a stunning smoky flavour and crunch. The minute you dig into this delight your palate feels gushed with the crunch of the baguette plus the motley of fresh flavours of the other prime ingredients. You would love it more with a rich and bold blend of Cavit.
For another easy holiday appetizer, try these lamb bites. Recipe here.
Print
Author:

Neha Mathur

Prep Time:

10 minutes

Cook Time:

10 minutes

Total Time:

20 minutes

Yield:

4 servings

Category:

Appetizer
Baguette – 1 (Sliced)
Extra Virgin Olive Oil – 2 tbsp
Cream Cheese – 180 g
Lemon zest – ½ tsp
Salt to taste
Black pepper powder – ½ tsp
Rocket leaves – a handful
Smoked Salmon – 10-12 thin slices
Capers – ¼ cup
Instructions
Brush the Baguette slices with olive oil on both the sides.
Heat a pan and toast the baguettes until slightly browned.
Mix Cream Cheese with lemon zest, salt and black pepper powder.
Spread some cream cheese on the toasted baguettes.
Keep some rocket leaves on top.
Arrange a slice of smoked salmon on top.
Keep some capers on top and sprinkle some dll leaves.
Serve immediately.
Neha Mathur
Passion to make food look good and taste amazing is personified in Neha Mathur, author of amazing recipes through whiskaffair.com where she writes about her experiments in food and other creative stuff. Having travelled extensively around the globe she has seen first hand various cultures and their likings. With a background in dental sciences her current objectives are just fulfilling her persona.