PARTNER POST: October is National Seafood Month, reinvent your recipes with new ideas of to feature potatoes and seafood in one dish.
Whip up this indulgent entree of soft, pillowy homemade potato gnocchi with succulent lobster, tender leeks and a silky cream sauce.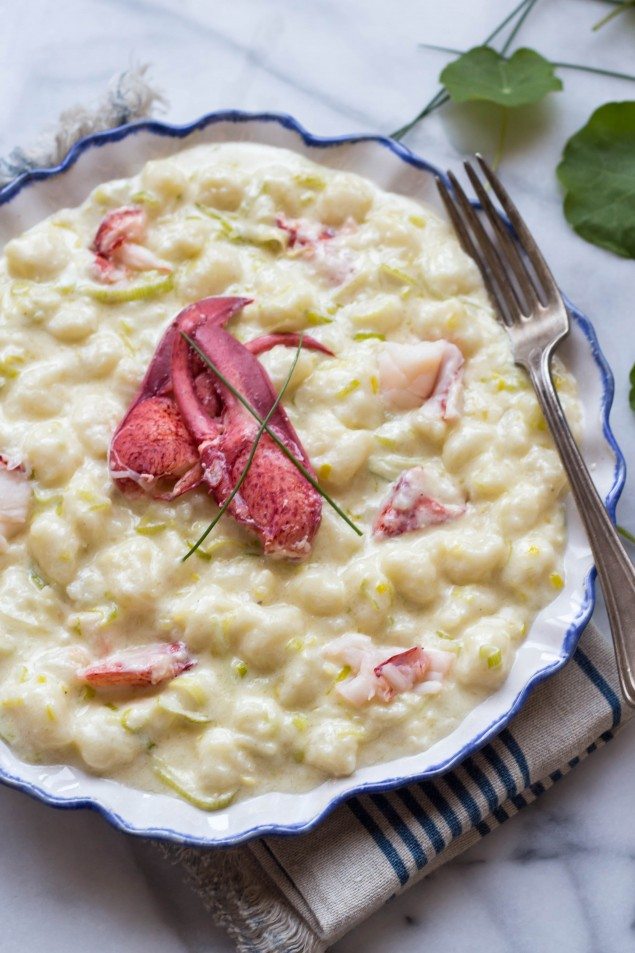 I think I finally cracked the code for making good gnocchi. And I don't mean pretty good gnocchi, I mean really good gnocchi. The kind that are light as air and melt on your tongue. The kind you barely even have to chew. The kind that doesn't make you feel like you just ate a pound of glue. The kind that, up until now, I've only had at a restaurant.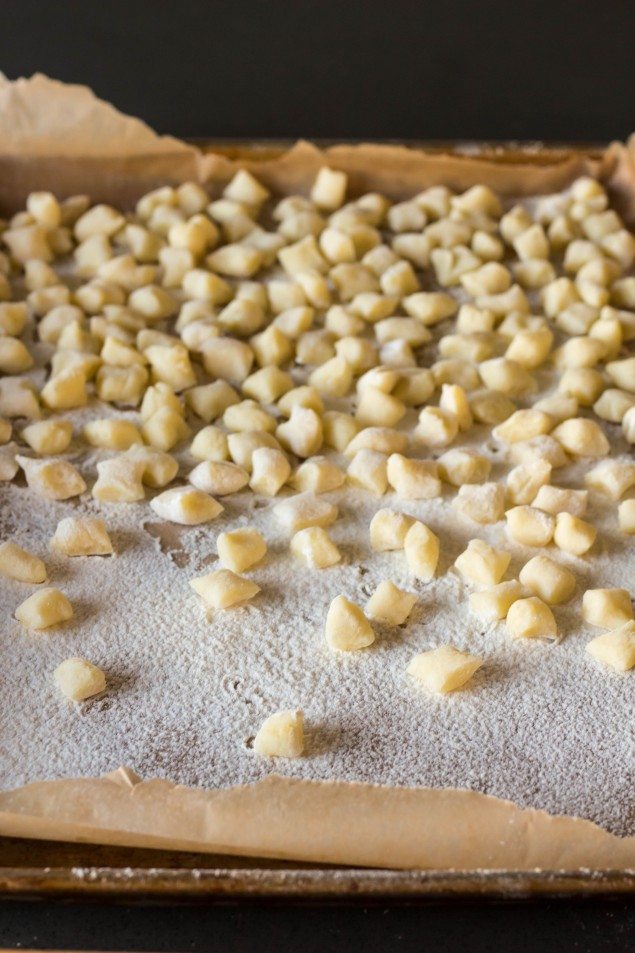 I had tried my hand at making gnocchi time and time again, and while they were always mostly pretty good, they were never restaurant-good. But that all changed recently when I stumbled upon a recipe on humble food blog by an Italian woman named Ilaria who claimed her gnocchi were light, not chewy, and the best ever.
Everything in Ilaria's recipe was similar to how I had always made gnocchi, except for the addition of one key ingredient: potato starch. I couldn't wait to give her recipe a try, and low and behold, her claim was right! The potato starch helps to prevent gluten formation and adds a certain lightness to the recipe that I just couldn't seem to achieve no matter what I tried.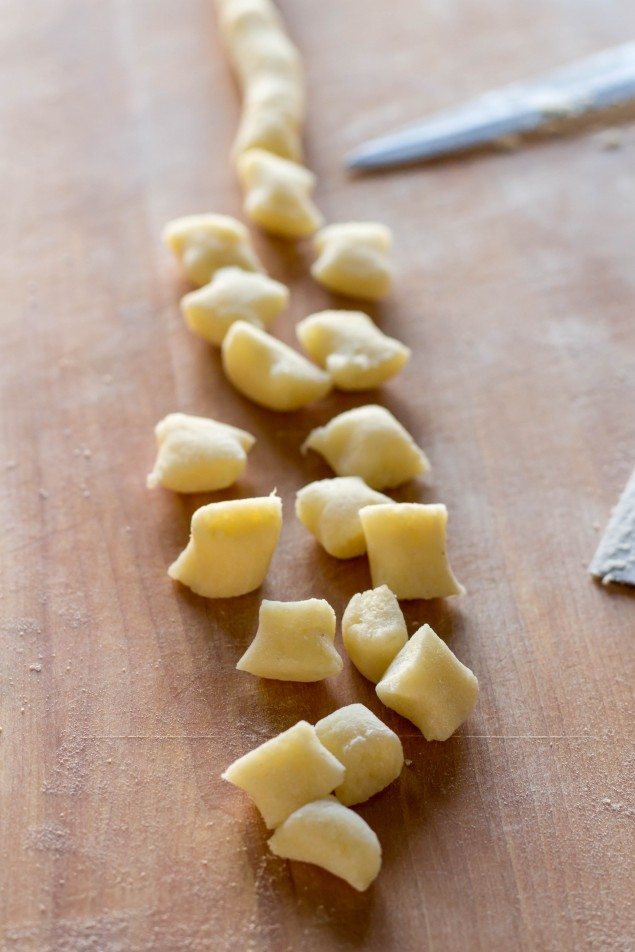 Russet potatoes are key to making good gnocchi because they're nice and starchy, as opposed to being waxy. Potatoes have a pretty poor reputation in the health world, but believe it or not, they're actually packed with nutrition. One medium baked potato has only 110 calories, zero fat, zero cholesterol, and is chock full of potassium, vitamin C, vitamin B6, iron and fiber. Of course, when mixed with cheese and flour, then doused in a cream sauce, it certainly adds some calories to the equation. But hey, we're still eating vegetables.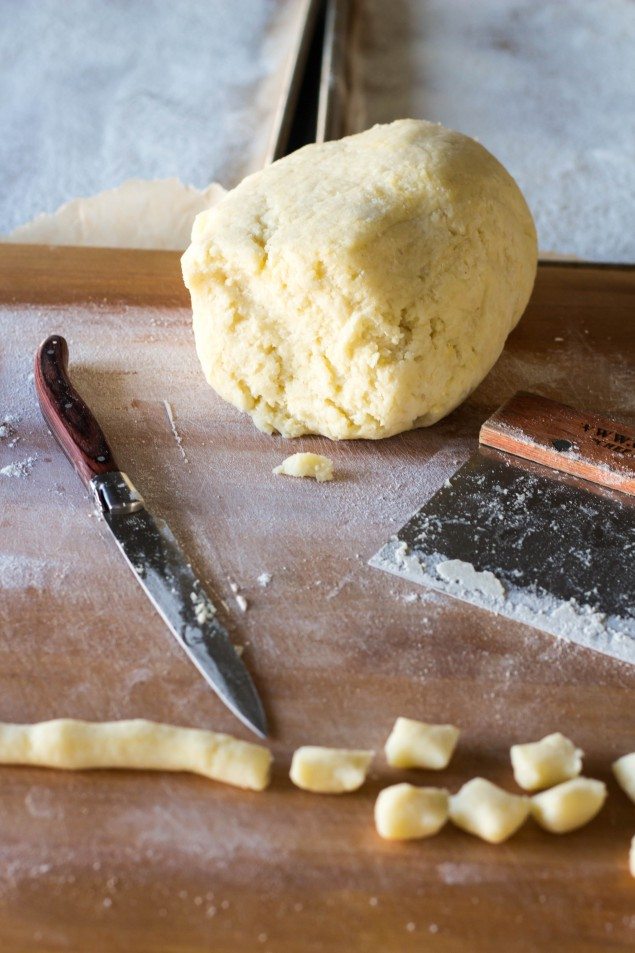 You can boil the potatoes, but I find it easier to bake them and then scoop out the flesh with a spoon. This keeps them a bit drier, too, which in turn alleviates the need for adding too much flour, which can make gnocchi gluey. It's important to knead the dough enough to make it smooth and cohesive, but it's also important to not knead too much and overwork the dough. If you don't knead enough and the gnocchi will fall apart when you boil them, but knead too much and they'll be tough. It's a balance, and you may have to try it a few times before you get it right. This happens to be true for all the best things in life.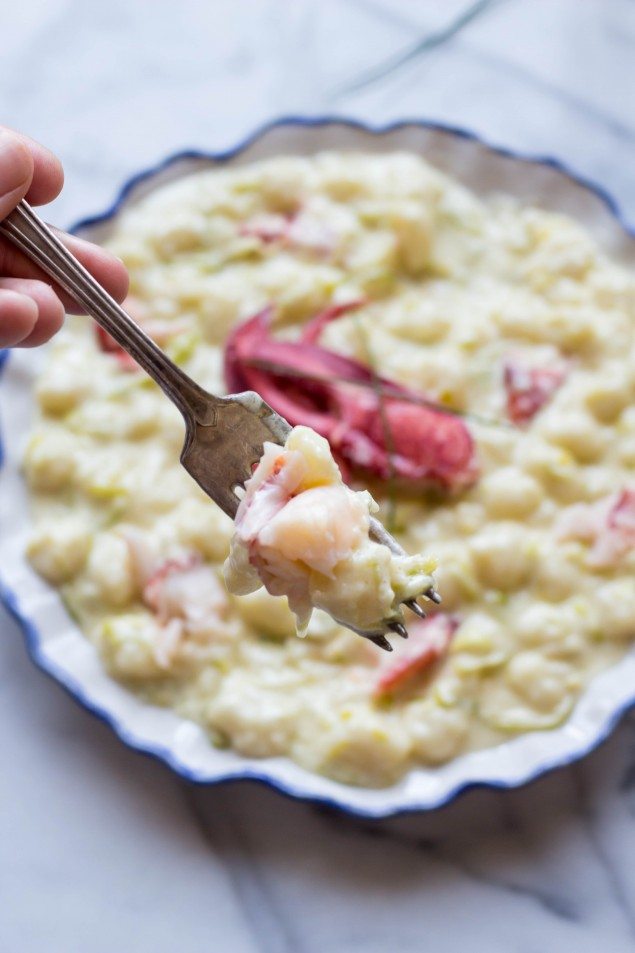 You can serve your gnocchi any way you want. They're great with marinara, bolognese, or a simple brown butter sauce. But let's go all out and dolly them up with lobster, leeks, and cream in honor of National Seafood Month. We worked hard to make them and they deserve the best! They do take some time to prepare, but boy are they worth it.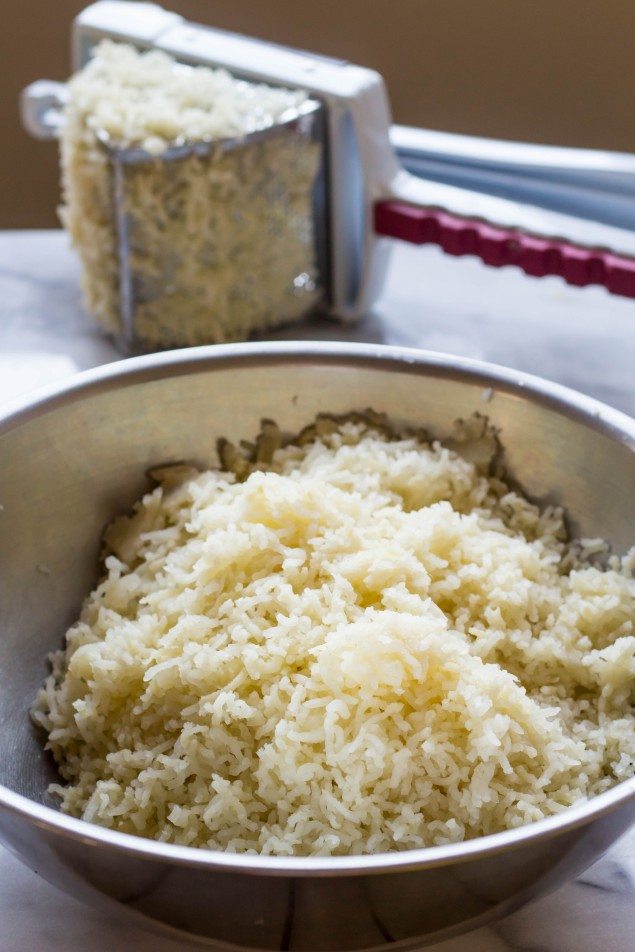 This recipe makes more than you'll need, and the leftover, uncooked gnocchi freeze up beautifully. Just leave them on the sheet pan, freeze, then transfer to a zip-top bag. I like to make a whole bunch at once, and then keep them in the freezer for easy meals on the fly. The gnocchi can be boiled straight from the freezer and will be ready to eat in minutes.
See Also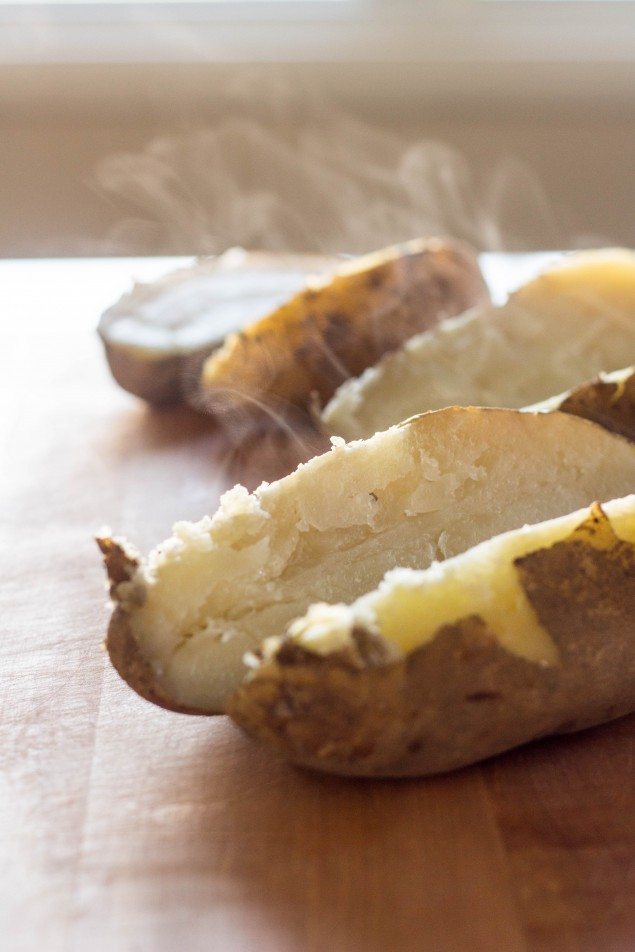 For another delicious seafood recipe, try this. Click here for the Potato Farl recipe.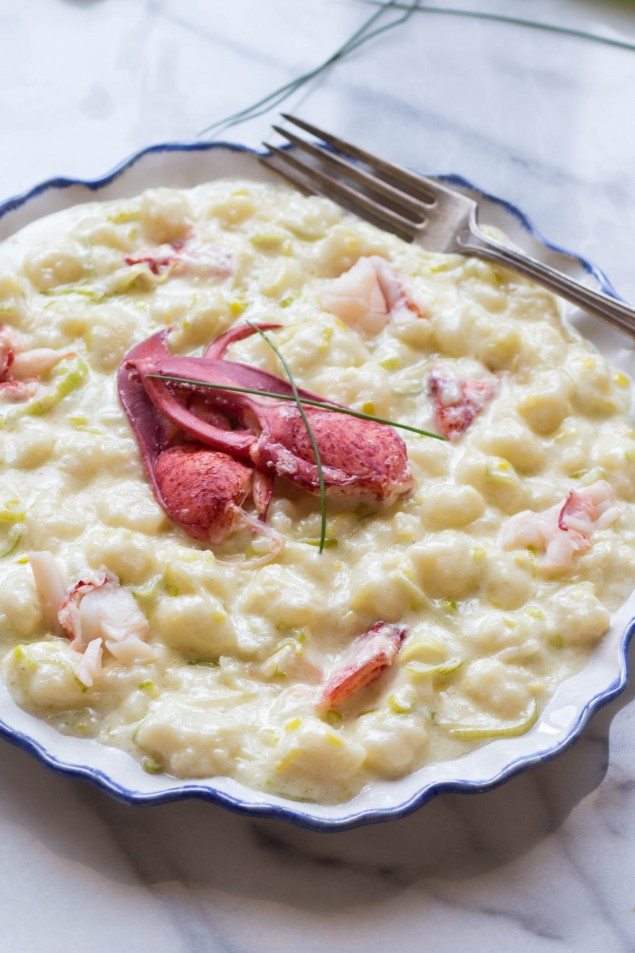 Print

---
Author:

Nicole Gaffney

Total Time:

4 hours
FOR THE GNOCCHI
3

lbs russet potatoes

2

large egg yolks

1/4 teaspoon

freshly ground nutmeg

3/4 cup

finely grated good quality parmesan cheese

2 teaspoons

salt

3 tablespoons

potato starch

1 cup

all purpose flour
FOR THE SAUCE
1 teaspoon

unsalted butter

1

leek (halved, cleaned and thinly sliced; white and light green parts only)

1/2 cup

dry white wine

1

bay leaf

1

sprig fresh thyme

2 cups

heavy cream
salt and white pepper to taste

2 teaspoons

lemon zest

6

–

8

ounces lobster meat (from about

one

1 1/2

lb Maine lobster, diced)
fresh chives (minced, for garnish (optional))
---
Instructions
Preheat the oven to 350°F. Prick the potatoes all over with a fork, wrap in foil and bake for approximately 60-90 minutes, or until they can easily be pierced with a fork. Set aside to cool.
While still warm, slice the potatoes open and use a spoon to scoop out the flesh. Process through a potato ricer or food mill, or alternatively, use a fork or potato masher to mash them up, then transfer to a large bowl.
Add the egg yolks, nutmeg, parmesan cheese and salt. Sift the potato starch and flour directly into the bowl, then use a fork to begin mixing it all together. Once the mixture starts coming together, dump it out onto a work surface and knead it a few times until it forms a pliable ball. Be careful not to over-mix, as it will cause the gnocchi to become tough.
Dust two sheet pans liberally with flour, and then dust your work surface. Cut one small piece of dough at a time and roll out to about a 3/4 inch thick rope. Use a knife to cut 3/4 inch pieces, then transfer to the sheet pans in an even layer. Repeat with the remaining dough. Gnocchi can be frozen at this stage, on the sheet pan, then transferred to a zip top bag and be kept in the freezer for up to 6 months.
Bring a large pot of water up to a rolling boil and season with salt. While waiting for the water to boil, start making the sauce. Heat the butter in a large skillet, then add the leeks. Sauté over medium-low heat until softened, about 6-8 minutes. Add the white wine, bay leaf and thyme sprig, then reduce until about two tablespoons of liquid remains.
Add the heavy cream, season with salt and pepper, then reduce by half. When the sauce is almost fully reduced, remove the bay leaf and thyme, turn the heat to low, then drop half of the gnocchi (about 4 cups) into the boiling water.
Give the gnocchi a gentle stir, then wait for them to float. Once they've risen, let them cook for about 30 seconds more, then use a spider or big slotted spoon to remove them from the pot. Transfer them to the sauce, being careful not to add too much water.
Add the lemon zest and lobster pieces, then gently toss around until the gnocchi are fully coated. Transfer to plates, garnish with chopped chives and serve immediately.
Notes
This recipe makes more gnocchi than you will need for the sauce. Either double the sauce and cook all the gnocchi to serve 4-6, or freeze the remaining gnocchi for another time.
Adapted from Clara's Perfect Recipes
Prep Time:

4 hours

Category:

Main

Cuisine:

Italian-Inspired