So, you love exploring new culinary adventures in San Diego. You'll want to check out Kimpton Alma's fine-dining restaurant, The Desmond.
For those near Southern California craving a change in pace, adventure to San Diego for an exciting music and food opportunity. San Diego's known for its famous Gaslamp District, beautiful beaches, exciting baseball games right in the heart of downtown, and its delicious culinary scene. If it's your first time in San Diego and you love city life with restaurants, bars, and the baseball team, San Diego Padres, then the Gaslamp District is for you. With many hotel options, consider the newly renovated Kimpton Alma for dog-friendly rooms, fantastic pool concerts, and a meal at The Desmond with the acclaimed LA chef Jason Neroni at the helm.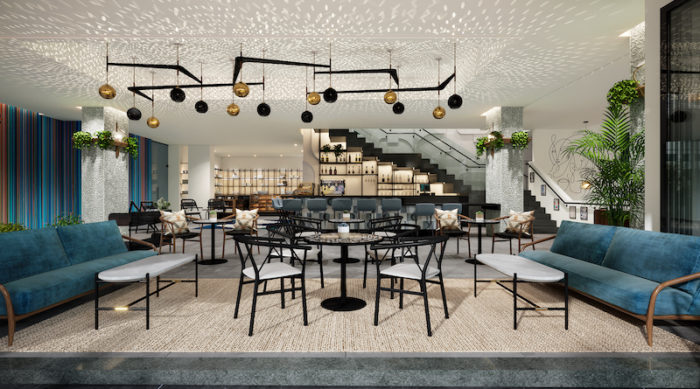 After completing a $25 million renovation last year, the sleek and stylish Kimpton Alma emerged from what was once Hotel Palomar. Featuring 211 rooms, look forward to bright rooms with cool blue tones featuring eclectic art, Mexican-inspired decor, oversized bathrooms with standalone tubs for maximum relaxation, and balconies with pool deck views. Depending on your budget, options like two-story penthouses are available. Or if you want to feel like you're in your own loft apartment, a two-bedroom corner suite overlooking Gaslamp District should do. Kimpton Alma is pet-friendly (all kinds, shapes, and sizes), and if you tell the staff ahead of time, a dog bed, water bowl, and treats await your furry friend in your room.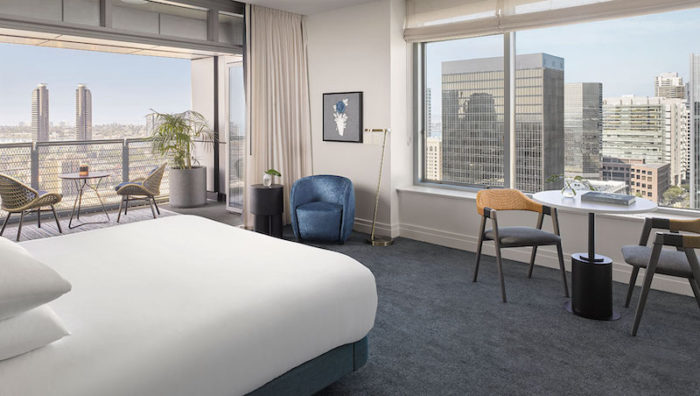 Head to the lobby bar after checking in for a refreshing cocktail as you start your San Diego adventure. Kimpton Alma boasts three dining concepts, including the brand new Leave of Absence, and the rooftop pool deck, which opened this year. Order a drink with Kimpton's custom smoky mezcal and chef Jason Neroni's wood-fired pizzas— an excellent prelude to Neroni's new pizza concept, Best Bet, opening in LA later this year.  For breakfast, you'll want to head down to The Cafe for some of the best coffee in town and homemade out-of-the-oven blueberry muffins. The full breakfast menu will pique your interest if you enjoy fluffy eggs and crispy bacon. And for happy hour lovers, wine tastings at The Cafe are a great start to the evening.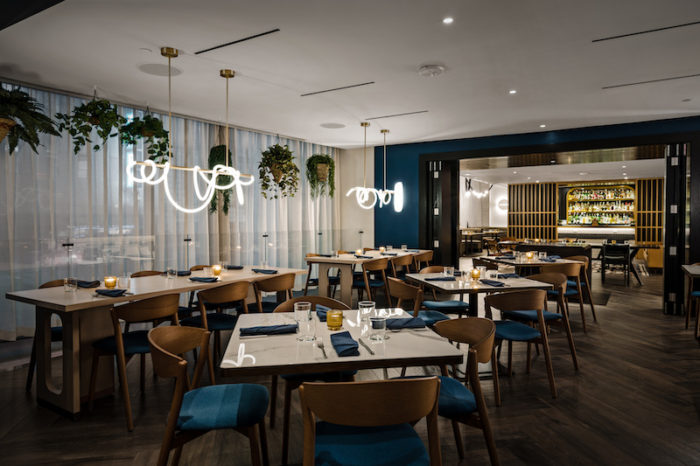 While staying at the Kimpton Alma, a reservation to The Desmond is a must. Chef Jason Neroni recently introduced a new seasonal menu featuring San Diego's local, fresh bounty. Neroni loves working with local farms showcasing what's in season. He states: "Seafood in San Diego is incredible. At The Desmond, I don't feel we're pigeonholed to go French, Italian, or American. I'm happy to put Japanese curry, black cumin, or pomegranate molasses here and there, and with such an international clientele, we can do whatever we want."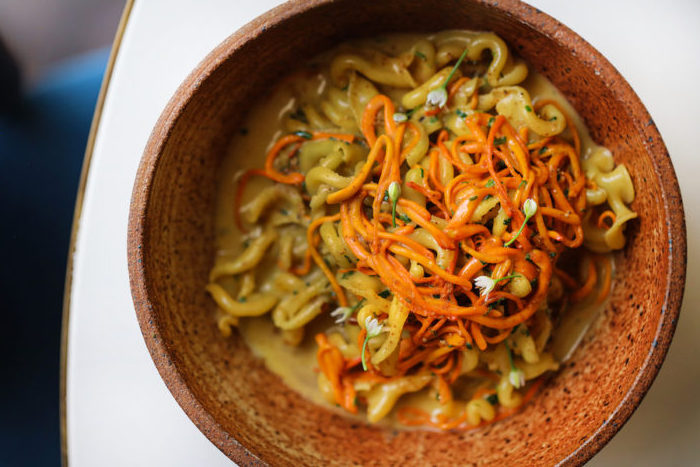 And speaking of doing whatever he wants, his new knockout menu highlights include Bluefin Tuna Tartar with toasted sunflower seeds, and pickled green strawberry reminiscent of freeze-dry strawberry cereal from your childhood, a perfect palette cleanser for the rest of the meal. Now, a burrata dish is on many menus. Still, this high-grade Italian imported burrata is served in a pool of rainbow-colored vinaigrette served with grilled strawberries, which brings out the creaminess of the burrata. Neroni is known for his handmade pasta, so you'd be remiss not to order fresh pasta with yellowfoot mushroom, brown butter parmesan fondue that tastes like earthy, cheesy goodness. Sure, you've had crispy squash blossoms; however, squash blossoms filled with Dungeness crab are a must-order on this seasonal menu. Leave room for dessert, like the fluffy meringue with brown butter Meyer lemon curd.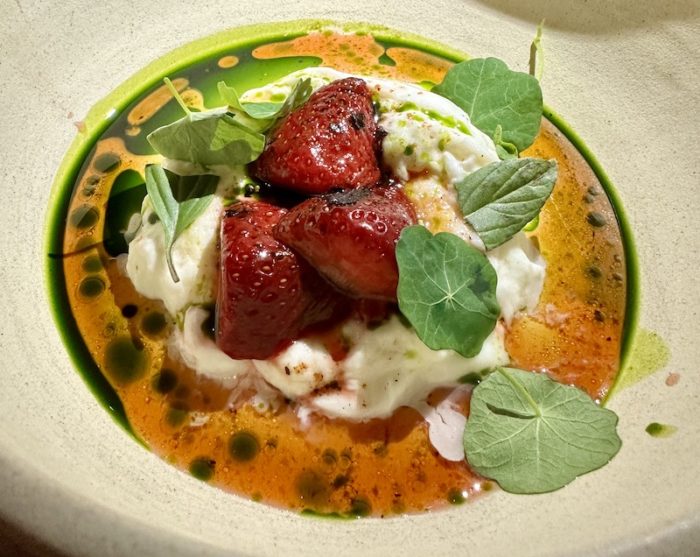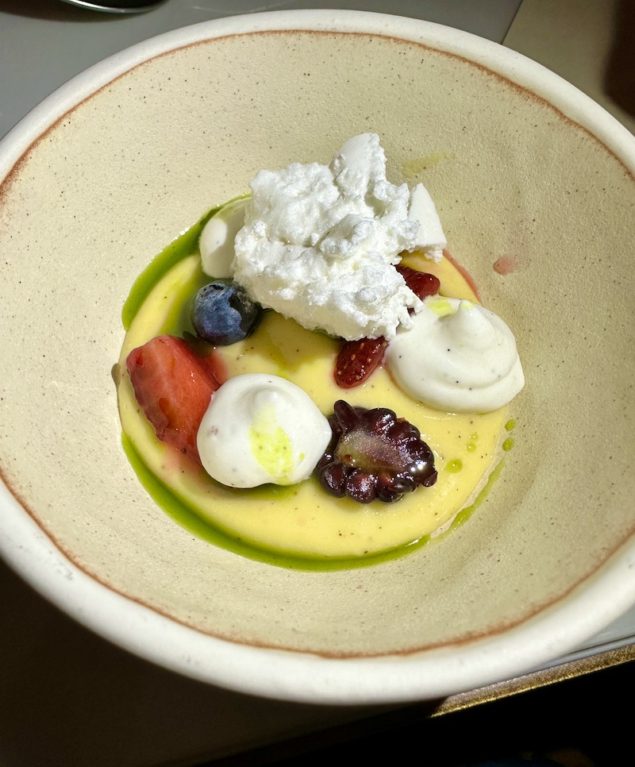 To maximize the experience, ask your server to pair your courses with a handcrafted cocktail. Recommendations include choosing the Fresca Sonora featuring tequila, aloe, pineapple, lime, and Fresno chile to go with the burrata dish. Or for the rich pasta, ask for Pine Creek, a non-alcoholic yuzu, lavender lemon soda, which also cuts the fattiness of the dish.
Chef Neroni's menu changes seasonally, so check the website for more information. While on the website, look at Kimpton Alma's Off The Record concert series for live summer performances by the pool at the new Leave of Absence this year. After checking out The Desmond, if you're interested in other restaurants Chef Jason Neroni oversees, head to Los Angeles to a Venice neighborhood institution called The Rose or his highly anticipated restaurant Best Bet opening soon.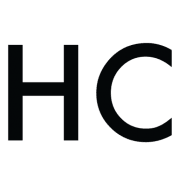 Keyla Vasconcellos
Keyla Vasconcellos is a passionate, freelance writer regarding all things food, lifestyle, and travel. She is usually searching the streets of Los Angeles for the next great bite, or she is shooting food photography for restaurant clients, or daydreaming about her next travel destination.