A quick, healthy and nutritious steamed fish recipe for weeknight meals. Teochew Steamed Fish with savoury, sour and spicy flavors.
By Shannon Lim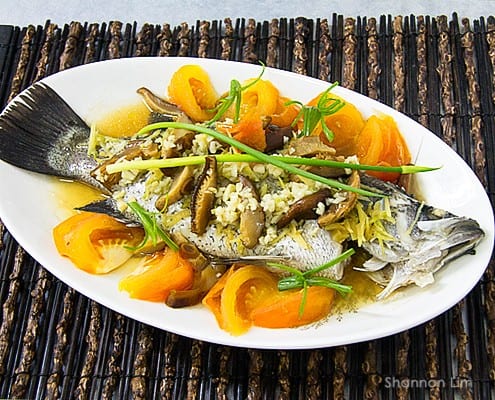 Steamed fish recipe is one of my go to weeknight dish – it's quick, healthy and nutritious. I grew up eating Steamed Fish Teochew style almost every day, as mama is of Teochew descent. Teochew (or Chaozhou) people are native to the eastern Guangdong province of China and Teochew cuisine offers a lot of healthy steamed, stir-fried and braised dishes. Using whole fish with tomatoes, salted vegetables and salted plums, the flavours of Teochew Steamed Fish are savoury, sour, spicy and altogether very appetising.
Seafood is charged a premium item when you eat out, and even though steamed fish is a very simple dish compared to many other dishes. If you do it at home, not only is it cost saving, steaming fish is really easy and the clean up is minimal.
See Also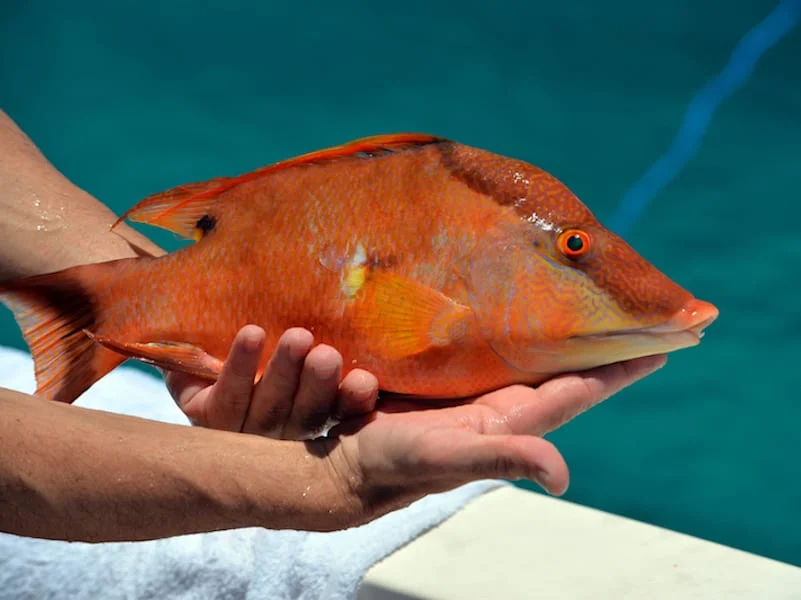 Steamed Fish Teochew Style
Quick & Nutritious Steamed Fish Teochew Style
Ingredients
1 medium Whole Fish (such as seabass/white pompret/garoupa) – I ask the fishmonger to clean it for me
1 inch Ginger - thinly sliced strips
1-2 medium Tomato - cut to small wedges
2 Dry Shiitake Mushrooms - soaked in water & sliced thinly
80g salted vegetables - sliced thinly about 1cm
2 Salted Plums (optional)
1 tablespoon Light Soy Sauce
2 tablespoon Water (adjust according to your preference)
Spring onions (scallions) - sliced thinly to wispy strips to garnish
Instructions
Make two diagonal cuts along the body of the fish (the fleshy part) on both sides. Place fish in a heatproof plate (most porcelain plates are heatproof). Add water and scatter the rest of the ingredients (ginger strips, salted plums, tomatoes, remaining salted vegetables & mushrooms) over the fish and around the plate. Drizzle light soy sauce over the fish.
Bring the water in the steamer/wok to a boil, then place the fish to steam on high heat for 10-15 minutes. Note: The bigger the fish, the longer it takes . Do not over-steam as the meat will become tough.
When the fish is ready, garnish with spring onions. Serve immediately with rice.
Shannon Lim-de Rooy
Shannon's kitchen is her playground and creative outlet, where she loves to experiment with recipes. As a Malaysian, her food influences are mainly Malay, Chinese and Indian cuisine but her curiousity in other culture lead to cross cultural cooking. On her blog JustAsDelish.com, she pursue her mission in creating healthy and delish food.