Chocolate Gel with Raspberry Coulis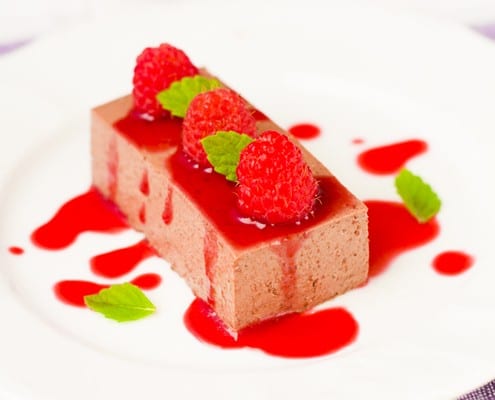 This type of no-bake dessert with seasonal fruit is yet another great way to satisfy your sweet tooth on a daily basis.
By Tamara Novacoviç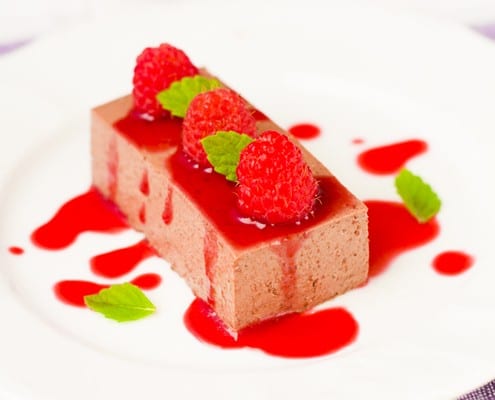 This is yet another dessert with seasonal raspberries. It has been known that raspberries and chocolate love each other. And they complement each other great in this dessert. This is really easy, yet looks elegant. It's a dessert you can serve both on a daily basis and for an elegant dinner.
Chocolate gel with raspberry coulis
This type of no-bake dessert with seasonal fruit is yet another great way to satisfy your sweet tooth on a daily basis!
Ingredients
For chocolate gel
7 oz (200 g) dark chocolate
0.35 oz (10 g) powdered gelatin
1.27 cups (300 ml) heavy cream
0.42 cups (100 ml) milk
For raspberry coulis
10.5 oz (300 g) raspberries
4 tbsp sugar
Instructions
Prepare gelatin according to instructions. Combine milk with heavy cream, heat almost until it boils, remove from heat and add chocolate. Stir to combine and melt chocolate. Add prepared gelatin. Pour this mixture into a rectangle pan, let cool to room temperature, then refrigerate for several hours, until it completely sets.
When chocolate gel sets, cut it with sharp knife into rectangles and put on serving plates.
Combine raspberries with sugar and heat until the mixture boils. Leave on heat for 5 more minutes. Remove from heat and strain it. Let cool. Pour over served chocolate gel.
Tamara Novakoviç
Tamara Novakovic is a passionate self-taught cook, food blogger, freelance food writer and photographer behind bite-my-cake.blogspot.com. Her life journey has led her through Faculty of Humanities in Zagreb, Croatia to discovering passion for making cakes. She is currently a weekly food columnist for Croatian newspaper V magazine and food magazine Repete.