Grab your favorite chocolate stout beer and make this rich, dark chocolate stout cake with a ganache glaze.
Chocolate stout cake was born out of my husband's request for me to make more food with beer in it.
I considered a whiskey caramel drizzle or an Irish Creme icing, but then I decided that I didn't need to get too fancy. Nothing that involved thermometers or boiling or a mixer. What should go on top of a chocolate stout cake? Chocolate stout ganache, duh.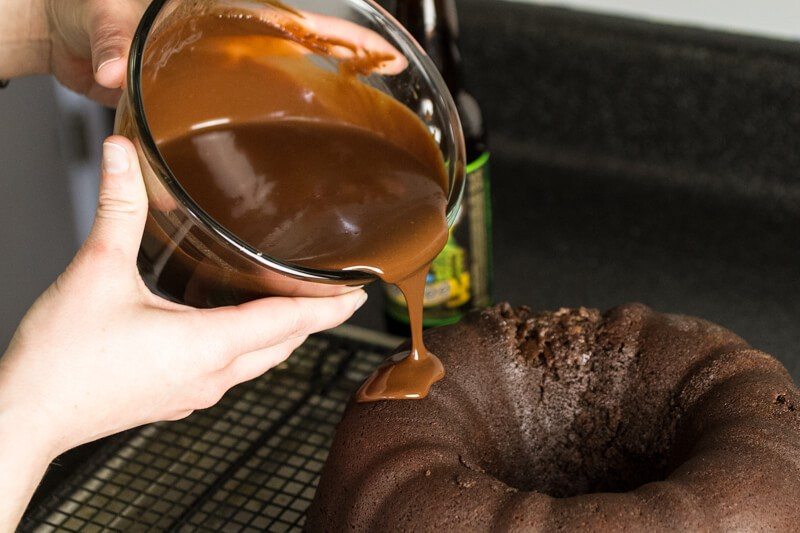 Most stout cakes involve Guinness, but my husband owns a beer store and I can get lots of great craft stouts and porters. My favorites for this recipe are Terrapin Moo-Hoo Chocolate Milk Stout (pictured), Boulder Shake Chocolate Porter (in the video), and Founder's Breakfast Stout.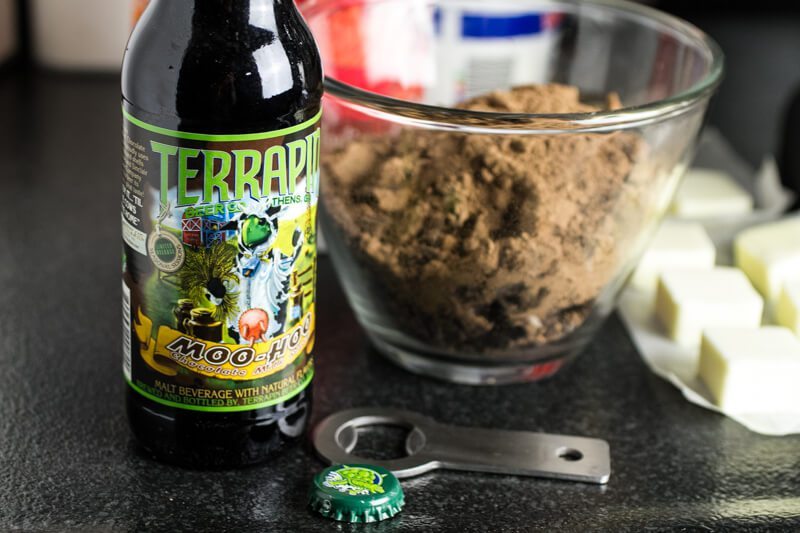 The Cook's Illustrated Baking Book provided the perfect starting point with their chocolate sour cream bundt cake recipe (and a wonderful tip for "greasing" the pan with butter and cocoa), and the Beeroness gave me a wonderful ganache recipe. By the way, I've decided that bundt cakes are every bit as easy sheet cakes, and when icing just involves heating, stirring, and pouring, that's a win.
See Also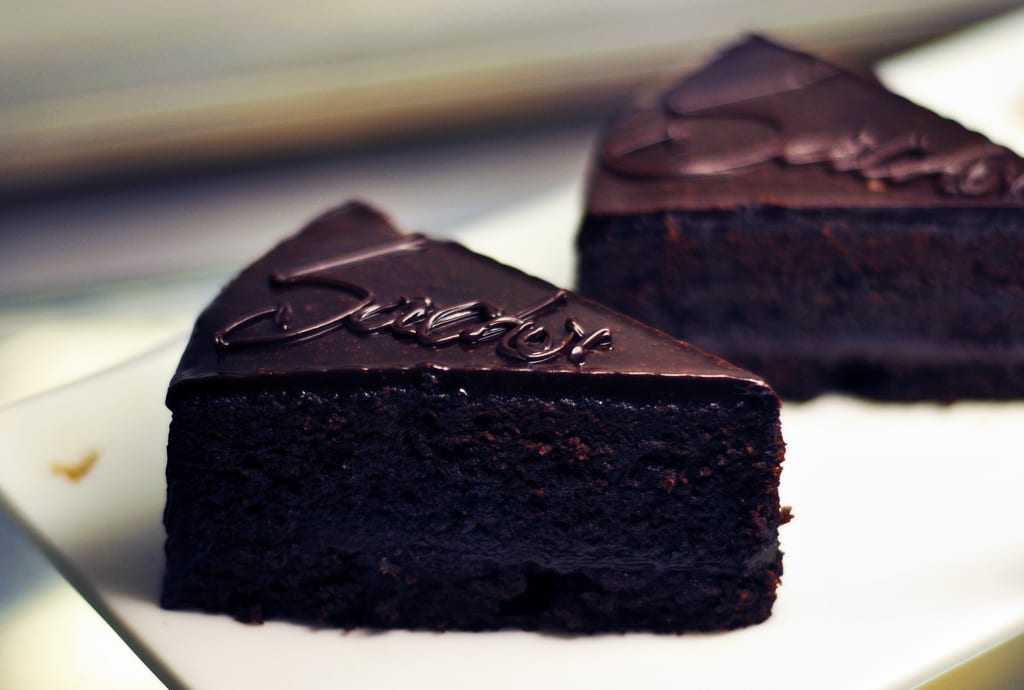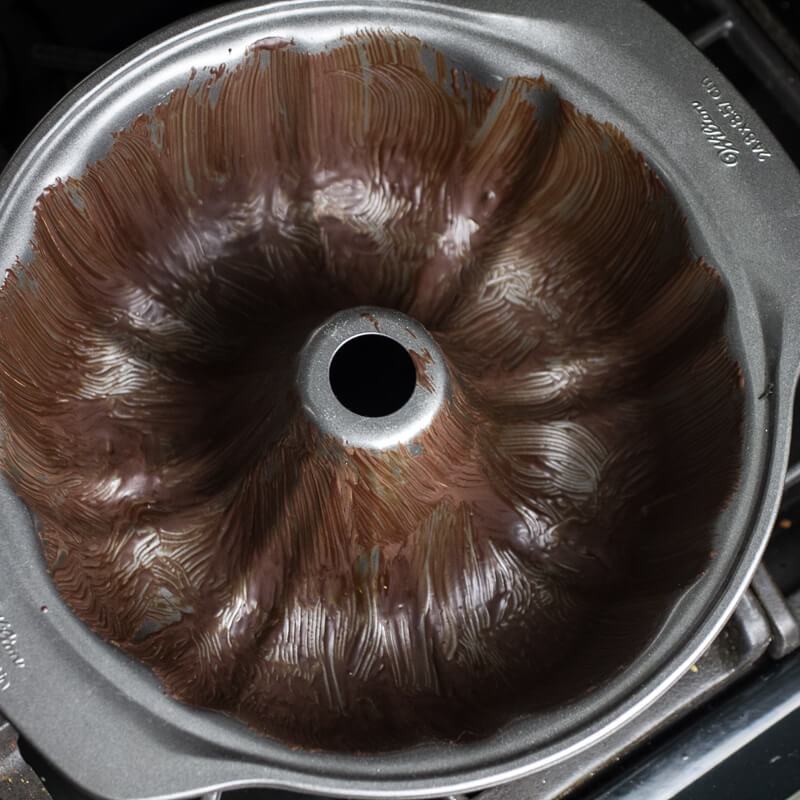 Click here for the ganache recipe.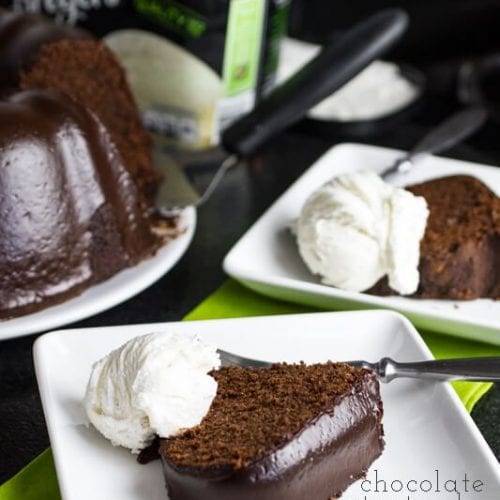 Chocolate Stout Cake and Ganache Glaze
Mary Haymaker
Grab your favorite chocolate stout beer and make this rich, dark chocolate stout cake with a ganache glaze.
Ingredients
For the cake
3/4

cup

unsweetened cocoa powder

plus one tablespoon for pan

12

tablespoons

unsalted butter

softened, plus one tablespoon, melted, for pan

6

ounces

semisweet or bittersweet dark chocolate

chopped

3/4

cup

chocolate stout

I used Terrapin Moo-Hoo chocolate milk stout

1

cup

sour cream

at room temperature

1 3/4

cup

all-purpose flour

1

teaspoon

salt

1

teaspoon

baking powder

2

cups

packed brown sugar

5

large eggs

at room temperature
For the Ganache
Click the link above for the recipe
Instructions
Preheat oven to 350 degrees. Position a rack at the lower middle position. Combine the tablespoon of melted butter with the tablespoon of cocoa. Brush all over the inside of a 12-cup bundt pan.

Combine the remaining cocoa with the 6 ounces of chopped chocolate. Heat the 3/4 cup stout to nearly boiling. Pour over the chocolate mixture and allow to stand for five minutes. Stir until smooth, then stir in the sour cream until completely combined. Whisk the flour, salt, and baking powder together in a small bowl.

Using an electric mixer, beat the butter and brown sugar together on medium-high speed until fluffy. Add the eggs, one at a time, and beat until completely combined, scraping down the sides of the bowl occasionally. Reduce the speed to medium and add the flour mixture, a third at a time, alternating with the chocolate mixture, beating until completely combined and scraping the sides of the bowl after each addition.

Use a rubber spatula to scrape the batter into the prepared cake pan. Bake the cake for 45-50 minutes, until a cake tester or toothpick inserted into the center of the cake has only crumbs clinging to it. Cool in the pan for ten minutes, then invert onto a wire rack and allow to cool completely.
For ganache:
Click the link above for the recipe.
Mary Haymaker
Mary Haymaker is a teacher by day and a cook, food writer, and photographer by night. She has lived in the Chattanooga, Tennessee area her entire life and is dedicated to supporting the growing local food movement there. You can read more of Mary's writing at her blog, chattavore.com.