This decadent chocolate smoothie is actually a healthy drink packed with good stuff that will help you through the day.
Are you the type who likes to indulge? Are you passionate about rich creamy chocolate?  This smoothie will seduce you and leave you wanting more…  and you can have all you want, because it is good for you too!  Don't tell the kids, but this chocolate avocado smoothie is full of vitamins, minerals, and healthy fats which will keep you gliding through the day.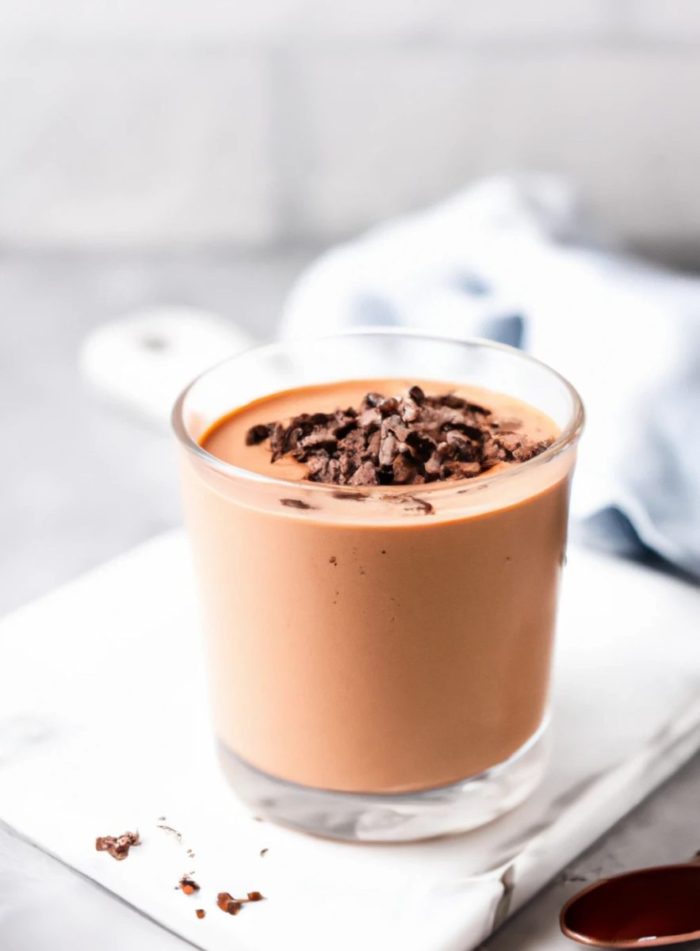 Raw Cacao: A mega-source of magnesium, which builds strong bones.  Raw cacao is also known for improving serotonin levels in the body, and leaving you "feeling good".  And since it is raw, you will not have the same highs and lows that other caffeinated chocolate products leave us with.
Avocado: This stunning green fruit helps create the creamy, pudding texture of the smoothie while also giving our hearts a little extra love.  Avocados are known to maintain good cholesterol levels while reducing bad cholesterol in the body, and as an added bonus, avocados are known to reduce body weight!
Swiss Chard: For those who still struggle with getting their dark leafy greens, here is a great way to get your daily dose.  Swiss Chard is a great source of iron, vitamins A, C and K, and is also known as a blood sugar regulator…which means you will feel energized and stabilized through the day.
Almond Milk: A great alternative to animal derived milks, almond milk is a thick and satisfying beverage…and is protein packed!
So blend up these amazing ingredients and create your first of many deliciously addictive smoothies.
Print

Avocado Chocolate Smoothie
---
Description
This decadent chocolate smoothie is actually a healthy drink packed with good stuff that will help you through the day.
---
1.5

cup

(3.75dl) almond milk

1

handful fresh Swiss chard, chopped

1/4

ripe avocado

1 tablespoon

agave

2 tablespoon

raw cacao powder

1 teaspoon

vanilla

1

cup

of ice
Raw cacao beans, chopped, or dark chocolate shavings for topping
---
Instructions
1. Pack chopped Swiss chard in the bottom of a blender and then fill with almond milk to the 1 cup line on the blender.  Blend starting on a low setting and increasing to the highest setting until the greens are well blended, about 80 seconds.
2. Turn off blender, add the rest of the ingredients, and blend again starting on a low setting and working up to a higher setting, about 60 seconds.
3. Add ice, and blend again, 40 seconds.
4. Pour into a pretty drinking glass and top with cacao beans or dark chocolate shavings.
Christine Curran
Christine Curran has been passionate about cooking since she was little and has become a self-taught Gluten-Free Baker and Vegetarian Cook. She has been sharing this passion on her successful food blog Nourish the Budding Lotus since 2008.