In light of tragic recent world events Asha Pagdiwalla finds herself turning to food for comfort.
By Asha Pagdiwalla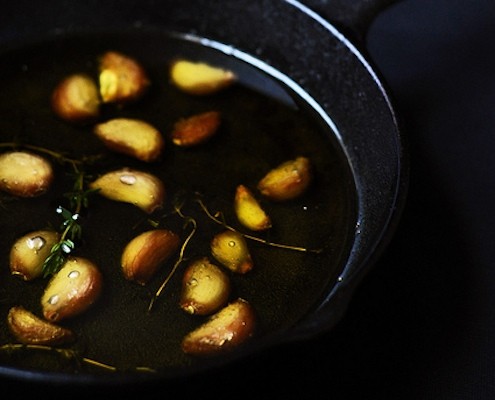 For time immemorial, food has provided solace in difficult times and will continue to do so. From sniffles to major maladies, food has the power to heal the body, heart and soul. And, as the timing of recent events, in Japan and Libya, continue to elude reasoning, I can only pray for those in pain and comfort myself by taking care of my family with love and food.
Garlic confit is truly a comfort. Poaching the garlic slowly in oil removes the pungence completely and renders it succulent and mildly sweet. The garlic becomes so soft that you can just mash with the back of a spoon and the oil is perfumed with its flavor. I used thyme to add another aromatic depth of flavor. It is delicious spread on a slice of toast.
Garlic and Thyme Confit
(adapted from Food & Wine)
Prep time: 10 min;
Cook time: 50 min
Total time: 60 min
Yield: 3/4 cup (1,8dl)
3/4 cup Olive Oil (1,8dl)
2 tbsp fresh Thyme leaves
1 tsp salt
2 heads of garlic
1. Combine all the ingredients in a oven safe dish and bake at 300°F (150°C) for 50 minutes until the garlic is browned and completely soft yet holding shape. Let cool to room temperature and store in an airtight container.
For more ideas for using the confit, check Asha's blog, Fork Spoon Knife.
Asha Yoganandan
Asha is the Founder and the Creative Strategist of INK, a digital marketing consultancy focused on food and leisure clients. A key social influencer, she has a reach of over 400K across digital platforms. She edits and publishes NOURISHED magazine, a seasonal and quarterly food magazine with international distribution. She writes an acclaimed blog, Fork Spoon Knife, on food and culinary travel related topics. She pens for and has been featured in The Daily Meal, Redbook Magazine, Spenser Magazine, Huffington Post, Good Food Jobs, Food 52, Mashable among others.