Can you smell its aroma? Can you taste its flavours? Now, you can easily make this restaurant-quality dish at the comfort of your own home.  So, what are you waiting for?  Time to impress your dinner guests! 
By Josephine Chan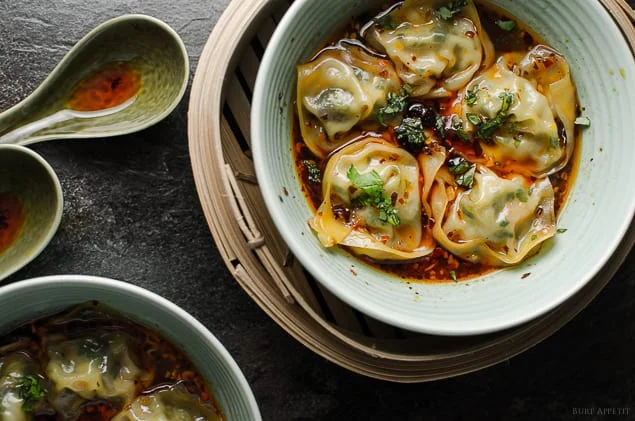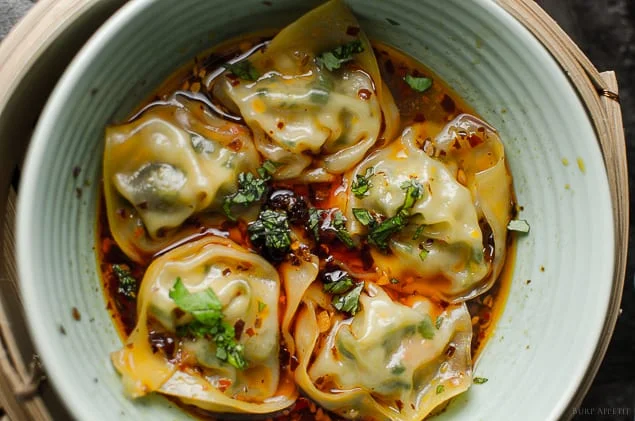 Chicken. Pork. Seafood. Vegetarian. Steamed. Fried. Boiled. Juicy. Spicy. Slippery. Crispy. Tender. Aromatic. Soupy.
… and they come in all shapes and sizes.
These are just some of the words that come to mind when you think of wontons.
It doesn't matter if the wontons are steamed, fried or boiled, the key to won-ton of goodness comes from its dressing that brings out its contrasting flavour.  Ranging from the intensely aromatic spicy roasted chilli oil to sourish ginger vinegar sauce to just a simple sweet salty soy sauce, these small parcels most certainly do not disappoint!
After all, there's really no such thing as sick of too many dumplings.
Recipe is adapted from Jeremy Pang's Chinese Unchopped. 

Steamed wontons in chilli broth
These little parcels are just extraordinarily delicious.
Ingredients
1 garlic clove, finely chopped
1 scallion, finely chopped
1 cup of coriander, finely chopped plus extra to garnish
10 chinese chives, finely chopped
5 dried shiitake mushrooms, rehydrated and finely chopped
2 pcs fresh wombok (chinese cabbage) leaves, finely chopped
150 g prawns, peeled and deveined, finely diced
1 tsp soy sauce
½ tsp sugar
2 tsp sesame oil
20 wonton wrappers
Chilli Broth
200 ml chicken stock
½ tbsp oyster sauce
3-4 tsp Chiu Chow chilli oil
Instructions
Place all chopped ingredients and diced prawns into a mixing bowl. Add soy sauce, sugar and sesame oil . Mix everything together.
Set up the wrapping station – a clean bench, a small bowl of water and wonton wrappers. Wrap the wontons by following these simple instructions: a)Place 1 tsp of prawn mixture onto the centre of the wrapper. Using the index finger, lightly wet all sides. b) Fold the bottom corner over the mixture to the top to form a triangle. Press to seal all sides. c) Take the 2 corners of the triangle at the base and pull them towards each other, one to overlap the other. d) Lightly wet the tip and press them together to secure.
Place wontons in a deep bowl. Bring the chicken stock to a simmer in a saucepan, stir in the oyster sauce and chilli oil. Taste and adjust. Then pour the chilli broth over the wontons.
Set up the wok to steam. Once the water is boiling, place the bowl in the wok, cover and steam for 8 minutes, or until cooked through. Remove, garnish with chopped coriander and serve hot.