Learn how to make beautiful homemade pork wontons to include in soups or as a delicious appetizer.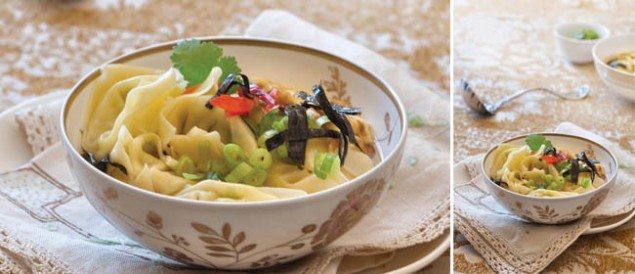 The versatility of Chinese wontons is almost too forgiving for the homecook with a hectic schedule or someone with a very small kitchen (like in my case).
The beauty of wontons is you can have them either in a fragrant soup or simply pan-fried like traditional pot-stickers
Here is my favourite, simple and totally easy recipe for delicious wontons
Variations include:
Grate in Zucchini for super juicy wontons
Add in Chinese woodear for some crunch and protein
Finely chop cabbage and use fresh prawns for a classic combination
Print

Homemade Pork Wontons
---
Minced pork (100g)
Ginger (1 small knob, peeled and grated)
Spring onion (scallion, ¼ stalk, finely chopped)
All-purpose soy sauce (½ tsp)
Sesame oil (1/3 tsp)
Salt and pepper to taste
Bok choy (½ bunch, finely chopped)
Wonton wrappers (35-40 sheets)
To serve — noodles – Hong Kong Style Egg noodles are best
Soy sauce – extra to serve
---
Instructions
Combine minced pork, ginger, spring onion, soy sauce and sesame oil in a bowl and mix well. Add about 1 tablespoon of cold water to loosen the mix. Season with salt and pepper and leave to marinate in the refrigerator for at least 30 minutes.
Just before wrapping wontons, add in the bok choy (do this now, so that the 'water' from the vegetable is minimised)
To make the wontons, place 1/2 tsp minced pork filling into the centre of a wrapper. Wet the edges of the wrapper with some water, then fold wrapper in half to make a triangle. Taking the two small tips of the triangle, bring them together to form a sort of crown. Repeat until all the ingredients are used up.
To cook, boil a large pot of water and add wontons. Stir gently with the back of a wooden spoon. When water returns to the boil, add 250 ml (8 fl oz / 1 cup) cold water and leave to simmer until wontons float to the top of the pot boil. Drain and leave on the side.
In a medium sized pot, boil water and add in the noodles, cooking according to the instructions. Drain well before tossing in 2 tablespoons of soy sauce and a dash of sesame oil. Mix to coat the noodles.
To serve, place the noodles in a bowl and top with the boiled wontons. Serve with extra soy sauce or chilli sauce.
Michelle Tchea
Michelle Tchea is a 4-time bestselling author. Her books include, Building a Perfect Meal, My Little SoHo Kitchen, Signature Dishes (Australia's Best) and Chefs Collective. Her work can be found in other leading luxury travel and food magazines including Travel+Leisure Asia, SMILE, NUVO Magazine and The Telegraph