Homemade chocolate-hazelnut filling joins crunchy hazelnut cookies to create a delicious, melt-in-your-mouth cookie sandwich.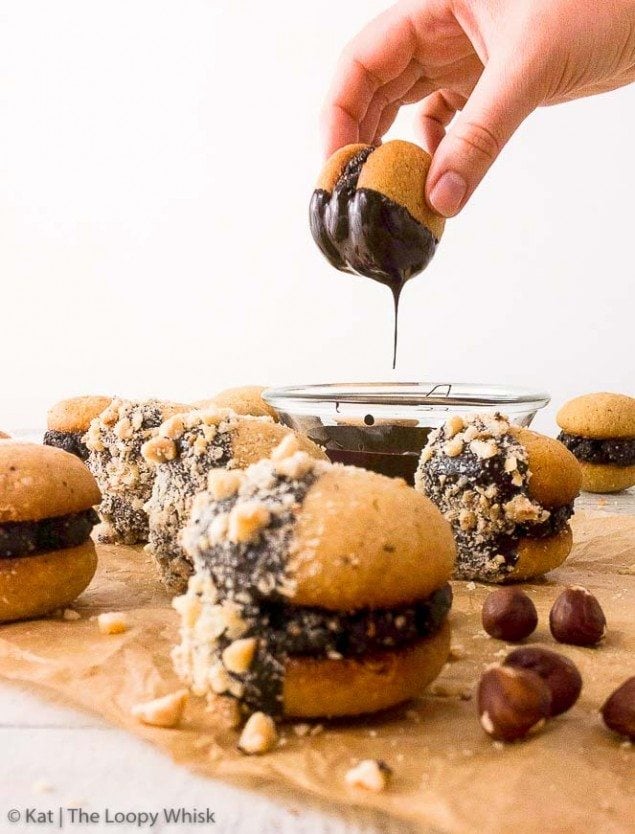 If one cookie is great, two cookies are better, and if you put a filling in the middle, you have a winner. Another logical argument: everyone loves Nutella (fact), and everyone loves cookies (fact) – therefore it follows that everyone will love (to the power of about a thousand) these "Nutella" hazelnut chocolate sandwich cookies. Fact. Case closed. (And these are gluten free, dairy free and refined sugar free sandwich cookies, how amazing is that?!)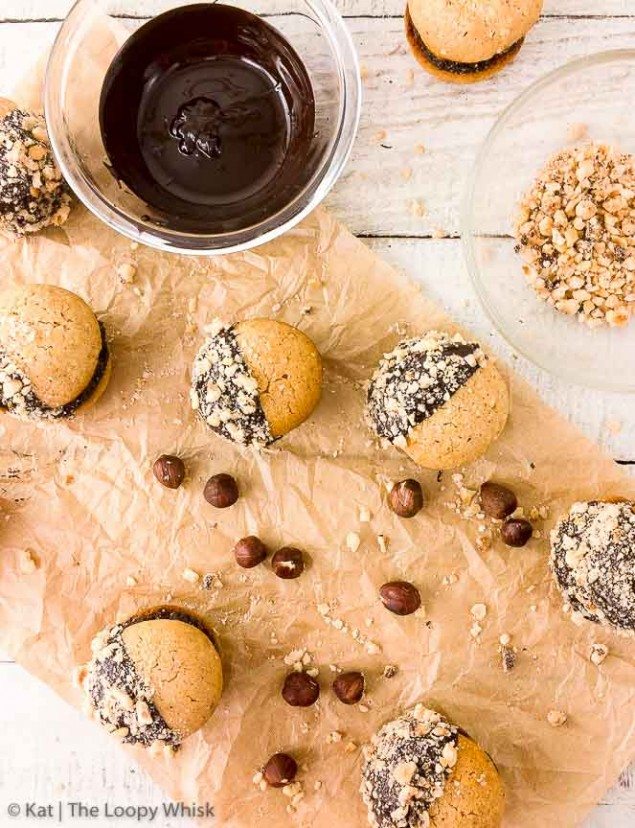 There's nothing uninteresting, or boring, or average about these sandwich cookies. They are everything sweet and crumbly and oh, there's the gooey filling, and it's chocolate and hazelnuts and we're all simply over the moon with how delicious they are. Furthermore, just imagine how awesome people will think you are when you just oh-by-the-way mention that 'Well, I've obviously also made the Nutella filling, as in, it's homemade Nutella, no biggie, really.' with the 'I'm simply fabulous like that' going unspoken but so so so glaringly obvious.
Because, yes, you'll be making the Nutella filling. So scratch that "homemade Nutella" off your To-Do-(It-Will-Probably-Never-Happen-But-It's-Nice-To-Imagine) List. Because we're totally doing this, and it'll be a piece of cake (pardon me, a piece of sandwich cookie… or ten of them – no judgement). But first, the cookies.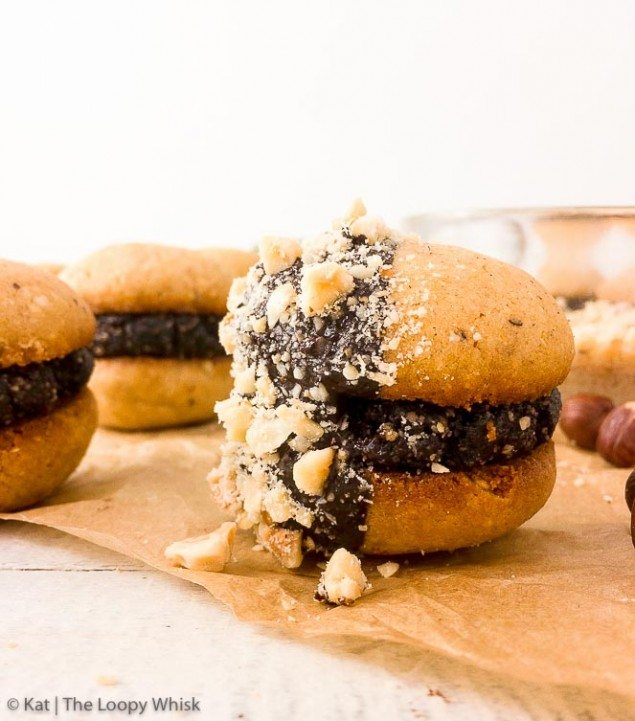 The top secret trick that elevates these sandwich cookies from mmm-they're-really-good to oh-my-god-I'm-having-an-out-of-body-experience-they're-so-so-so-I-don't-even-have-the-words (that I'll tell you all about) is… roasting the hazelnuts. I don't care how you do it – in a pan on the hob, in a baking tray in the oven – just roast the hazelnuts. I'm being 100% serious, it really does make that much of a difference. One does not make light of such existentially crucial matters!
We won't be using butter or sugar today, nope, none of that. We're going the dairy and refined sugar free way today. Therefore, soften that coconut oil (but don't melt it – you can't "cream" a liquid), add that honey and cream them together. Resist picking up the spoon and "just having a taste". Yes, it is finger-lickingly delicious, but these sandwich cookies are worth the willpower exercise. Trust me. (Think of it as character building.)
See Also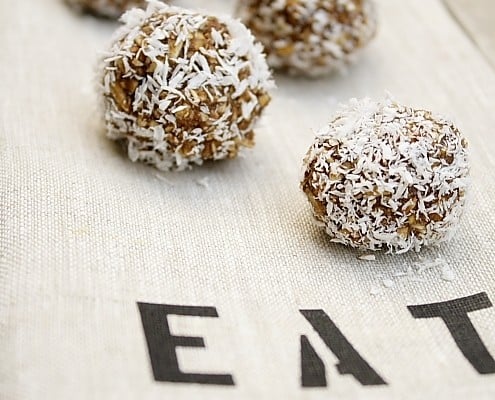 An egg and an egg yolk (for extra decadence) are added, while gluten free flour, baking powder, baking soda and salt are sifted together, mixed with some ground roasted (!) hazelnuts and then everything is mixed mixed mixed together. A benefit of gluten-free baking? None of that pesky 'be careful not to over-mix the cookie dough to avoid a rubbery texture' here. No gluten – no worries. Perfectly crumbly sandwich cookies await you.
So next time somebody wrinkles their nose at the thought of gluten, dairy and refined sugar free cookies, just shove these "Nutella" hazelnut chocolate sandwich cookies under the aforementioned offending nose, and you'll have a "free from" convert. You'll probably also have (a lot) less cookies on your hands, but, well, the things one does for other people's enlightenment.
Click here for the filling recipe.
Print
Chocolate Hazelnut Sandwich Cookies
Homemade chocolate-hazelnut filling joins crunchy hazelnut cookies in to create a delicious, melt-in-your-mouth cookie sandwich.
Author:

Katrina Cermelj

Prep Time:

48 minutes

Cook Time:

12 minutes

Total Time:

1 hour

Yield:

26

sandwiches

1

x
Category:

Baking, Cookies
For cookies:
150 g

hazelnuts (roasted and ground (Note 1))

175 g

coconut oil (softened, not completely melted)

150 g

clear honey

1

egg and 1 egg yolk

1 tsp

vanilla extract

325 g

gluten free flour

½ tsp

baking powder

½ tsp

bicarbonate of soda
pinch of salt

1 tsp

cinnamon
For homemade Nutella filling:
Click the link above for the filling recipe.
For assembling:
1 tbsp

clear honey
melted chocolate (Note 2)

50 g

hazelnuts (roasted and ground)
Instructions
For cookies:
Pre-heat the oven to 350F (175C) and line a baking tray/sheet with baking/greaseproof paper.
Cream together softened coconut oil, honey and vanilla extract.
Add the egg and egg yolk, mix thoroughly.
In a separate bowl, sift together gluten free flour, baking powder, baking soda, salt and cinnamon. Mix in the ground hazelnuts.
Add the flour mix to the wet ingredients, and mix well until a smooth cookie dough comes together. The dough will appear a bit oily – it's supposed to be like that!
Shape individual portions of cookie dough, roughly 1 – 1½ tbsp in amount, into balls.
Place the cookie dough balls onto the baking tray, leaving about ½ inch (about 1.5 cm) between them. Flatten them (very slightly).
Bake in the pre-heated oven at 350F (175C) for about 12 minutes, or until golden brown around the edges.
Leave the baked cookies to cool before sandwich cookie assembly.
For homemade Nutella filling:
Combine all ingredients in a blender and blend until smooth (or slightly chunky/crunchy, depending on the strength of your blender – it will be delicious in all cases).
The "Nutella" will be dense and gooey, and you will be able to shape it using your hands (or a spoon)
For assembly:
Smear a small amount of honey on the bottom part of two cookies.
Shape the "Nutella" filling into a ball roughly the size of the cookie balls before baking.
Sandwich the "Nutella" filling between the two cookies, and repeat until no cookies and/or filling remains.
Dip half of each sandwich cookie into the melted chocolate, letting any excess drip down.
Dip the chocolate-covered half into the remaining ground roasted hazelnuts.
Let the chocolate to set, and enjoy!
The sandwich cookies keep well in a closed container in a cool dry place for about a week (but I give them a day, at most).
Notes
Note 1: Roast the hazelnuts in a pan on the hob at medium to high heat for 5 – 7 minutes, until dark golden brown. Alternatively, you can roast them in the oven heated to 390F (220C) in a baking tray for about 10 minutes. If not using blanched hazelnuts, peel the skin off the hazelnuts before they cool completely. When cooled down, grind the hazelnuts into a relatively fine powder, using a blender/mixer.
Note 2: You can simply melt store-bought (sugar free!) chocolate of your preference, or follow the procedure for my raw vegan chocolate truffles to make your own (but WITHOUT adding the water!).
Katarina Cermelj
Katarina is a Chemistry PhD student at the University of Oxford. At least by day – by night she transforms into a food blogger, baking up a storm, taking way too many close-up photos, and writing up blog posts for "The Loopy Whisk" (click on 'website' below to take a look!). Her recipe repertoire ranges from buttery, sugary goodness to raw vegan gluten- and refined sugar-free treats. But they are all joined by a common thread – an emphasis on easy and (mostly) quick recipes that are above all else about flavour. Oh, and she talks (writes) a lot.