These are crispy pockets of vegetarian goodness. Try wontons in a different way this time, southwestern style!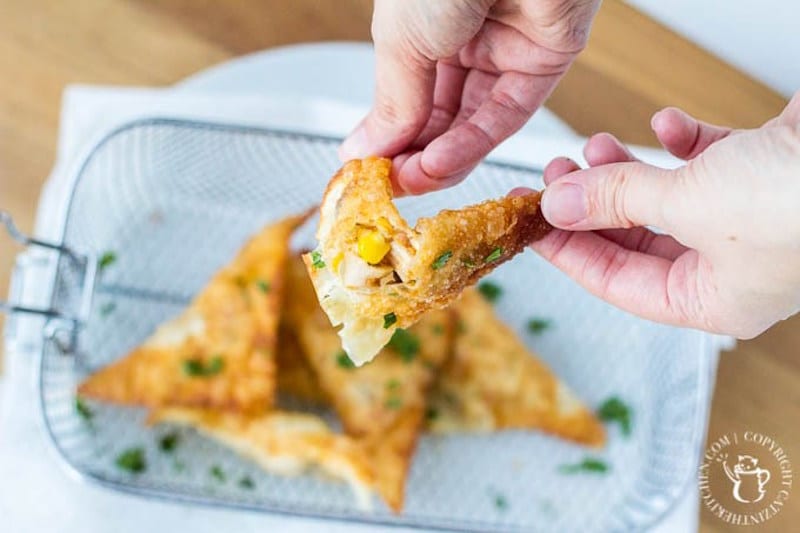 Begin by heating a bit of olive oil (a tablespoon is the general measurement, but there's really no need to measure) in a medium size pan over medium-low heat. Add to that about a quarter cup of raw diced onions, and sauté them until they're soft and just barely browned. On top of the onions, add in a quarter to a half cup of diced red or green bell pepper (red is prettier, but I found the flavor satisfactory both ways). Stir the mixture around every so often while it cooks for another three to five minutes, and then add a couple of cloves of minced garlic. Cook this mixture for only one minute, and then add in about a third cup of frozen corn and the same of black beans. Continue to stir this mixture about a bit in the pan, just until it is heated through. Transfer the entire contents of the pan to a medium sized bowl, and you're ready to move on.
Grind some black peppercorns over the top of the mixture, and add in about a quarter cup of cheddar cheese and another quarter cup of monterey jack. Finally, drop in a couple of teaspoons of dry ranch dressing and stir to mix. That's your filling.
Now, you can clean out your skillet and use it for this next bit, or you can use a slightly larger one. I used a flat-bottomed pan with high sides, as it seemed to give me room for a few more wontons at a time. Either way, pour in between a quarter inch and half an inch of vegetable oil (not a big fan of canola, personally), and allow it to heat for several minutes over medium heat. If you're using a gas stovetop, you'll probably want to reduce this to medium low once the oil is heated.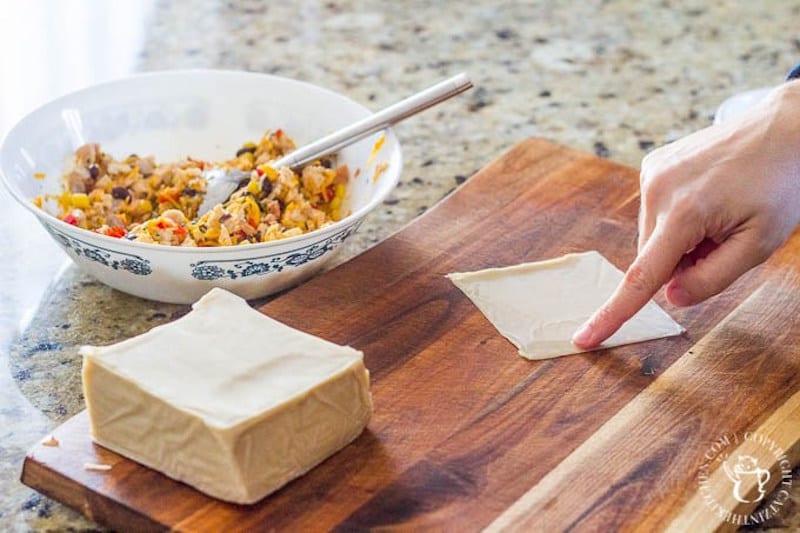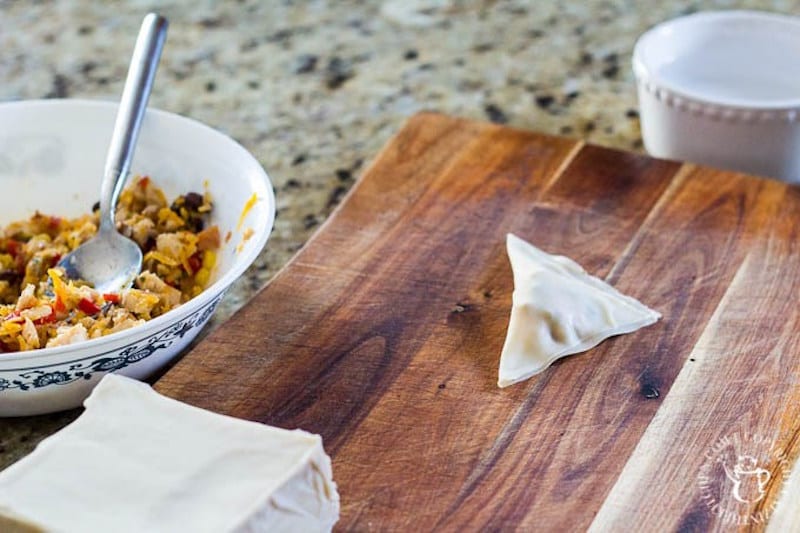 As to the wonton wrappers themselves, you'll need a small bowl of water to dip your fingertips in. Nice and ceremonial, isn't it? Spoon just about a teaspoon of the mixture you made into the center of each wonton, and then wet two sides of each one by dipping your fingertip in the water and running it along the edges. Seal the wonton by folding it over and pressing the wet edges together with the dry ones. If you get a good brand, you really won't have to worry much at all about the wontons ripping. I'm also not the greatest at getting all of the excess air out of the wonton when sealing it, but you ought to give it a shot just the same!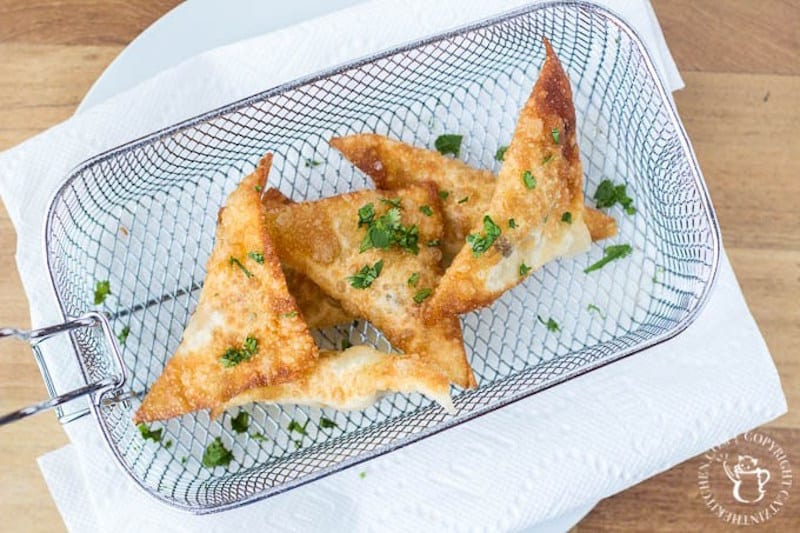 Once your wontons are stuffed, sealed and ready for delivery, set them in the heated oil. They'll take a minute or less per side once the oil is hot, and they burn quickly, so keep a close eye on the action in the pan. A light golden brown is perfect, but a deeper brown is quite edible as well. At this point, I preheat the oven to 170 degrees, take a cookie sheet, cover it with paper towels and place a cooling rack on it. This gives you something to set the wontons on when they come out of the pan, drains them of any excess oil, and keeps them warm until you're ready to serve.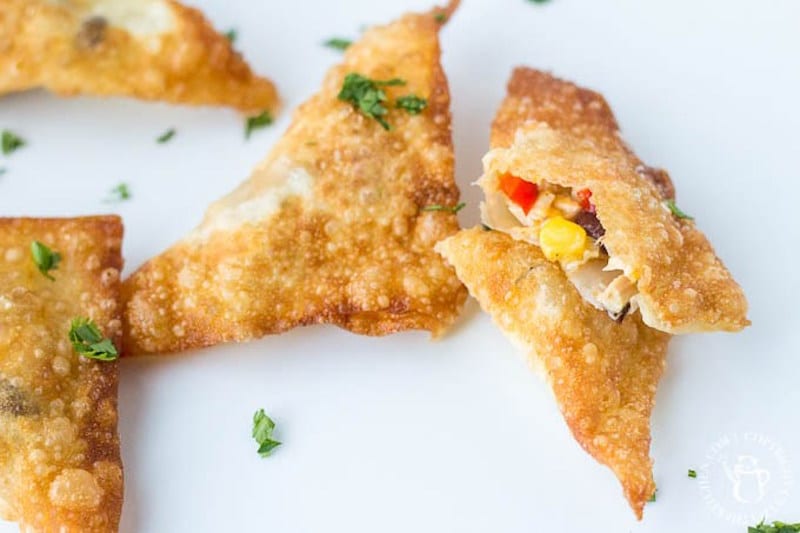 That's it! The wontons are done, and trust me when I tell you this is an appetizer that will please adults and children alike. I would confidently serve these at any gathering…as long as they were paired with my simplest of dipping sauces. This is the touch that takes these tasty little morsels over the top, so don't miss it. Mix three or four tablespoons of mayonnaise with three or four tablespoons of barbecue sauce, and you're good to go – as long as you use the right barbecue sauce! To achieve the proper taste, pick up a chipotle honey barbecue sauce – preferably Sweet Baby Ray's, if you have access to such a wonderful product. The chipotle flavor adds a marvelous tang to the entire affair, while the honey keeps it nice and sweet. You absolutely will not believe how good this simple sauce is until you try it. So try it.

Wontons Southwestern Style
Ingredients
1 tbsp extra virgin olive oil
¼ cup diced onion
¼ cup diced bell pepper (any variety)
1-2 cloves garlic, minced
¼ cup frozen corn kernals
¼ cup canned black beans, drained
¼ tsp black pepper
¼ cup shredded cheddar cheese
¼ cup shredded monterey jack cheese
2 TB ( ½ pkg) dry ranch dressing
24 wonton wrappers
vegetable oil for frying
Instructions
Pre-heat oven to 170 degrees.
Heat olive oil up in a pan in a large skillet over medium heat. Add onions and sauté for about 5 minutes, or until soft, then add in your diced bell pepper, and stir it around every so often for about 3-5 minutes. Add in your garlic and stir for 1 minute. Then add in your corn and black beans, stir until heated through, and turn off burner. Add the contents of the skillet into a medium sized bowl.
Sprinkle pepper over veggie mixture and toss in your cheeses along with the dry ranch dressing and give it a good stir until everything is combined.
Clean out your skillet or use a bigger one pour in a quarter -half an inch of vegetable oil and allow it to heat up over medium heat.
For the wonton wrappers, lay tout a few at a time on your cutting board and grab a small bowl of waters for dipping your fingers in. Spoon about a tsp of the mixture onto the center of each wonton wrapper and wet two sides of each wrapper with your fingers, folding and sealing the wet sides of the wrappers to meet with the dry sides of the wrapper, the shape your going for is a triangle.
Once the wontons are stuffed, set them in the heated oil and cook for about 1 minute on each side or until you have a light golden brown color on each side of the wonton.
Remove the wontons and place them on a wire rack on top of a cookie sheet with a paper bowl on the bottom of the sheet to absorb any excess oil that drips. Place the sheet in the oven, to keep warm while you continue frying your wontons, and are ready to serve.
Enjoy with dipping sauces: Ranch is delicious, or make a camp sauce out of Mayo and a Chipolte Honey BBQ Sauce.
Serve, Enjoy, and Dream about them later! :)