Spicy, umami broth, a perfectly boiled egg, a wedge of lime, and slippery noodles is the perfect combination on a cold winter night. What more can you ask for than a Burmese fish noodle soup?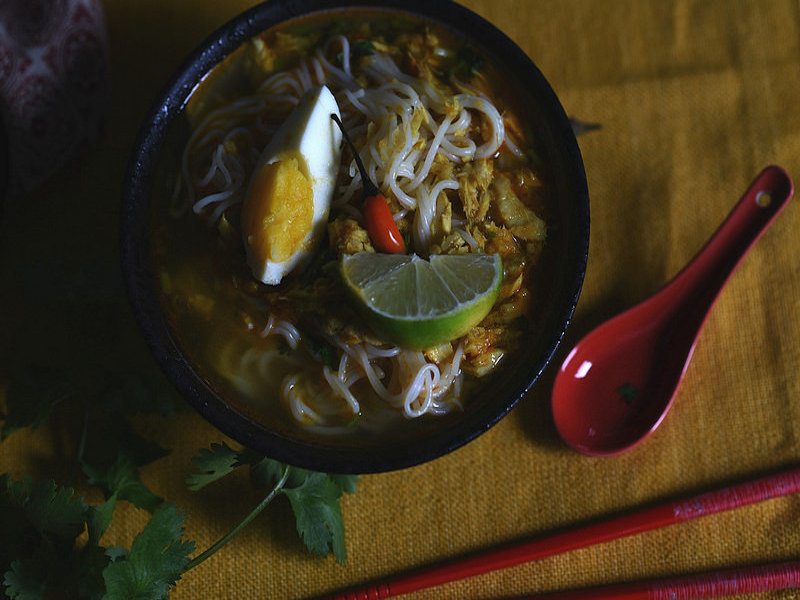 Makes a ton – we were eating this for dinner for about 5 days, and there was still more, but I had to put an end to the leftover thing.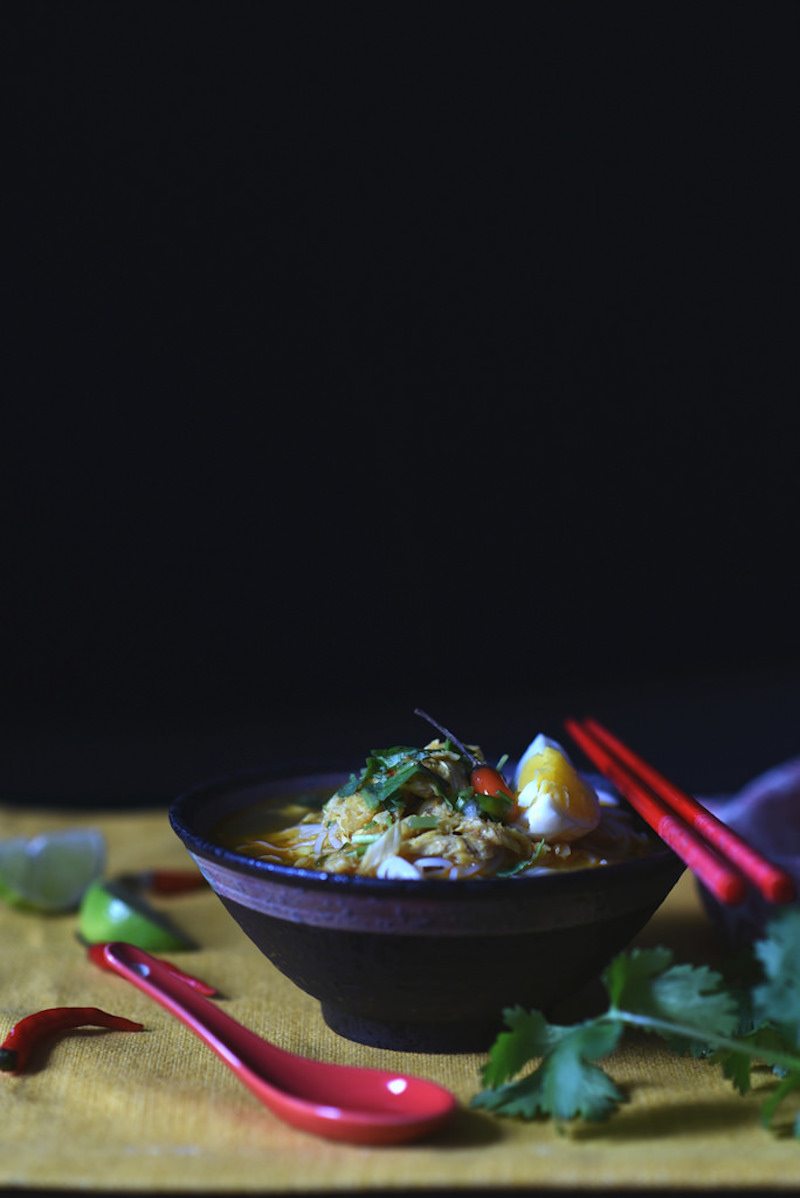 Lan Pham Wilson
Ingredients
Noodle bowls:
rice vermicelli noodles

hard-boiled eggs

halved

chopped cilantro

to garnish

lime wedges

to serve
Broth:
1

head of fish

if you had to choose, catfish is fine

1

lemongrass stem

bruised

2

garlic cloves

bashed

1

tsp

ground turmeric

3

TBL cooked chickpeas

mashed (i used jarred jovial)

1

red onion

quartered

1/2

red onion

chopped

fish sauce

to taste

1.5

lbs

catfish fillet

cleaned and de-boned
Spice paste:
3

lemongrass stems

finely sliced, white part only

2-4

red chilis

to taste

1/2

red onion

rough chopped

4

garlic cloves

diced

1

inch

piece of fresh ginger

peeled & sliced

1/2

cup

grape seed oil

2

tsp

shrimp paste

1

tsp

ground turmeric

1

tsp

sweet paprika
Instructions
make the broth: place the fish head in a large pot with the lemongrass, garlic, red onion quarters and turmeric. pour in enough cold water to cover the head and bring to a boil. skim off any muck, then reduce the heat to low and simmer for 20 minutes. strain the broth and put back in pot. keep the heat at low, and gently lower the fish fillets into the broth and cook for about 15-20 minutes. remove the fillets and with forks, flake them into chunky pieces. set aside. keep the broth pot on low though.
while the broth is simmering, make the paste: in a mortar & pestle, pound the lemongrass, chillies, chopped onions, garlic and ginger into a smooth paste. you can use a food processor for ease.
in a saucepan, heat up the grape seed oil. add in the paste and saute for 20 minutes. you're gonna question if the amount of oil is correct, and i'll just say, i asked the same question and it worked out fine. stir in the shrimp paste, tumeric and paprika. add in the flaked fish, be gentle with mixing, cook on low for an additional 5 minutes.

returning to the pot of broth, add the fish mixture to it. next, throw in the mashed chickpeas and chopped red onions. season with fish sauce to taste. stir to combine, and let simmer for 30 minutes.
to serve:
cook vermicelli noodles according to package instructions. divvy into soup bowls.

ladle soup over noodles, being sure to add in chunks of flaked fish.

top with half hard boiled egg and generous smattering of chopped cilantro.

spritz with lime juice.

BAM!
Lan Pham Wilson
A disproportionately large amount of my day is spent eating (or thinking about eating).