If your media algorithms are anything like mine, global street food has been on your radar for some time now.
Food influencers, celebrities and renowned chefs have taken to the streets worldwide and brought their camera crews with them to highlight mouthwatering quick-bites around the world. But aside from youtube, I haven't seen a show that focused on the street food of Turkey (Türkiye – pronounced TOOR-key-eh).
So when the opportunity to try Turkish street food first hand presented itself, I jumped on it. I had been to Istanbul as a teen and remember the amazing varieties of baklava, Turkish delight and pide. I remember not having the palate for Turkish coffee back then (glad that's changed) but also recall falling in love with döner kebab. Though I thoroughly enjoyed all those delicacies on this trip, I was also introduced to new Anatolian and Mediterranean treats through the bustling streets of two culinarily-rich cities: Istanbul and Gaziantep.
MEZE – Small Plates

After arriving in Istanbul, I immediately met my party for dinner and arrived just as the Meze plates hit the table. "Meze" are the small bites, appetizers and dips served with Turkish breads that are crucial to the region's cuisine. They adorn tables nationwide and are a great way to understand the wide range of flavors Turkey has to offer. Mezedes can be taken as quick bites at deli-style shops along pedestrian streets, breakfast/brunch items or meal-starters at the fanciest of restaurants. We had them in all versions and each time I could see why they are not just simply appetizers, but an important part of the culture.
Like Spanish tapas and Korean banchan, these small plates invite those partaking to share; whether that be conversation or plates across the table, interaction is key. Meze range from marinated anchovies to various cheeses, seasoned chickpeas to smokey pastes, cooling yogurts to stuffed eggplants, tangy olives to pickled peppers. A few of my favorites that were consistently offered were, cacik (yogurt with cucumber and garlic), ezme (a salsa-esque dip often sweetened with pomegranate molasses and topped with walnuts), çig köfte (raw meatless bulgur "meatballs" cured and shaped by hand) and my favorite – saksuka.  Not to be confused with the Tunisian baked egg dish (Shakshouka), Turkish Saksuka (prounounced the same way) is a vegetable salad (mainly egglplant) that is cooked in olive oil and served cold. For me, it exemplifies the complex yet clean flavors all meze dishes exhibit.
The only problem we encountered with all these meze dishes was that, when served as starters, it was difficult to leave room for main courses.
SIMIT – Round Snack Bread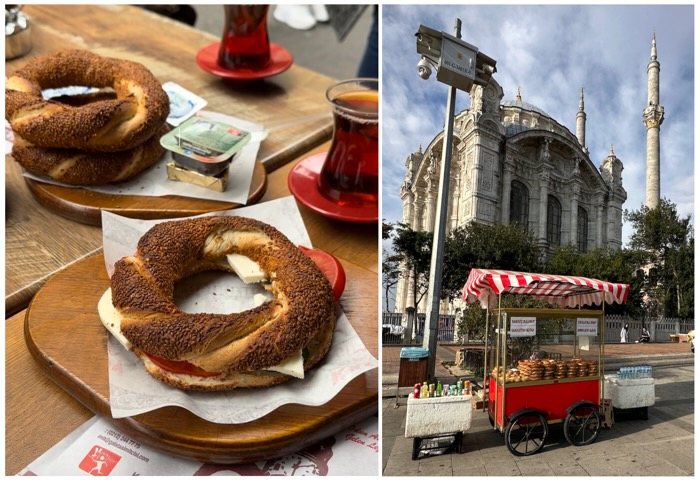 For my second meal in Turkey we visited, Galata Simitçisi, a small bakery that specialized in a bread that is ubiquitous around the country: Similar to both a bagel and a pretzel, simit, has both a crunchy and chewy texture. The round bread is easy to pick up and eat on the go for breakfast or as a snack throughout the day. That's why you'll find Simit vendors in small shops or food carts throughout most cities in Turkey.
Like most other regional food, you'll find many variations of Simit depending on which town you're in. Many just eat it as-is, but like it's circular counterparts, it can be eaten with cheese, jams, Nutella or heartier fillings. The one I had was filled with tomato, cheese and cucumber.
KOKOREÇ – Grilled Tripe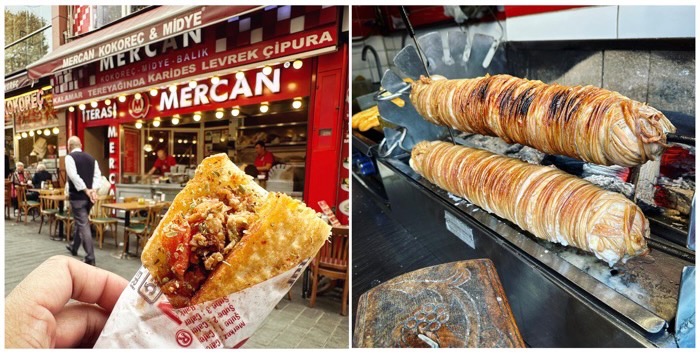 When I think of street food, I think of quick greasy food that pairs well with intoxication. I think of food like kokoreç. Kokoreç is spit-grilled lamb offal (intestines) that has roots dating back to the Byzantine era. Lamb offal is skewered and wrapped with the intestines until it forms a type of offal torpedo that is then roasted on a spit. Once cooked, the intestines are sliced thin and finished on a griddle, then served in a crusty bread.
The juicy tender meat is so satisfying as it infuses the bread with warm grease. It's easy to eat a couple of these…even more when all that beer you drank reminds you that you need to eat some food.
MIDYE – Mussels

The Kokoreç place we ate at also specialized in Midye (Mussels). At MERCAN KOKOREÇ & MIDYE you can get mussels fried on a stick with a creamy garlicy sauce or stuffed with rice. In Istanbul, the stuffed version (Midye Dolma) can be found everywhere — at restaurants, window counters and outdoor carts. The shellfish is stuffed with rice that is cooked with onions, herbs, pine nuts and tomatoes. It's best eaten with a squeeze of lemon just before you scoop the filling into your mouth.
KUMPIR – LOADED Baked Potato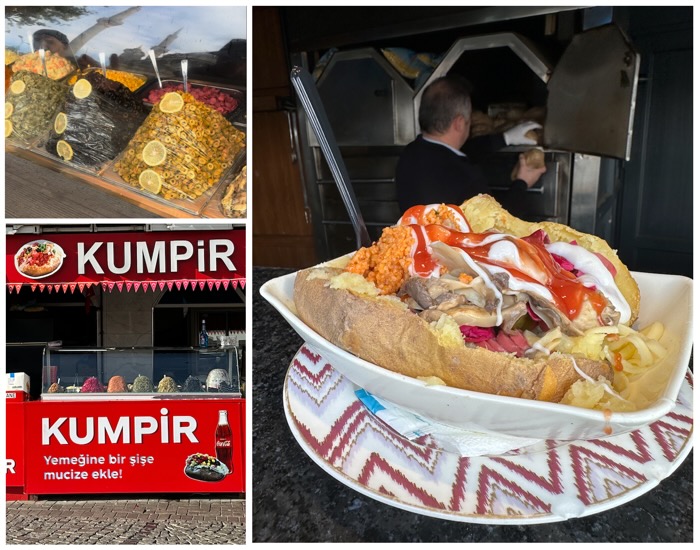 Arguably the heaviest street food you can get in Turkey is Kumpir. Essentially, Kumpir is a loaded baked potato…but when I say "loaded" I mean LOADED. We went to Ortaköy to try these baked behemoths. Between the Bosphorous Bridge and the beautiful Grand Mecidiye Mosque (a Baroque Mosque designed to capture the changing light across the Bosphorous River) is a square lined with Kumpir and waffle vendors. We went to the very end to Beltas Restaurant & Café where we could sit down and enjoy our kumpir right by the river's edge.
The Kumpir is made by first taking very large baked potatoes (easily twice as large as ones I'd buy at my local supermarket) and opening them up as they're ordered. Butter and melty shredded cheese are then added and mixed into the piping hot potato until all three are nicely incorporated. Then it's time to load the hot potato with a cornucopia of toppings. Most vendors offer pyramids of toppings such as olives, corn, mushrooms, Russian salad, cabbage, sausage, bulgar wheat, jalapenos, various condiments, and MORE. By the time it's handed to you, the Kumpir will be the size of a fruit cake and look even more festive. Don't worry about it being too filling as, supposedly, you'll be hungry soon after. Maybe the trick is finishing the entire thing in order for that to happen…unfortunately, it was too large for me to find out. I know…weak! I'll have to go back and try again.
KABAK TATLISI – Pumpkin Dessert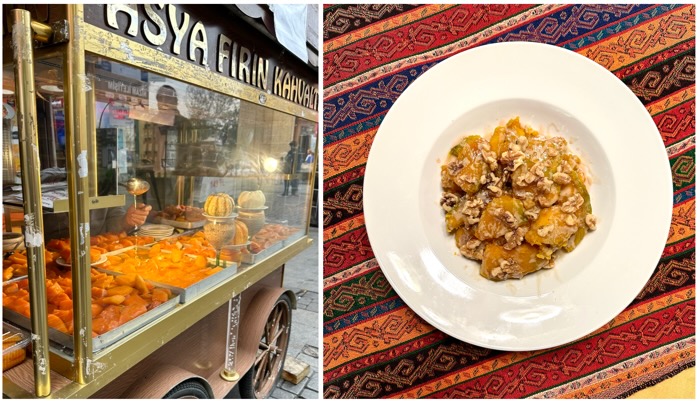 A ubiquitous dessert, Kabak Tatlisi (Pumpkin dessert) was served to us after a few of the meals we had…and I didn't mind, at all. It's a simple dish where large chunks of pumpkin are sprinkled with sugar and left for hours (overnight, if possible) until the pumpkin's juices are released and a syrup is formed. The sugar-marinated gourd is then cooked slowly until the meat of the pumpkin softens but doesn't become mushy. After cooking and cooling, the dish is drizzled with creamy tahini and sprinkled with walnuts. I was so impressed with how such a simple preparation combined savoriness, sweetness, creaminess and nuttiness so well that I made it for my family's Thanksgiving a week after I returned to the States.
Aside from strolling around Istanbul tasting what its streets had to offer, we also flew across the Anatolian Peninsula close to the Syrian border to Gazientep (also informally known as Antep). Known for its rich history, copperware and agriculture, the area has also made a name for itself for being a culinary destination. In fact, in 2015, UNESCO designated Gazientep a City of Gastronomy – Turkey's first. Gaziantep is also known for cultivating delicious varieties of pistachio, as well. Naturally, the region's pistachio baklava is world-renowned.
KATMER – Pistachio Pastry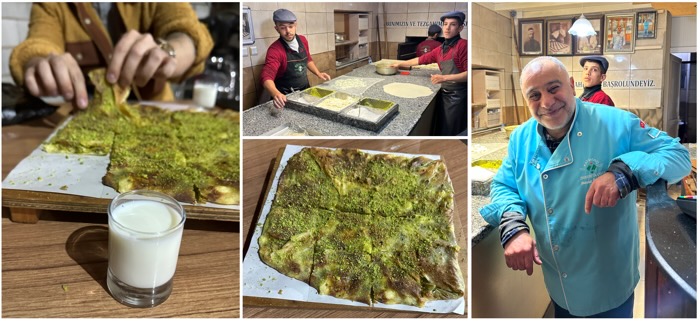 Aside from Baklava, A pistachio dessert native to Gaziantep is Katmer. This centuries old snack is also part of Turkish marriage traditions where the grooms father presents the pastry to the newlyweds and the bride's family. Often eaten for breakfast, the popular pancake like pastry is made with phyllo, clotted cream and, of course, pistachios.
We went to a Katmerci Zekeriya Usta and watched as the super friendly master katmer-maker kept a watchful eye over phyllo dough being spun in the air to make paper thin sheets. He made sure that just the right amount of pistachio, sugar and cream were sprinkled onto and enveloped by the translucent dough before they were slid into a brick oven.  It was served with milk, which I found an appropriate pairing to the crunchy indulgent snack. Unsurprisingly, the Katmerci was popular, not only by hungry customers and tourists, but by stray cats that patiently await to be served extra clotted-cream.
BEYRAN ÇORBASI – Lamb Soup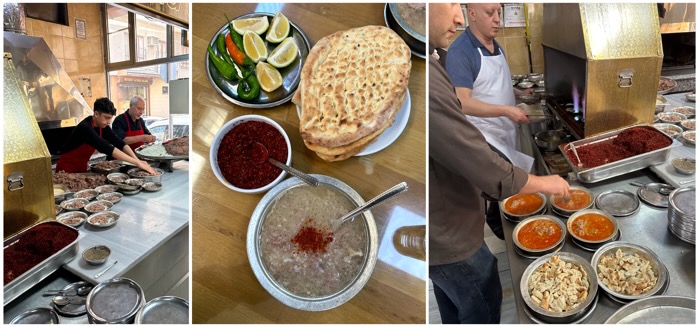 Another popular breakfast item in Gazientep is beyran çorbasi. Not a traditional Turkish breakfast item you'll find all over the country, it's a soup that reminded me of Korean Seolleongtang in that it's a brothy meat soup with rice that I would instantly crave if I were hungover. Beryan çorbasi, however, is made with a lamb broth (not Ox broth) and finely diced lamb is added to the rice. Where salt is liberally added to Seolleongtang, pepper flakes are the choice condiment for this soup. Some add enough pepper flakes to turn the cloudy white broth fiery red.  
The restaurant we went to, Metanet lokantasi, was understandably quite busy in the morning as getting beryan çorbasi can be a breakfast ritual for many locals. After eating it with Turkish bread and a squeeze of lemon I can absolutely see why. It's a great way to awaken your senses and start your day.
Turkey is a small transcontinental nation that is worth visiting for its plethora of history, fascinating traditions, beautiful architecture, and welcoming people. But from what I've experienced in this last trip there, it is a culinary destination that is so much more than its Turkish coffee culture. Especially if you like to experience a place, its people and its customs by walking through its cities and towns, Turkey will energize your pedestrian sight-seeing with the tastiest of street foods.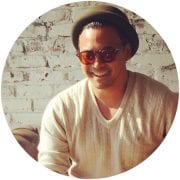 jordi adiao
I learned early in life to embrace your awkwardness... now, are you going to eat your chicken skin?