Spaetzle, or spätzle, is a rustic pasta most commonly associated with Germany, but is quite prevalent in the Sudtirol region of Italy.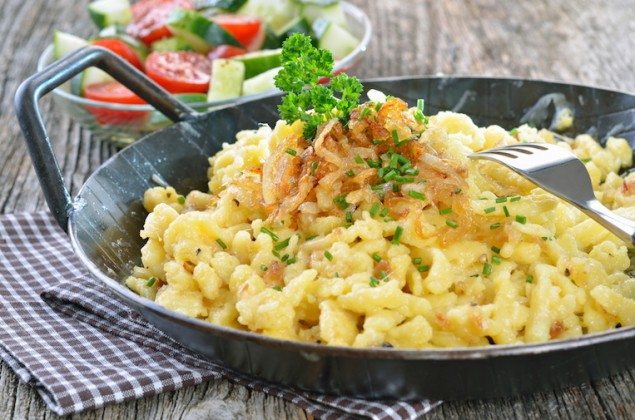 Shutterstock: Karl Allgaeuer
Spaetzle, or spätzle, is a rustic pasta most commonly associated with Germany, but is quite prevalent in the Sudtirol region of Italy. This is one food that is truly regional in Italy. I never see it on our tours in the Veneto, but travel an hour north to Trentino-Alto Adige, and it is quite common. It's a great dish to enjoy as a slope side lunch during a ski holiday at Madonna di Campiglio, or to load up on those carbohydrates before a bike tour over Passo Giau.
It is a fairly simple recipe, consisting of eggs, flour, salt, and milk or water. Centuries ago, this pasta was shaped by hand or with a spoon, scraping it off of a wooden cutting board directly into boiling water. The shape resembled small birds, giving rise to the name spätzle, which translates to "little sparrow". Since then, several devices have been invented to form the dough, all ways of 'extruding' this noodle, and all reminding me of the plastic press that we used during our childhood for Playdough. Some look like flat graters with a box on top which holds the dough and slides along the holes, other resemble food mills or a strainer. If you don't have one of these spaetzle makers, you could use a colander or flat grater, and push the dough through the holes with a metal spoon. Remember, this is rustic cooking, so don't get too concerned about the shape! I borrowed a spaetzle maker from a friend's mother who has been making this for years.
See Also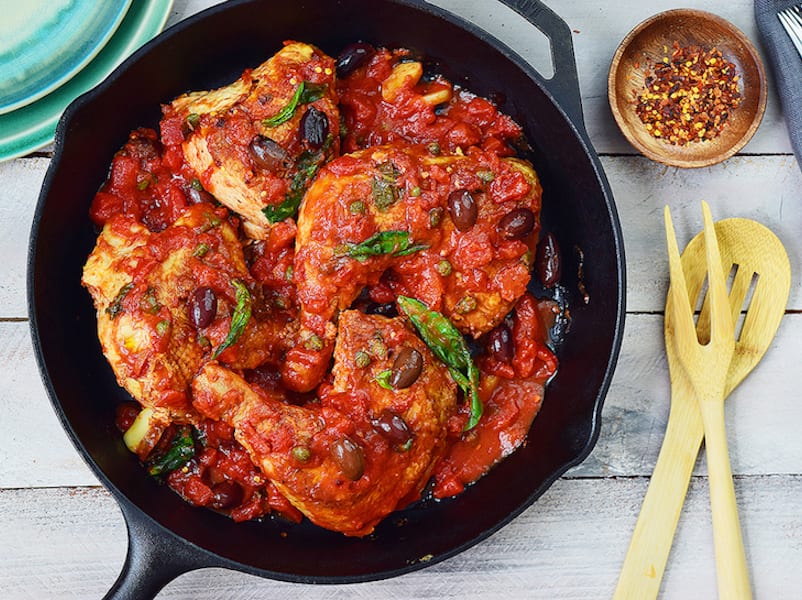 There are several versions of spaetzle you may find in your travels. Leberspätzle  has had the dough enriched with minced pork liver; common in Sudtirol is Spinatspatzeln, spätzle that has spinach added to the dough. You may find it in soup, served with lentils, or served as a side dish to meats with sauces, like I enjoyed on a recent trip to Val Gardena.
Print

---
Author:

Kathy Bechtel

Yield:

4

1

x
Description
Spaetzle noodles from Trentino Alto Adige
---
1 1/2 cups

150 g. all-purpose flour

1 teaspoon

kosher salt

1/8 teaspoon

freshly ground pepper

1/4 teaspoon

nutmeg

3

eggs

3/8 cups

90 ml. milk

2 tablespoons

30 g. unsalted butter

2 tablespoons

parsley (finely chopped)
---
Instructions
Combine the flour, salt, pepper and nutmeg in a medium bowl.
In a small bowl, beat the eggs. Alternating, gradually add the eggs and the milk to the flour. The dough should be the consistency of a brownie batter. Too thick, and it will be extremely difficult to force through the holes of your colander or spaetzle maker. Too thin, and it will not keep its shape after extrusion, the noodles will all stick together as they fall into the boiling water. You may have to play a bit with the dough, adding more milk if it is too stiff, or more flour if it is too wet, to get the right consistency.
Bring a large pot of water to a boil on the stove. Season with salt. Using a spaetzle maker, or colander or grater, press the about 1/4 of the dough through the holes directly into the boiling water. The noodles will rise to the top when cooked, skim them off with a slotted spoon and transfer to a sheet pan. Continue until all the noodles have been cooked.
In a large saute pan over medium heat, melt the butter. Add the spaetzle noodles, stir to coat with the butter. Season with parsley, salt and pepper. Serve.
Kathy Bechtel
Kathy Bechtel's obsession with food and cooking began as a teenager. After years following a traditional career path as a telecommunications engineer, she left to attend culinary school and wine training, and is now combining her passions for food and wine, the outdoors, and travel as owner and Culinary Tour Director of Italiaoutdoors. In this role, Kathy leads small bicycle, skiing and walking tours that explore the authentic regional cuisines, local products and undiscovered wines of Northeastern Italy.