This is a great quick-to-cook recipe, you just need some time for marinating the prawns.
By Selina Periampillai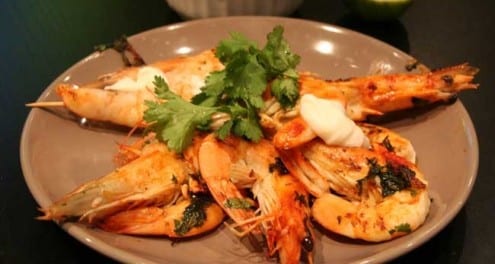 I wanted to share with you one of my recipes aiming to bring a Mauritian beach side BBQ feel but using my griddle pan, because lets face it, it is pretty darn cold outside for a BBQ (In the UK). For those lucky enough to be in a warmer country, this is a great quick to cook recipe, you just need some time for the marinating the prawns. Accompanied with our mango & chilli salsa, inspired by my Mauritian heritage, its a great dish!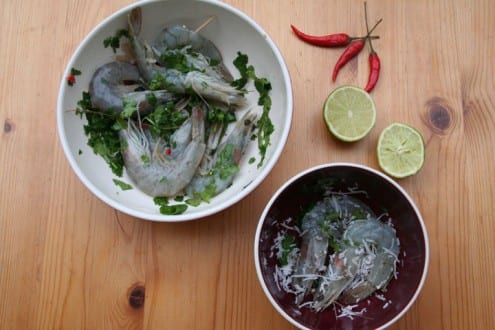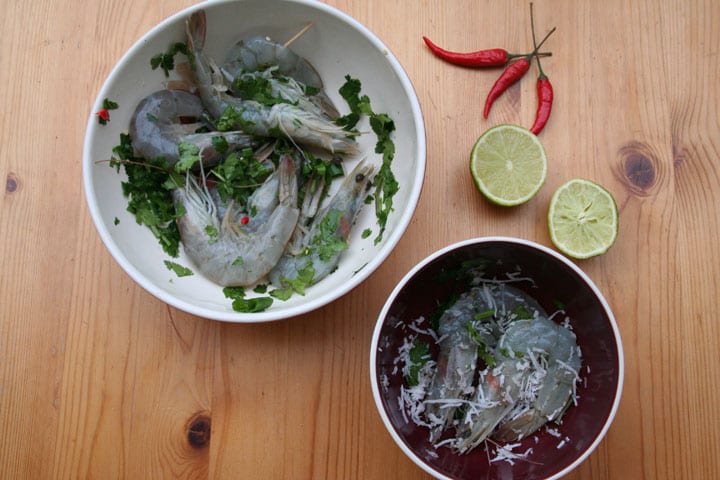 Grilled Prawns and Chilli Mango Salsa
Coriander flecked tropical grilled prawns with a chilli and mango fiery salsa to accompany.
Author:
Selina Periampillai
Ingredients
20-25 large raw prawns, peeled with heads and tails intact, cleaned
2 ripe mangoes, chopped
2 long red chillies, chopped
3 spring onions, sliced
1 red onion finely chopped
1 bunch coriander, stems and leaves chopped
½ bunch mint, leaves chopped
125ml (1/2 cup) olive oil, squeeze of lime, salt & pepper to season
Instructions
Firstly, clean the prawns, squeeze over some lime.
Place chillies, spring onions, onion, coriander, mint, 80ml oil in a food processor and pulse until roughly chopped. Season with salt and pepper. Transfer half the salsa to a bowl and set aside for later.
Pour over prawns. Toss to coat. Cover and refrigerate for 2 hours to marinate.
Place remaining salsa in processor and process with remaining 2 tbs oil and mango chunks for a smooth paste or you can choose to leave it chunkier. Set this aside.
Skewer the prawns alternatively threading with peppers or other vegetables if you wish.
Heat a griddle pan, grill or bbq (if your lucky!) to medium-high heat. Cook prawns for 3 minutes each side or until just cooked and golden. Season with salt and pepper, and serve with reserved mango salsa. AH-MAZING!