SPONSORED POST: We're celebrating the rest of summer with recipes and wines from Beaujolais that will usher us into fall in delicious style. Be sure to enter below for a chance to win the ultimate picnic set!
A creamy, rich and decadent mascarpone risotto with peas, mint and prosciutto served with a glass of rosé from Beaujolais.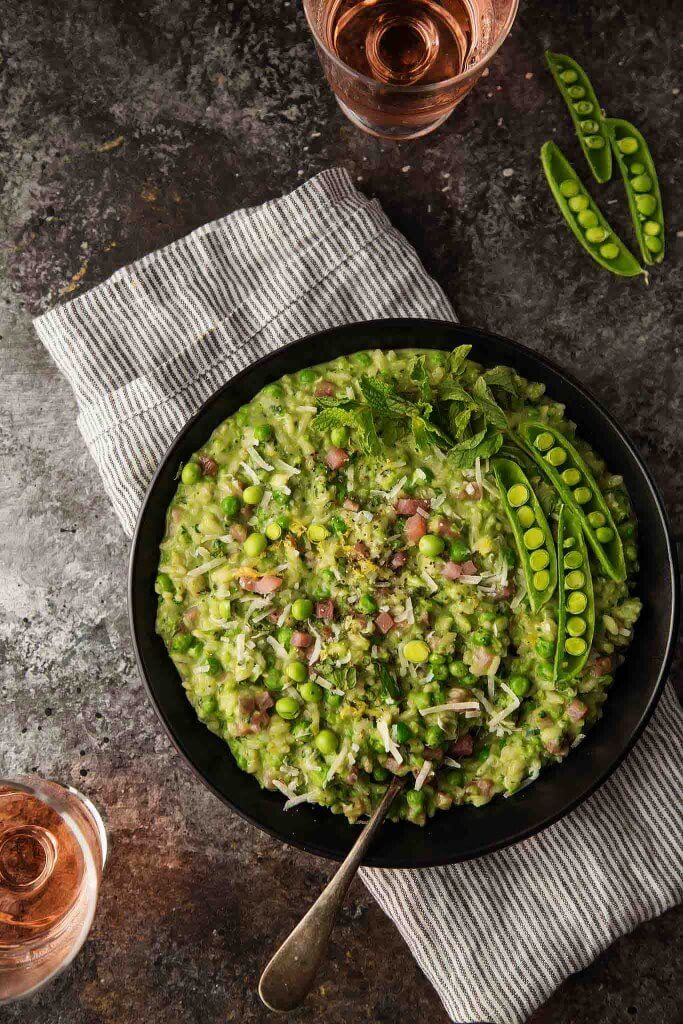 I really struggled with the name of this dish. I wanted to call it "Spring Pea Risotto," but technically, it's not Spring, and for this recipe I'm just using frozen peas… Although, this risotto would also be amazing with fresh spring peas. I thought about calling it "Sweet Pea Risotto," but that didn't quite feel right either, then there was "Green Peas and Ham," "Green Risotto" and "Creamy Risotto with Peas"… Nothing was really working for me. So, I decided to just call out the superstar ingredients in this dish that really make this risotto stand out – peas, mascarpone, mint and prosciutto. I mean, it'd be pretty hard not to like this dish with all of those fantastic ingredients hanging out in there, right?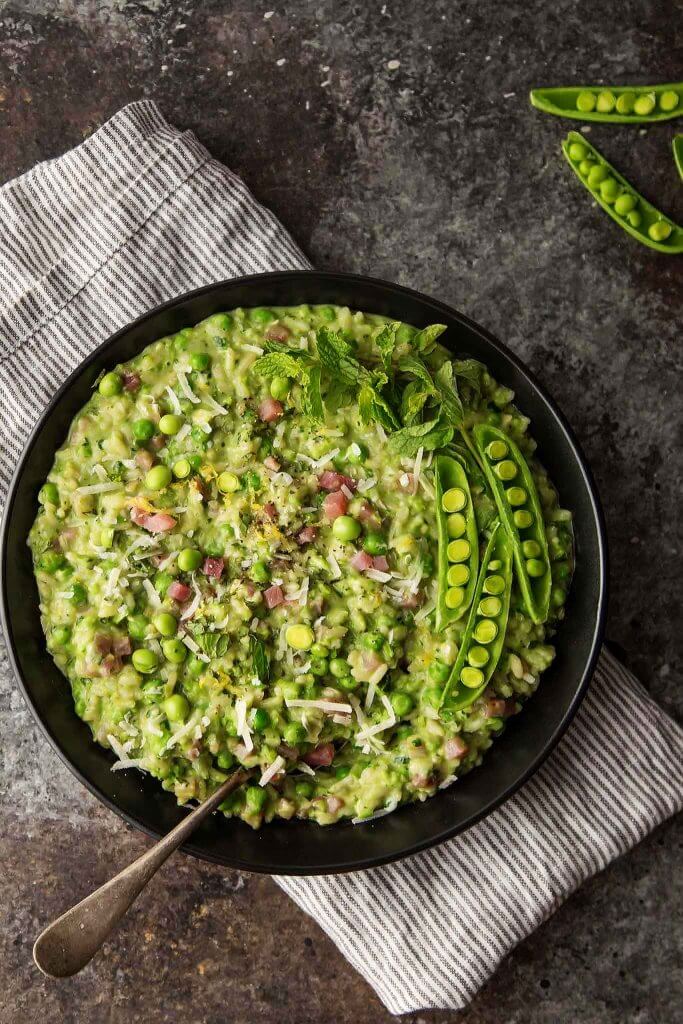 The risotto-making process is easy, but it can be a bit intimidating if you've never made it before. It is a dish that you need to "babysit" the whole time. During the cooking process, the risotto is fed ladle full after ladle full of stock, letting it absorb between each addition. The process results in the grains of rice plumping up and the constant stirring process results in the most fantastic, creamy texture.
Once that perfect texture is reached, the risotto is stirred together with a puree of peas and spinach, which gives it that wonderful green color, and then the mascarpone cheese and nutty parmesan help to make it even more creamy. To brighten things up, I added in a bit of fresh lemon juice and mint and then stirred in some whole peas to give the risotto some texture. A handful of some diced prosciutto added in a hint of smoky saltiness (however, you could make this recipe totally vegetarian by omitting the prosciutto and using vegetable stock).
I like to finish off my bowls of risotto with some shavings of parmesan cheese and fresh mint, and on the side, we can't forget the wine!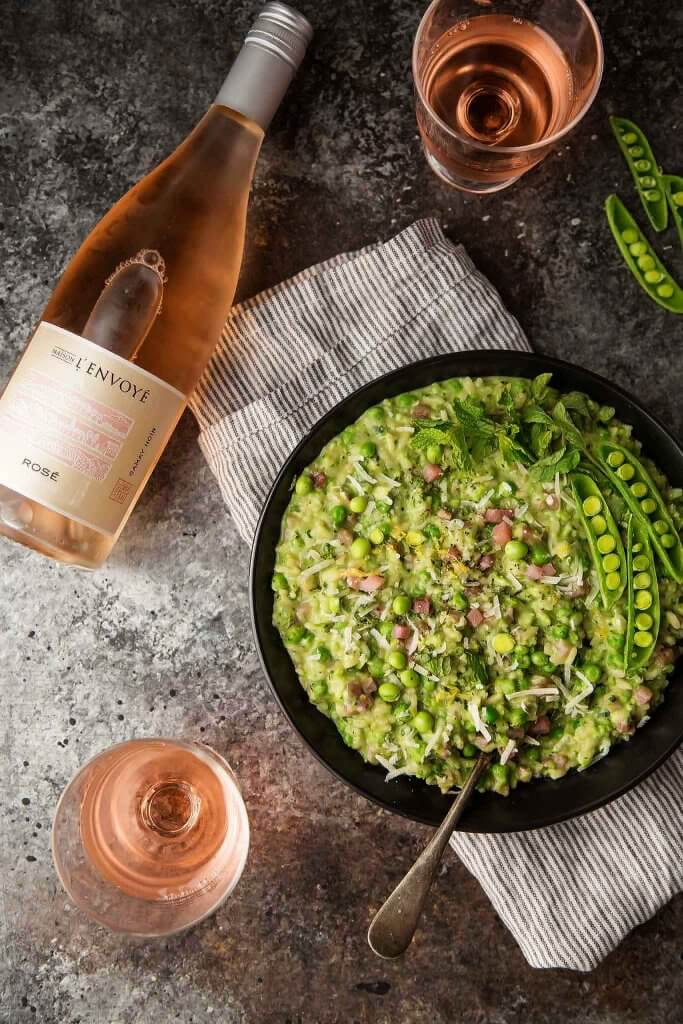 To go alongside this pea risotto I'm serving a Maison L'Envoye "Le Saint Pâle" Beaujolais Rosé. Rosé wines just mean "fun" to me and this Beaujolais is just that – It's approachable, affordable and amazingly food-friendly. Plus, with its bright acidity and delicate flavors, it's the perfect wine to compliment this dish but not overpower it. In reality, any Beaujolais would be amazing with this dish – Did you know that Beaujolais comes in all colors (red, white and rosé)?
The red Beaujolais is light and fruity, easy drinking and can pair with a wide variety of foods. It's the perfect wine for pairing with BBQ wine and compliments not only grilled salmon but also a hearty steak.
The white Beaujolais has tropical notes and bright acidity, this wine would be amazing with some scallops or roasted chicken.
The Beaujolais rosé has hints of strawberry and watermelon with citrus undertones. It was amazing paired with this pea risotto, but would also be fantastic with any of these dishes.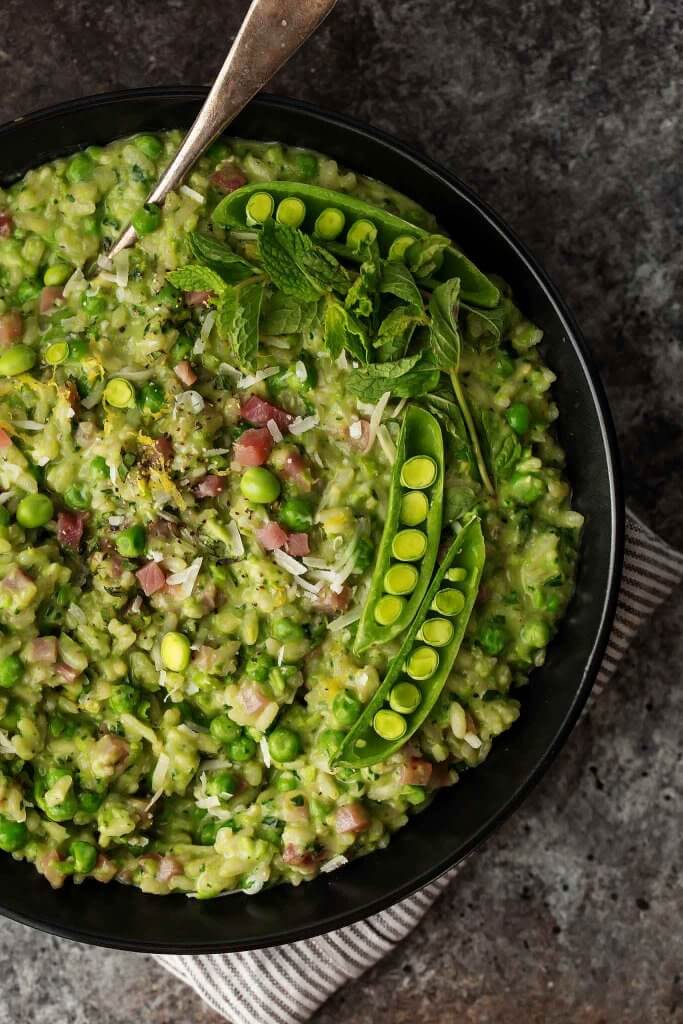 Have you tried the wines of Beaujolais? I encourage you to check them out because they're affordable, food-friendly and approachable. It's fun to experiment with them and find your own favorite food pairings. Be sure to enter the Beaujolais contest below to win a wine picnic set valued at $119!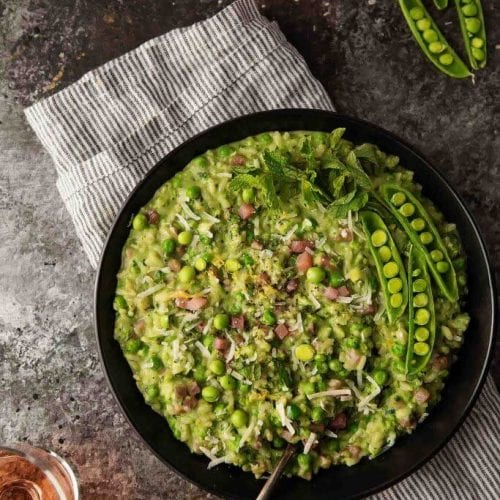 Pea, Mint and Mascarpone Risotto with Rosé and Prosciutto
Erin Rebecca
A creamy, rich and decadent mascarpone risotto with peas, mint and prosciutto served with a glass of rosé from Beaujolais.
Ingredients
PEA PUREE
1

cup

fresh or frozen peas

1

cup

spinach leaves

3/4

cup

chicken or vegetable stock

Salt and pepper to taste
PEA RISOTTO
4 1/2

cups

chicken or vegetable stock

2

Tbsp

unsalted butter

1

medium shallot minced

about ? cup

2

cloves

garlic minced

1

cup

arborio rice

3/4

cup

dry white wine or dry vermouth

1/2

cup

parmesan grated

1/4

cup

mascarpone

1

tsp

lemon zest

1

Tbsp

lemon juice

2

Tbsp

fresh mint minced

1

cup

fresh or frozen peas

Shaved parmesan and fresh mint for garnish

4

ounces

diced prosciutto

Salt and pepper to taste
Instructions
Combine all of the ingredients for the pea puree in a food processor or blender and process until smooth. Set aside.

Pour the stock into a small saucepan and bring to a simmer over low heat.

Melt the butter in a large saucepan or dutch oven over medium heat. Add the shallots and garlic and cook until softened, 3-4 minutes.

Add the rice and cook for 2 minutes, stirring occasionally.

Add the wine and cook, stirring, until the wine is absorbed.

Add about 1/2 cup of warm stock at a time and stir until fully absorbed. Repeat the process, until almost all of the liquid is added and absorbed (will take about 20 mins).

Taste the rice to see if it's done. If needed, add additional broth and cook for a bit longer. It should have a bite to it, but be creamy in texture. Stir in the pea puree.

Next, stir in the parmesan, mascarpone, lemon zest, lemon juice and mint until incorporated. Season to taste with salt and pepper.

Fold in the peas and serve in shallow bowls topped with additional parmesan and mint, if desired.
Erin Rebecca
I'm Erin - a self-taught weeknight cook. I occasionally like to delve into the more complicated recipes, like homemade pasta, Cioppino, and boeuf bourguignon. But for the most part, I work full-time, come home, pour a glass of vino and start cooking away.