A recipe for simple Risotto al Tarassaco, flavored with fresh spring onions. Add yellow dandelion flowers and bitter greens to round out the creamy dish.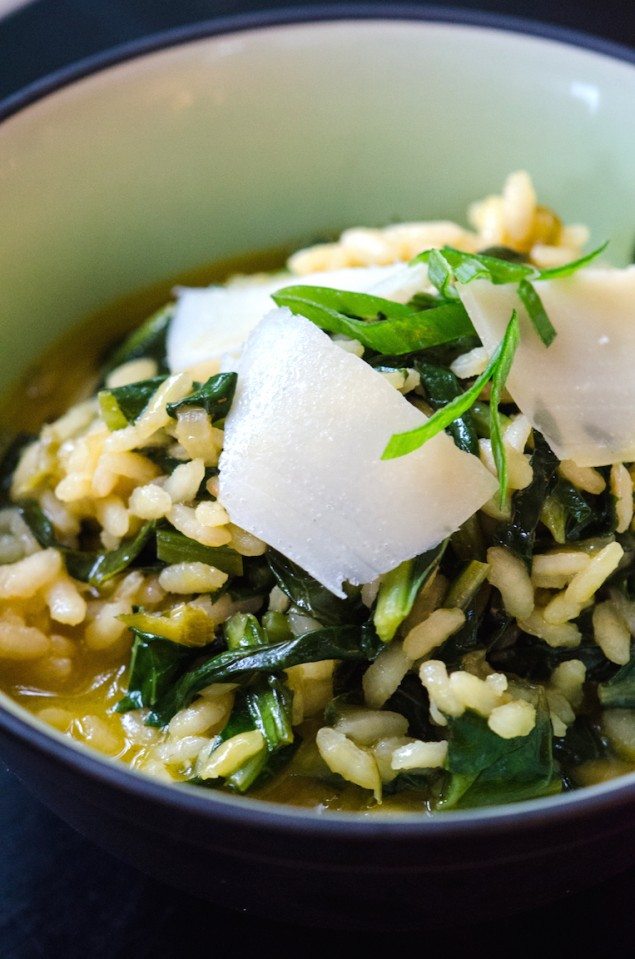 With the arrival of spring, and disappearance of snow, mountain meadows in the Altopiano d'Asiago to Trentino abound with many varieties of herbs and wildflowers. The dandelion, Taraxacum, or tarassaco in Italian, is a flowering plant in the Asteraceae family. The entire plant is edible, from the yellow flower that is used to flavor frittatas and risottos, to the taproot which can be roasted and ground into a coffee. The leaves are most commonly used, with a slightly bitter flavor they are best cooked. Historically, dandelion was used as a herbal remedy to treat infections, bile and liver problems, and as a diuretic – the latter property leading to the folk name for the plant, in English "piss-a-bed" or French "pissenlit."
Here is a recipe for a simple Risotto al Tarassaco, flavored with some fresh spring onions. I had no dandelions in my yard, but purchased these at my local farm stand. I would have garnished this dish with the yellow petals of the flower, had I had some.
See Also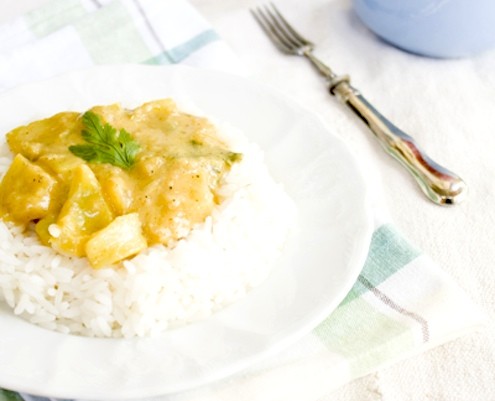 Print

---
1 tablespoon

extra virgin olive oil

1 tablespoon

butter

6 cups

vegetable or chicken broth

1

spring onion (white bulb chopped into ¼" dice, green stems thinly sliced)

1 cup

risotto rice (Vial

one

Nano, Carnaroli, Arborio)

½ cup

white wine

1

bunch dandelion greens (washed and coarsely chopped)

½ cup

grated aged Asiago cheese
---
Instructions
Combine the oil and butter in a heavy, large skillet over medium-high heat.
Warm the stock in a saucepan, covered to keep it from evaporating.
Add the chopped white bulb of the onion and cook until soft and translucent, about 2-3 minutes. Stir in the rice to coat with the oil, and cook for 1 minute.
Add the white wine and stir, cooking until absorbed by rice. Begin to add the broth, ½ cup at a time, stirring after each addition and waiting until the broth is absorbed by the rice before adding the next ½ cup.
After about 10 minutes of cooking, when the grains of rice are beginning to soften, stir in the chopped dandelion leaves.
When the rice is tender, but still firm to the bite – al dente, turn off the heat. Add in a last ¼ cup of broth and the grated cheese. You likely will not use all of the stock – you should cook just until done, not until the stock is gone! The amount of cooking time will depend greatly on the type of rice, the age, and relative humidity, so use your judgement. Season with salt and pepper, garnish with the sliced green onion stems and any dandelion petals, and serve immediately.
Category:

Main, Primi

Cuisine:

Italian
Kathy Bechtel
Kathy Bechtel's obsession with food and cooking began as a teenager. After years following a traditional career path as a telecommunications engineer, she left to attend culinary school and wine training, and is now combining her passions for food and wine, the outdoors, and travel as owner and Culinary Tour Director of Italiaoutdoors. In this role, Kathy leads small bicycle, skiing and walking tours that explore the authentic regional cuisines, local products and undiscovered wines of Northeastern Italy.