My love for Italy continues with a recent escape to Monforte D'Alba.
The plan was to meet a famous truffle hunter – go into the woods and experience the great Piedmont region with locals. I did that and experienced the wonderful Italian hospitality we all know so well.
My truffle hunter, Flavio also took Jay-Z on his expensive truffle holiday and has even fed the French actor Gerard Depardieu with his white truffles..so yes, I was in very capable hands.
The truffle hunting experience started with a pasta-crash-course with Flavio's sister, Bruna. Bruna is in her own right a great chef who worked at one of New York's greatest Italian restaurants. I was fortunate enough to learn all the tricks and secrets to making a delicious, Tajarin, which according to Eataly is he Piedmontese version of tagliatelle and best served with truffles.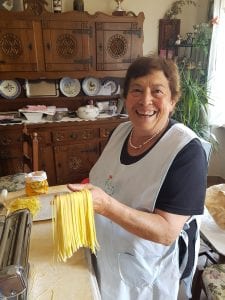 Like all great chefs Bruna did not have a recipe – everything was done by hand and from scratch and her senses. Touch, feel, create.
For people who love to cook and NEED recipes, Chef Sara Bordin of Restaurant Moda in Monforte D'Alba shares her pasta recipe – which goes to the extreme when topped with fresh prawn and lots of creamy butter.
Thank you two amazing ladies for teaching Michelle Tchea's Chefs Collective a lesson in great, authentic pasta making
INFORMATION: Contact Tourism Monforte D'Alba for Truffle Experiences and other great tips on visiting the region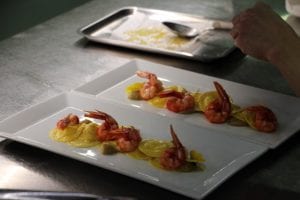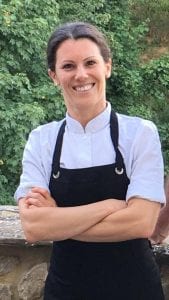 RECIPE
Tortelli, ricotta cheese, red shrimps from Mazzara del Vallo and caramelized onion purée
For our Tortelli at Moda Restaurant, prepare the pasta:
Into the mixer, put 750 gr of white flour, 250 gr semolina flour, 30 gr of fine salt, 500 gr egg yolks and 150 gr of whole milk. Mix for 15 min.
Top Tip from Bruna ( all fresh made pasta should be left to rest for at least 30 minutes)
For the stuffing, mix  sheep ricotta, salt and lemon zests (no exact quantities, by feel)
For the caramellized onion: peel onions and place in a pan to be sauteed with a splash of brandy, salt and sugar. Cook over a low heat for 30 minutes and then blend to a puree.
Stuff the tortelli with the sheep ricotta stuffing
When ready, boil the fresh Tortelli and saute' with a good butter, and served with a roast shrimps, and some onions pieces.
Michelle Tchea
Michelle Tchea is a 4-time bestselling author. Her books include, Building a Perfect Meal, My Little SoHo Kitchen, Signature Dishes (Australia's Best) and Chefs Collective. Her work can be found in other leading luxury travel and food magazines including Travel+Leisure Asia, SMILE, NUVO Magazine and The Telegraph