Truth be told, I thought "Coconut Lagoon" was going to be a Thai cuisine cookbook. Had I known it was a compilation of 80 south Indian recipes designed for home cooks, I probably would have passed on it. Like most people who are intimidated by the myriad of spices and unfamiliar ingredients used in Indian cuisine, I've limited my Indian cooking to warming up prepackaged Trader Joe's Indian dinners. I was so unsure that I would be able to make a successful dish from the book that it sat unopened on my kitchen counter for weeks.
Finally, I picked it up and prepared myself to be overwhelmed. Flipping through the book I instantly noticed beautiful crisp pictures of mouth-watering dishes next to simply laid-out text. I actually found the layout calming as plenty of white space took up the page where I expected long lists of ingredients and cooking instructions. But that wasn't enough to get me to dive into creating a shopping list.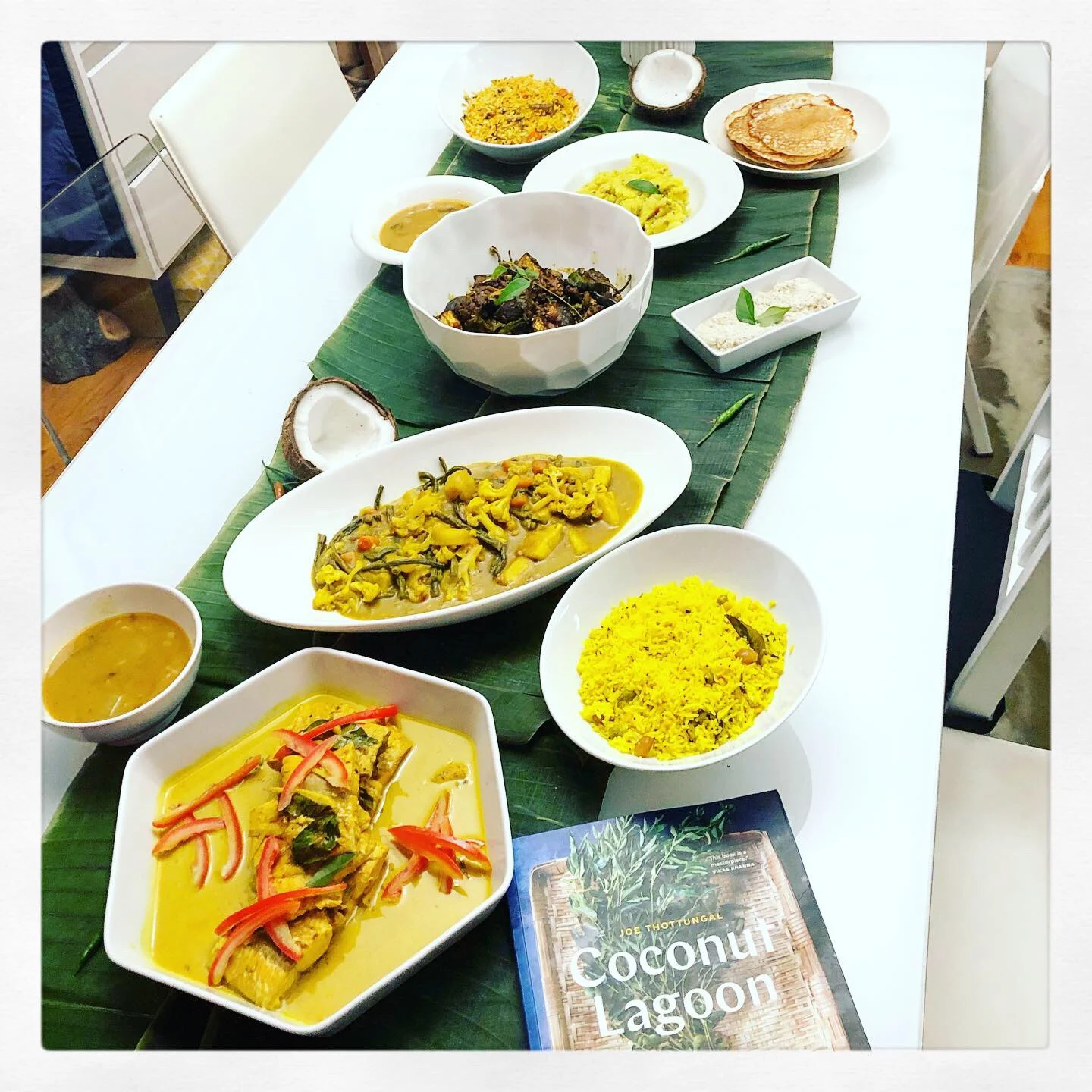 To postpone the eventual trip to the Indian market I read the book's introduction (something I rarely do); and I'm glad I did. Not only does the front of the book contain a useful glossary of Indian ingredients and equipment (with visual aids), it also introduces the home cook to Joe Thottungal – the author and celebrated chef who will undoubtedly make South Indian cuisine even more accessible than he already has. In the short Forward and Introduction, you learn about the humble beginnings of chef Thottungal who grew up in Thrissur, a town in the Kerala region of south India. The chef's description of how and why Kerala cuisine is unique was all I needed to assuage my apprehension of tackling the recipes contained in later pages. I immediately wanted to taste the difference between the typical north Indian dishes I'm used to (tandoori lamb or butter chicken) and the south region's ancient ways of incorporating spices, aromatics and coconut which so heavily inspires chef Thottungal's food.
The introduction also describes chef Thottungal's journey from his culinary emergence in India, to his formative work in global cuisine at a Middle East resort, to his final move to his beloved adoptive country – Canada. Toronto is where the chef landed and got his North American bearings, but it was in Ottawa where Thottungal became a Certified Chef de Cuisine and garnered the confidence to introduce his fellow Canadians to south Indian food in his own restaurant, Coconut Lagoon. To this day, the family run restaurant that lends its name to this book attracts people near and far and continues to collect well-deserved accolades.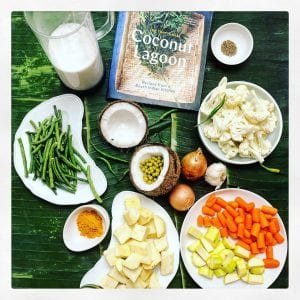 Inspired by the chef's journey and Kerala's storied cuisine, I was finally ready to make dishes I had never even tasted. After making a trip to my local Indian market (and buying way more than what was on my list) I got my measuring spoons out and started prepping the spices to be tempered. I soon realized that the toughest parts of chef Thottungal's recipes were getting the spices ready for when i needed them and knowing exactly when to need them. After making several dishes and repeating them, I know I will eventually be able to eyeball the spice measurements and instinctually know when to add them timely. Proper tempering techniques are repeated in nearly every recipe so the more you make the dishes in this cookbook the more ingrained the techniques will become.
So far, I've made a handful of dishes. When I made the NADAN VEGETABLE KORMA, a home-style vegetable stew with coconut milk, I used Japanese sweet potato instead of regular potatoes. Every bite was flavorful, creamy and slightly sweet; perfect over a bed of steaming rice. I also made the rich and succulent KERALA BEEF FRY. Yes, there are beef recipes in this cook book. Though a slight majority of Kerala identify as Hindu, beef is enjoyed widely in the region. For a dinner party, I made the BABY EGGPLANT MASALA which was by far my guests' favorite dish of the night. The tamarind and tomatoes bring a unique tang to the tempered spices and adds just the right amount of bitterness that makes sure all parts of the tongue are involved.  Just keep in mind, if you use a store bought tamarind paste (which I did the second time I made the dish), use less than the recipe calls for as the premade paste is much more concentrated. This recipe will definitely be made over and over again in my kitchen.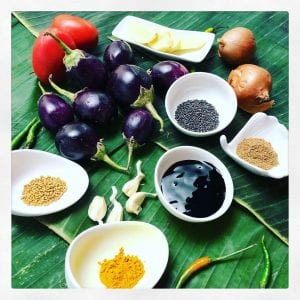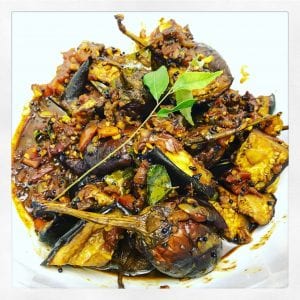 My favorite dish that I made that night (recipe below) was the THRISSUR-STYLE SALMON CURRY. Perhaps it was because I knew chef's Thottangul's culinary history. I understood what it meant to him to bring the flavors of his motherland to his new homeland; and what better way to do that than with Salmon!  Moreover, it's just a delicious, luscious and fragrant dish that I could eat over and over again.
If you've never cooked Indian food (from scratch), do yourself a favor, quiet the apprehension, pick up this book and see what you've been missing out on. With "Coconut Lagoon", Chef Joe Thottungal has masterfully managed to translate his food that patrons of his restaurant savor in Ottawa into a book that beautifully guides home cooks in creating delicious Kerala cuisine in their own homes.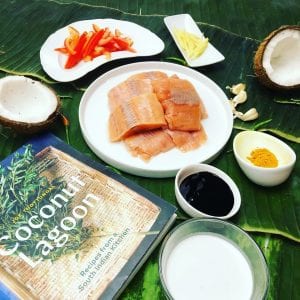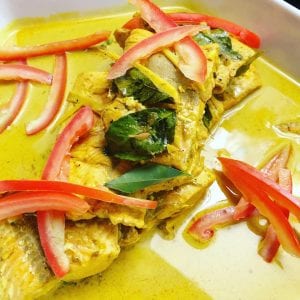 Print

Thrissur-Style Salmon Curry
---
Author:

Joe Thottungal

Yield:

4

1

x
Description
"I first tasted salmon in Saudi Arabia, where it was occasionally flown in to the kitchens of the Oasis Resorts. And, of course, when I came to Canada, I learned how prized and important this great fish was, in many Canadian communities, and how beautifully it behaved in a curry. Added at the end, the chunks of salmon cook in the hot and sour sauce, stay moist and soft, and hold their shape well. Prepared with Atlantic or wild Pacific salmon, this Thrissur-style fish curry is a Coconut Lagoon fan favorite." ~Joe Thottungal
---
4

kudampuli (Malabar tamarind)

3 Tbsp

coconut oil

2

2-inch slices ginger, peeled and cut into matchsticks

4

–

6

cloves garlic (cut into matchsticks)

2

Indian or Thai green chiles (chopped)

15

curry leaves (coarsely chopped)

1 1/2 tsp

red chili powder

1 tsp

ground turmeric

1 tsp

salt (plus extra to taste)

1

lb skinless salmon fillets (cut into 1-inch cubes)

1/2 cup

coconut milk

1

to mato (quartered, seeded, and thinly sliced lengthwise, for garnish (optional))
Basmati Rice (to serve)
---
Instructions
In a small bowl, combine kudampuli and 1/4 cup hot water (or just enough to cover) and set aside for 15–20 minutes to soften. If the pieces are large, cut them into 2–3 smaller pieces, then return to soaking water.
Heat oil in a heavy-bottomed frying pan over medium heat. Add ginger, garlic, chiles, and curry leaves and sauté for 2–3 minutes, until the leaves are wilted and flavors are released.
Add chili powder and turmeric and stir for another 30 seconds, until the raw smell is cooked off. Pour in 1 1/2 cups water, the kudampuli pieces, with their soaking water, and salt and bring to a boil. Reduce heat and simmer for 3 minutes.
Add salmon and simmer for 4–5 minutes, or until fish is just cooked. Pour in coconut milk, bring back to a boil, and immediately remove from heat. Season with salt to taste.
Garnish with tomato strips (if using) and serve with rice.
Notes
Excerpted from Coconut Lagoon by Joe Thottungal. Photographs by Christian Lalonde. Copyright 2019 by Coconut Lagoon. Excerpted with permission from Figure 1 Publishing. All rights reserved. No part of this excerpt may be reproduced or reprinted without permission in writing from the publisher.
Category:

Dairy-free, Gluten-free, Seafood

Cuisine:

South Indian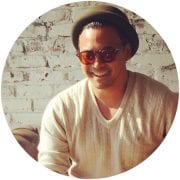 jordi adiao
I learned early in life to embrace your awkwardness... now, are you going to eat your chicken skin?