Inspired by Momofuku Milk Bar's frosting-less cakes, this lemon and raspberry combo is a feast for the eyes and a tangy summer delight.
By Oana Olguta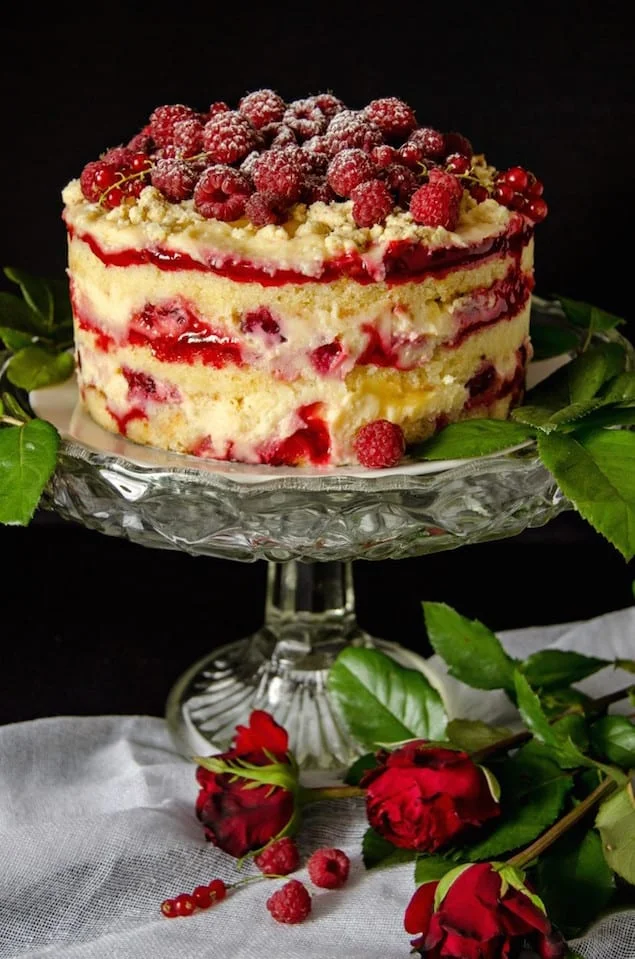 I have always been intrigued by the elements Christina Tosi of Milk Bar uses in her cakes and the fact that she relies on the pure beauty of a naked cake to impress. And it works, it really does as after revealing my cake, I was in pure awe and I'm not that easily impressed when it comes to cakes, believe me!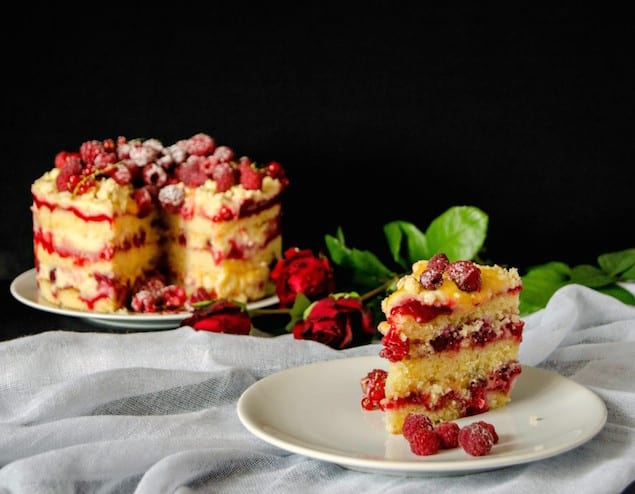 This recipe uses Christina Tosi's Strawberry Lemonade Cake as a base, but I added my signature to it by reducing the sugar and butter and replacing part of her recipe with my own tried, fail-proof recipe. I ended up with a rich, tangy, sweet raspberry lemonade cake that I just couldn't stop eating. Yes, it's sweet, yes, it's buttery and yes, it's delicious! It's definitely not a cake for the faint of heart in terms of calories, but hey, we don't eat cake every day and this one is well worth the time spent in the kitchen and the sacrifice of breaking the rules of your diet!
Find the recipe for my lemon curd here.

Lemonade and Raspberry Layer Cake
Inspired by Momofuku Milk Bar's frosting-less cakes, this lemon and raspberry combo is a feast for the eyes and a tangy summer delight.
Recipe Type:
Dessert, Cake, Baking
Ingredients
Vanilla Cake:
225g (8 ounces) butter, softened
280g (9.8 ounces) white sugar
3 eggs
125ml (4.2 fluid ounces) buttermilk
125ml (4.2 fluid ounces) vegetable oil (sunflower or canola oil)
1 teaspoon vanilla extract
210g (7.4 ounces) all-purpose flour
1½ teaspoons baking powder
¼ teaspoon salt
Raspberry Sauce:
200g (7 ounces) raspberries
100g (3.5 ounces) white sugar
1 tablespoon pectin powder
Liquid Cheesecake:
225g (8 ounces)cream cheese, softened
80g (2.8 ounces) sugar
1 tablespoon cornstarch
2 tablespoons whole milk
1 egg
1 teaspoon vanilla extract
Lemon Curd:
Find the recipe in the link above
Milk Crumbs
45g (1.6 ounces) milk powder
30g (1 ounce) all-purpose flour
30g (1 ounce) cornstarch
10g (0.35 ounces) white sugar
¼ teaspoon salt
70g (2.5 ounces) butter, melted
15g (0.5 ounces) milk powder
70g (2.5 ounces) white chocolate, melted and cooled
Instructions
Vanilla Cake:
Pre-heat your oven to 350F - 180C and line a rectangle pan with baking paper. Ideally, the pan has around 35x25cm or a similar size. Place aside.
Sift the flour with salt and baking powder and place aside.
Mix the butter with sugar in a bowl for 3 minutes until creamy and pale.
Add the eggs, one by one, and mix well after each addition.
While mixing at medium speed, slowly pour in the buttermilk, followed by the vegetable oil and vanilla then turn the mixer on high speed and mix for 6 minutes until double in volume.
Fold in the flour then spoon the batter in your prepared pan.
Bake for about 25-30 minutes until golden brown and the cake springs back if pushed slightly on its surface.
Remove from the oven and allow to cool aside.
Raspberry Sauce:
Puree the raspberry then pass it through a fine sieve to remove the seeds.
mix the raspberry puree with the sugar and pectin powder in a saucepan and place over low heat.
Bring to a boil and cook for 5 minutes then remove from heat and allow to cool completely.
Liquid Cheesecake:
Line a small baking pan with baking paper and grease it with butter. Place aside.
Mix the cream cheese with sugar for 2 minutes.
In a small bowl, combine the eggs with cornstarch, milk, salt and vanilla and mix well.
Slowly pour the egg mix over the cream cheese, mixing well.
Spoon the cheesecake in the prepared pan then place the pan in a bigger one. Pour hot water in the bigger pan and place in the pre-heated oven at 350F for 20 minutes. You don't need to cook this cheesecake down, the center is supposed to still be jiggly and the sides shouldn't turn brown at all. This cheesecake will be used as frosting and spread between the layers of the cake.
Allow to cool in the pan.
Lemon Curd:
Find the recipe in the link above.
Milk Crumbs
Combine 45g milk powder, the flour, cornstarch, sugar and salt in a bowl and mix well.
Drizzle in the melted butter and mix with a fork until clusters of dough form.
Spread the crumbs on a baking tray lined with parchment paper and bake in the preheated oven at 180C for 10 minutes.
Allow them to cool in the pan then transfer in a bowl. Sprinkle with the remaining milk powder and drizzle with melted chocolate, mixing to coat the crumbs evenly.
Place in the fridge to set.
To assemble the cake:
Mix the liquid cheesecake with half of the lemon curd. Reserve the remaining curd as you will be using it as well.
Place an 18cm cake ring on your cake board and line the ring with acetate sheets.
Cut 2 vanilla cake discs and place aside. Using the leftover cake, form at the bottom of the cake ring the first layer of the cake. It won't look pretty, but don't worry as this layer will be well hidden.
Top the cake layer with ? of the raspberry sauce. Spoon ? of the cheesecake mixture over the sauce then spoon dollops of lemon curd on top. What follows is a few fresh raspberries and ? of the milk crumbs. Place one of the vanilla cake discs you cut earlier into the cake ring as well and press it over the bottom layers. Repeat the same steps with raspberry sauce, cheesecake, lemon curd, milk crumbs and fresh raspberries.
Place in the fridge a few hours, preferably overnight then remove the cake ring and decorate with fresh raspberries.
Oana Olguta
I am a self-taught baker and pastry-school graduate and I have an affinity for food. But I especially love baking, taking pictures, exploring dessert cookbooks, entremets and writing. I focus on creative desserts and baking techniques that are aimed to both novices and experts in the kitchen and I truly believe that being a pastry chef is not about looking for innovative ways of making desserts, but about learning the basic techniques and then combining them into new, original desserts, relying on textures and flavors.