Grilled Zucchini Bruschetta is a wonderful summertime dish. Fresh vegetables and nice toasty bread combine to kick off a summer barbecue just right!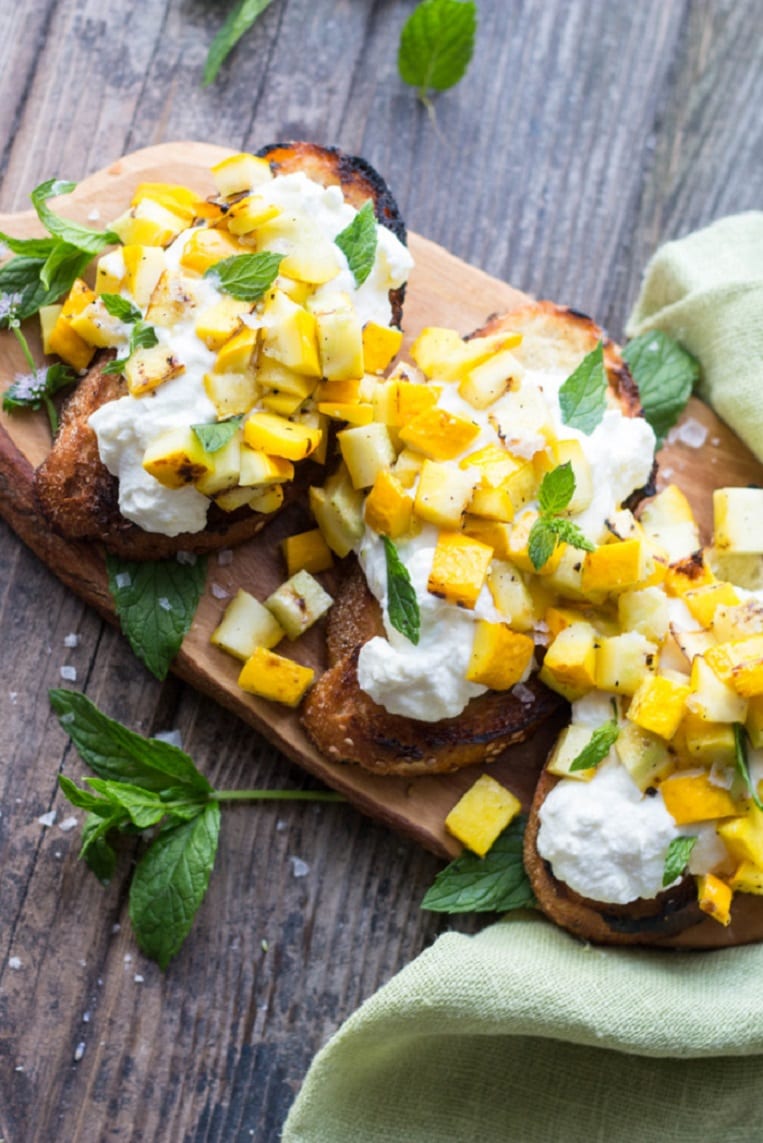 Hey there! How's your summer going so far? I hope it's had lots of sunshine, ice cream and good company. Not to brag or nothin', but I have to say mine's been pretty stellar. I've done lots of traveling, I've had a few good beach days, and lots of people have been gifting me their gorgeous summer vegetables. That might sound like a strange, even unwanted gift to a lot of people, but to me, there's nothing better!
A few weeks ago, my friend Tina dropped off some zucchini from her garden, and just last week, my friend and farmer Carey gave me a boatload of produce from B&B Farms/Sea Salt CSA. There was so much beautiful hard neck garlic in that bag, I should have enough to last me through the rest of the summer (and hopefully a few cloves leftover to plant in the fall). If you happen to come across me in the streets over the next few weeks, expect to get hit with some fierce garlic breath.
When I went to pick up my produce I was met by Carey's mom, the one and only Mama Shark! She insisted I take home some of her homegrown yellow zucchini along with my other farm swag. They were beauties! Soft skinned and bright school-bus-yellow, I took them home and got right to work on this recipe.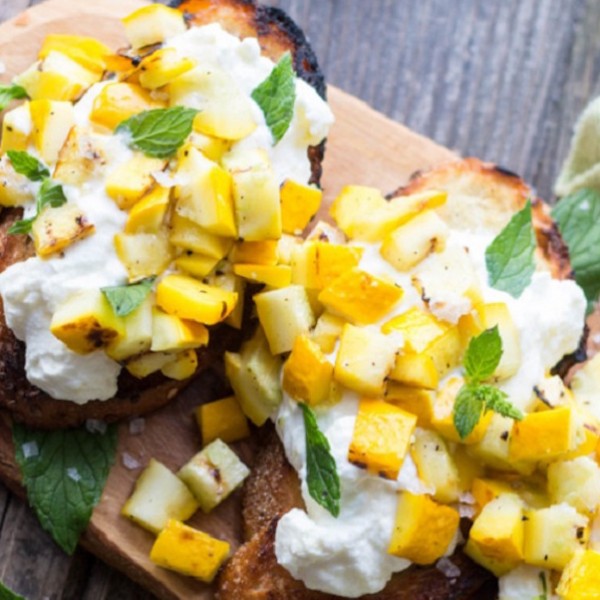 Nicole Gaffney
Ingredients
2

medium zucchini or summer squash

sliced 1/2 inch thick, lengthwise

1/4

cup

plus 2 tablespoons extra virgin olive oil

divided

salt and pepper to taste

8-10

pieces

good quality crusty bread

sliced about 1 inch thick, on a diagonal

1

cup

heavy cream

ice cold

1

pint

2 cups whole milk ricotta cheese

zest from 1 small lemon

1/2

cup

fresh mint leaves

Flaky sea salt

like Maldon for finishing, optional
Instructions
Preheat a grill or grill pan to high heat. Toss the zucchini with 2 tablespoons of olive oil, salt and pepper. Brush the remaining 1/4 cup of olive oil on to each side of each slice of bread. Grill the zucchini until each piece is charred on the outside, but still firm inside. Don't let them go too long, you don't want them to become mush. Grill the bread until nicely toasted on each side, letting parts get a little charred, then set aside. Allow the zucchini to cool, then cut each strip into a large dice and place them in a bowl. Taste, and season with more salt and pepper if needed.

In a medium sized bowl, use a balloon whisk or electric mixer to whip the cream to barely soft peaks. Gently fold in the lemon zest, ricotta and a small pinch of salt until fully combined.

Arrange the grilled bread slices out on a platter. Spoon a generous dollop of the whipped ricotta on to each toast, and spread it out just a bit. Top with a spoonful of the grilled zucchini, then scatter and tear the mint leaves over top. Sprinkle with flaky sea salt. Garnish with a few sprigs of mint if desired, and serve immediately.