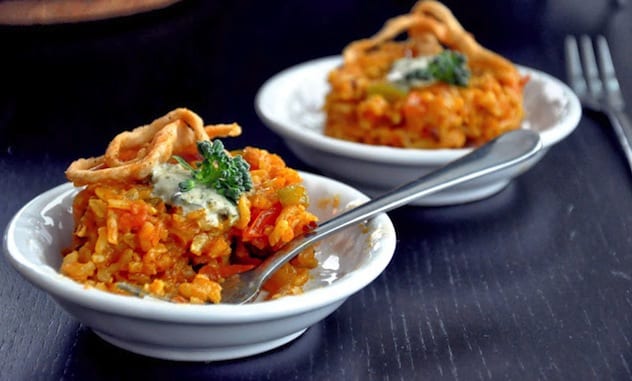 Light, spicy brown rice with tomatoes is quick to make with leftover rice.
By Shuchi Mittal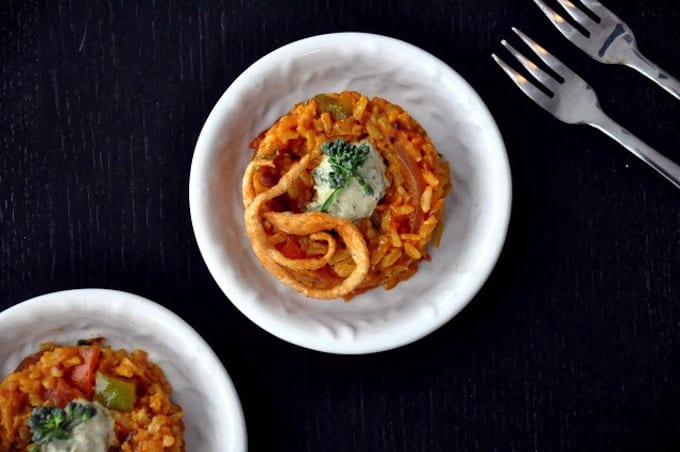 "A dash of red
On a day so white,
That welcoming spice
In a meal so light.
It adds a kick
To an energy drain,
This cold cold weather
Does freeze the brain!
Warm & fragrant
You want that spoon,
Fill your mouth shamelessly
And just swoon…."
Spicy Tomato Brown Rice
Ingredients
2 cups brown rice, boiled (leftover rice from your Chinese takeout works well too)
1 small red onion, sliced lengthwise
4 plum tomatoes, diced
½ green pepper, diced
2 dried red chilies
6-7 curry leaves
2 cloves garlic, minced
1 teaspoon fresh ginger, grated
½ teaspoon roasted cumin powder
½ teaspoon mustard seeds
1 tablespoon coriander powder
½ teaspoon garam masala
½ teaspoon turmeric powder
1 tablespoon tomato paste
3 tablespoons light olive oil
A bunch of fresh mint leaves, roughly chopped
Salt to taste
Instructions
Heat oil in a pan. Add mustard seeds, chilies, curry leaves, garlic and ginger and cook till the seeds begin to splutter.
Add onions and cook for another few minutes till they turn translucent.
Now add the tomatoes, green pepper and all the dry spices. Turn flame to medium-low, cover and cook till the tomatoes are tender.
Uncover and add the tomato paste along with ½ cup water.
Cook till the mixture begins to simmer and then add the rice & mint leaves.
Mix well, adjust seasoning and cook for a few minutes till the rice has absorbed any excess liquid.
Serve hot with a dash of yogurt and crispy poppadams.
Shuchi Mittal
Shuchi cooks with the heart of a poet. Banker turned chef, she runs the 29. Private Kitchen in NYC focusing on social tasting events, dining experiences and small-scale private events. Using simple & wholesome ingredients, she likes to re-invent homemade Indian flavors into modern tapas & small plates. Her dream? To cook, feed, write, and eventually open her own communal dining cafe - with a published recipe book on the stands.