Boozy, dark chocolate brownies with a nutty glaze.
By Pallavi Gupta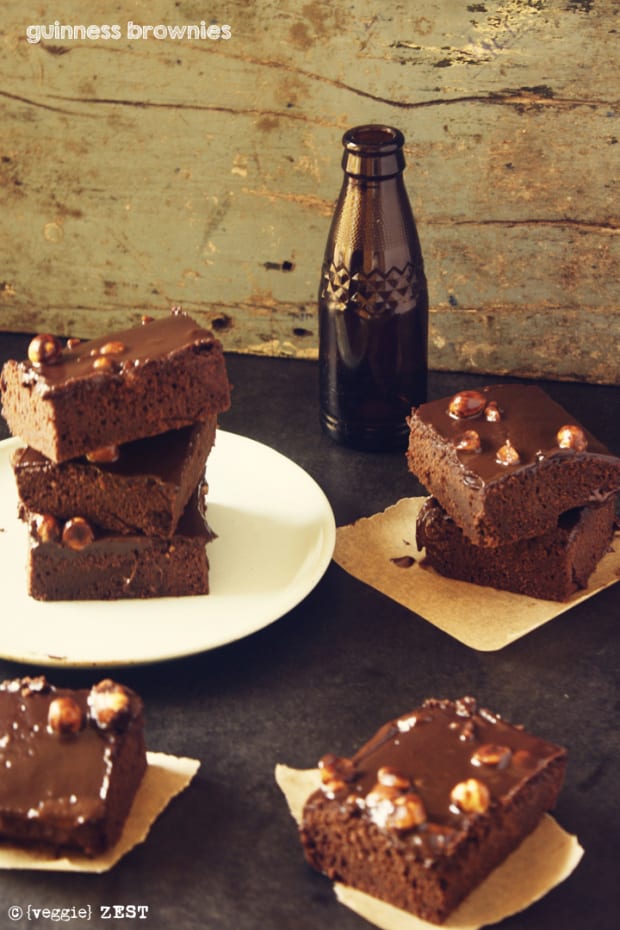 You definitely taste Guinness in the brownies, but if you like a stronger boozy flavor then you can add a little more in the glaze. Its totally optional as it does make the glaze slightly bitter, but if you like that flavor then go for it. Try these grown up brownies, they are a little different from the regular ones.

Decadent Guinness Brownies
Ingredients
Brownies
1 cup Guinness (or any other stout beer)
1 cup butter
½ cup chopped dark chocolate
1 cup sugar
¾ cup unsweetened cocoa
1 cup all purpose flour
3 eggs
Glaze
¼ cup water
¼ cup Guinness (optional)
½ cup chopped dark chocolate
1 tbsp sugar
1 tbsp unsweetened cocoa
1 tbsp butter
Hazelnuts Toasted, optional
Instructions
Brownies
Preheat the oven at 350 F. Grease a 9×9 inch square pan.
Add Guinness, butter and chocolate in a deep pan. Cook on low heat till the chocolate and butter melts forming a smooth sauce like consistency. Let cool.
Once the sauce cools down (slightly warmer than room temperature), add cocoa and whisk well to form a lump free mixture. Keep aside.
In a separate bowl whisk sugar and eggs together till it becomes pale and frothy.
Add the Guinness sauce and mix well.
Fold in the flour – the batter is ready. Pour into the pan and bake for 30 to 35 minutes.
Cool the brownies completely before glazing or cutting.
Glaze
In a saucepan add all the ingredients and cook on low till it becomes a smooth sauce. Continue to cook for about 3 to 5 minutes or till the sauce thickens a bit.
Stir in nuts.
Cool completely before pouring on the brownies.
Pallavi Gupta
Pallavi is a vegetarian globetrotter, who currently lives in the southern part of India. Past ten years of her life includes living in six cities in three different countries. It has added to her vast exposure of cuisines from different parts of the world which is now reflected in her cooking. She shares her knowledge of vegetarian and vegan recipe from around the world via her blog Veggie Zest. When not cooking or photographing, she does graphic design.