Lemon and Raspberry Polenta Cake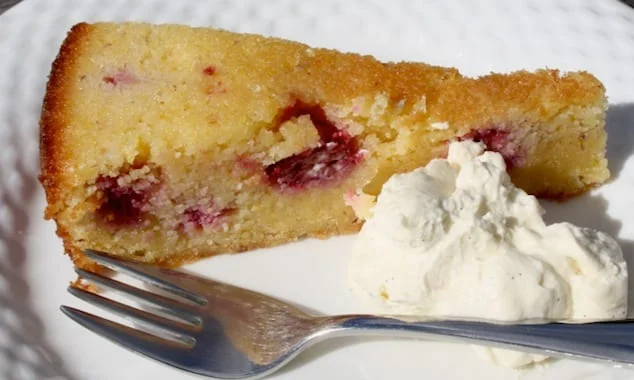 This moist polenta cake is a perfect gluten-free treat. The tart raspberries cut through to the rich lemon flavor for a refreshing tea cake.
By Lauren Tangey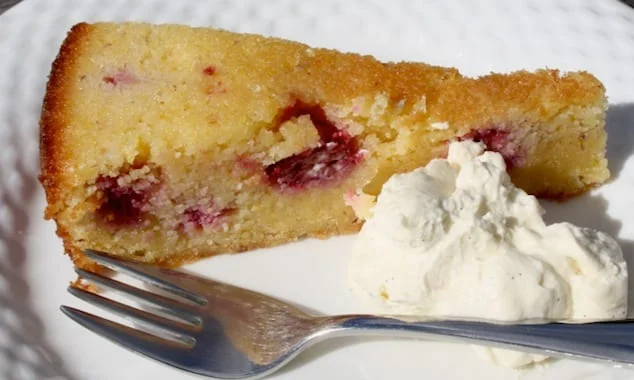 I made this recipe for my wonderful mother-in-law while we were living in their home. Cathy is celiac, and her daughter, my sister-in-law, is gluten intolerant, so a lot of cakes and biccies and things are out of the question. I was dubious of how this would turn out, but I was pleasantly surprised. It's moist and tart raspberries cut through the rich lemon flavour – a real spring summer afternoon tea and cake treat.

Lemon and Raspberry Polenta Cake
This moist polenta cake is a perfect gluten-free treat. The tart raspberries cut through to the rich lemon flavor for a refreshing tea cake. Adapted from a recipe by Nigella Lawson
Ingredients
220g unsalted butter, soft and cubed
1 cup caster sugar
1¼ cup almond meal
¾ cup of polenta (cornmeal)
1½ teaspoons of gluten free baking powder
3 large free-range eggs
zest of two large lemons
1 cup of frozen or fresh raspberries
Instructions
Pre-heat oven to 180*C
Line the base of a 23cm / 9inch springform cake tin with baking paper and give a quick spray of non-stick oil around the edges.
Cream the butter and sugar until soft and pale.
In a seperate bowl, combine the almond meal, polenta and baking powder. Mix ¼ of this into the creamed butter sugar mixture.
Follow this by adding one egg, then another ¼ of the dry mixture. Alternate dry ingredients and eggs beating the whole time until all the mixture is combined.
Stir in the lemon zest and fold through the raspberries.
Pour the mixture into your prepared cake tin and bake in the oven for 40-50minutes.
Test with a dry skewer; if it comes out clean, it's ready.. if not, pop it back into the oven for another 10minutes.
Allow the cake to cool in the tin before serving.
Serve with fresh whipped vanilla cream.
Lolly
Food Lover. Food Blogger. Chef. Mother. Lover. Free Spirit. Ever Evolving... Lauren Tangey thinks food is exciting and not to mention versatile. It's time to get back to basics. It's time to get involved in the food we eat.