This healthy eggplant parmesan is just as good if not better than the regular caloric glob.
By Kelly Morisson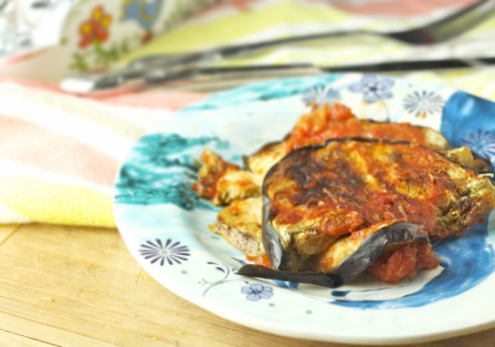 Healthy Eggplant Parmesan
This healthy eggplant parmesan is just as good if not better than the regular caloric glob.
Ingredients
1 large eggplant, sliced into ¼ inch thick slices
1 ½ cups canned tomato sauce
1 teaspoon oregano
1 teaspoon basil
½ cup shredded cheese (see note below)
salt and pepper, to taste
Instructions
Preheat broiler. Line an 8x8 baking dish with foil and set aside.
Place the eggplant slices in an even layer on a baking sheet. Spray with olive oil cooking spray and sprinkle with salt. Broil eggplant slices for about 7 minutes or until browned, flip, and broil for about 5 more minutes.
Meanwhile, measure the tomato sauce out in a 2-cup glass measuring cup, and stir in oregano, basil, salt, and pepper. In the prepared baking dish, layer: ½ cup sauce, ½ the eggplant slices, ½ cup sauce, ¼ cup cheese, ½ the eggplant, ½ cup sauce, and ¼ cup cheese. Bake in the oven at 425 degrees Fahrenheit for 25 minutes. Devour.
Notes
Use any kind of shredded cheese you like. I used reduced fat Beemster. To keep this recipe vegan, use vegan cheese. To keep this recipe low sodium, omit salt.
Kelly Morrison
At the age of thirteen, Kelly Morrison founded Foodie Fiasco, a popular healthy recipe website that provides the ultimate guide to having it all: happiness, decadence, and loose pants. Five years later, she currently resides in West Hollywood, CA, where she spends her days developing recipes, photographing food and her cats, and writing bios in the third person.