White Asparagus of Bassano del Grappa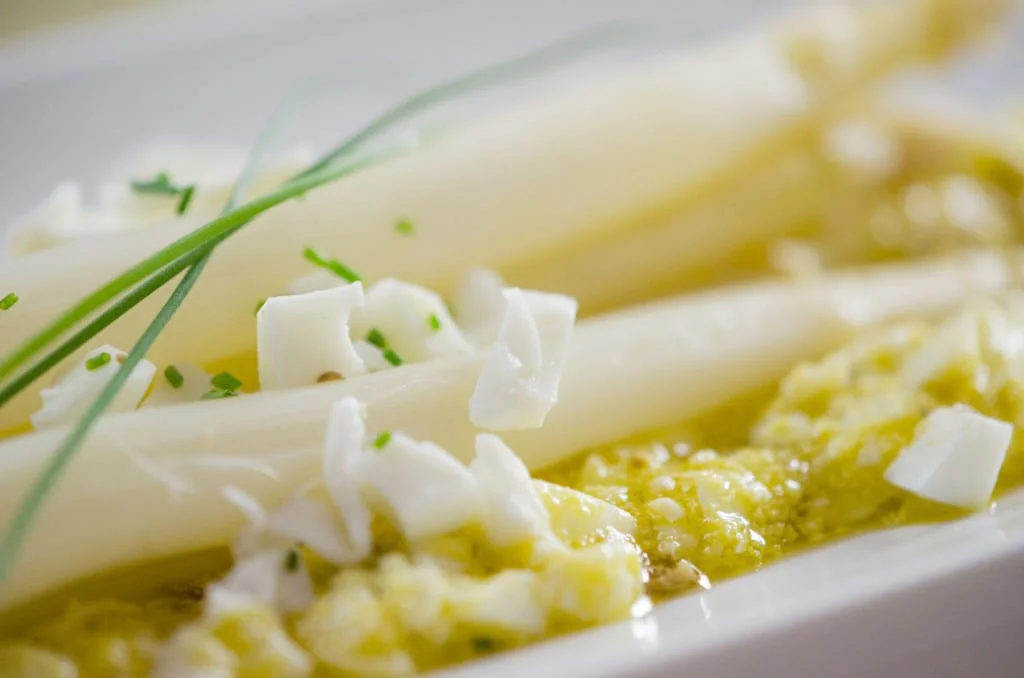 You can either serve the sauce on the side, and dip individual spears into the sauce, or toss the spears with the sauce and serve, topped with additional egg whites.
By Kathy Bechtel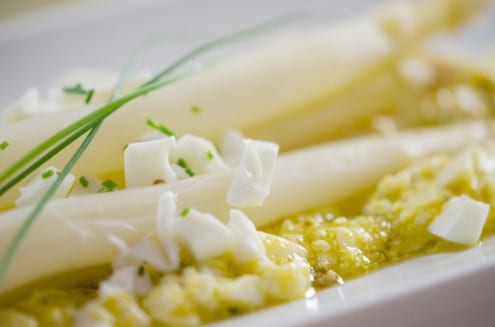 The following recipe is from La Cucina Italiana, a classic combination of asparagus and eggs.
White Asparagus of Bassano del Grappa
You can either serve the sauce on the side, and dip individual spears into the sauce, or toss the spears with the sauce and serve, topped with additional egg whites.
Author:
Kathy Bechtel, adapted from La Cucina Italiana
Ingredients
1 lb. asparagus, woody ends trimmed and peeled if skin seems thick
3 large, hard boiled eggs, shells removed and cut in half, yolks separated
2 tablespoons lemon juice
½ cup extra virgin olive oil
2 salt cured anchovy filets, boned, rinsed and chopped
1 tablespoon capers, rinsed and chopped
Kosher salt and freshly ground pepper
Instructions
Tie the asparagus stalks in small bunches and stand them up in a high, narrow pan. My pan is not narrow enough, so I use mason jars to take up any excess space, so the asparagus bundles are upright. Add water to about two-thirds up the length of the stalks, the tips should be above the water, and simmer them until tender, about 8 minutes.
To make the sauce, press the hard boiled egg yolks through a sieve, into a small bowl. Stir in the lemon juice, and then, stirring constantly, slowly drizzle in the olive oil. Chop the egg whites and add most of them to the sauce, reserving a bit for garnish. Add the anchovies and capers; season with salt and pepper, and additional lemon juice if desired.
Kathy Bechtel
Kathy Bechtel's obsession with food and cooking began as a teenager. After years following a traditional career path as a telecommunications engineer, she left to attend culinary school and wine training, and is now combining her passions for food and wine, the outdoors, and travel as owner and Culinary Tour Director of Italiaoutdoors. In this role, Kathy leads small bicycle, skiing and walking tours that explore the authentic regional cuisines, local products and undiscovered wines of Northeastern Italy.