These delicate marshmallows have the same subtle floral, slightly coconut-y flavor and light purple hue of taro root.
By Amrita Rawat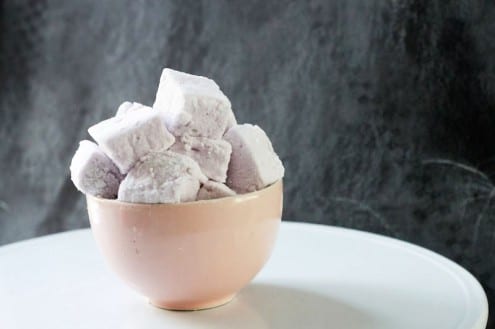 Homemade Taro Marshmallows
These delicate marshmallows have the same subtle floral, slightly coconut-y flavor and light purple hue of taro root.
Author:
Amrita Rawat, adapted from Marshmallow Madness
Ingredients
4½ tsp unflavored powdered gelatin
½ cup cold water
¾ cup sugar
½ cup corn syrup
¼ cup water
pinch of salt
3 heaping tablespoons taro powder (or here or here)
½ cup powdered sugar + ¼ cup potato starch (mix together)
Instructions
Pour the water in a microwaveable bowl and sprinkle the gelatin evenly on top. Set aside until the gelatin powder is immersed in the water.
Stir together the sugar, corn syrup, water, and salt in a saucepan over high heat.
Use a candy thermometer and boil until it reaches 238 degrees F.
While it's boiling, warm the bowl with the gelatin and water for about 30 seconds in a microwave, and then vigorously stir until properly melted.
Add in the taro powder and stir until the powder is melted (you might need to zap it one more time to warm it up enough).
Add the mixture to a stand mixer and start running on low.
When the syrup reaches the correct temperature, slowly pour it into the mixer bowl while it's running.
Increase the speed to medium and beat for 5 minutes.
Then beat on high for a couple of minutes until fluffy and white and tripled in volume.
Pour into prepared pan, using an offset spatula to smooth out the top and smooth into corners.
Sift the powdered sugar/potato starch coating evenly and generously over the top.
Let sit for about 6 hours (usually overnight) in a cool, dry place.
Use a knife to loosen the marshmallow from the edges of the pan.
Invert onto a cutting board that is covered in the powdered sugar/potato starch mix and cut into whatever sizes you wish (use a cookie cutter for funsies).
Dip the sticky edges into more coating.
Store in a container with lots of the powdered sugar and potato starch mixture, it tends to get sticky over time.
Consume in about a week or two.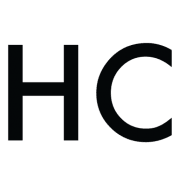 Amrita Song
Amrita Rawat is the author of the blog Chai and Dumplings. Born in India and a lifelong resident of Atlanta, she recently moved to Saint Louis. Her love for food stems in part from its ability to bring cultures together and in part from how darn good it feels to eat a delicious meal. She loves traveling and has eaten her way through cities like Hong Kong, Paris, Budapest, Mumbai, and Shangri-la. Amrita is also a contributor to Sauce Magazine in St Louis.