There are just three basic ingredients, plus a little lemon zest, in this soufflé-like dessert that gets its sweetness from white chocolate.
By Ann Low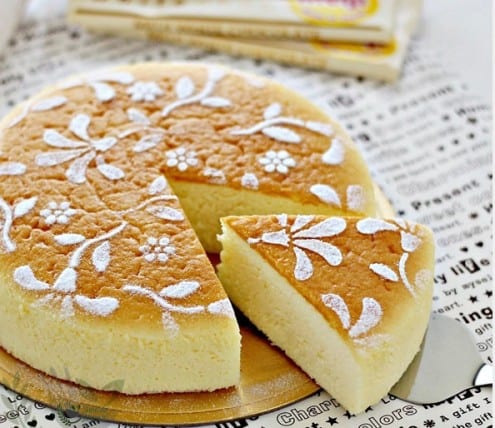 Soufflé Cheesecake
There are just three basic ingredients, plus a little lemon zest, in this soufflé-like dessert that gets its sweetness from white chocolate.
Ingredients
125g Cream cheese, room temperature
120g White chocolate (Meiji brand)
3 Cold Eggs, 70g each
½ tbsp Lemon juice and zest of half lemon
Instructions
Line a 7 inch cake pan at the bottom and grease the sides with butter, set aside.
Separate the eggs. Place egg whites in the fridge which makes the meringue more stable.
Preheat oven to 170 degrees C.
Break white chocolate into pieces in a large bowl and melt in a double boiler over hot water. Mix chocolate to smooth. Then add cream cheese into it and stir till smooth with a hand whisk.
Remove the bowl from double boiler. Add egg yolks, mix well followed by lemon juice and zest, mix well again with a hand whisk, set aside.
Whisk egg whites with an electric mixer until firm peaks form. If it's thick enough, you can turn the bowl upside down without it sliding out.
Add ⅓ meringue into the cream cheese batter and blend well with a rubber spatula. Then add the rest of the meringue and mix well.
Drop the pan lightly on the counter top to release the air bubbles out of the batter.
Steam bake the cake for 15 minutes then lower the temperature to 160 degrees C for 15 minutes. Turn off the oven temperature and leave the cake inside the oven for another 15 minutes.
Leave the cake to cool completely before removing from the cake pan.
Chill the cake before consuming?about 2-3 hours) and dust with powdered sugar (or snow powder) if you like.
Ann Low
Ann Low is the author of Anncoo Journal, and loves to bake and cook for both family and friends. She acquired a strong passion for culinary skills from a very young age by watching her grandmother prepare delicious meals for the family. Ann believes that baking is an art and she wants to share her baking and cooking experiences with everyone in the world.