Quinoa Stuffed Endive with Blueberry and Basil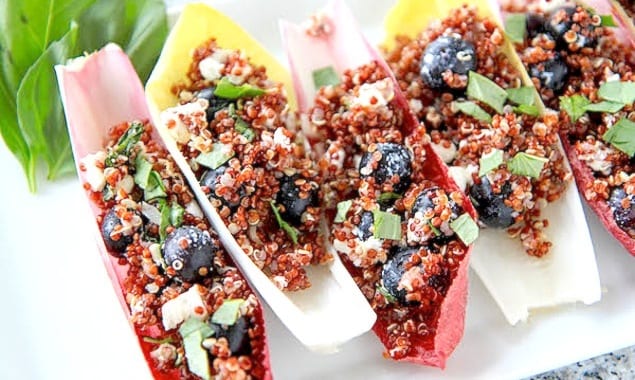 The combination may sound strange, but trust us, it works. A light vinaigrette and goat cheese brings this delicious, utensil-free salad together. A perfect outdoor picnic or barbecue food.
By Taylor Kadlec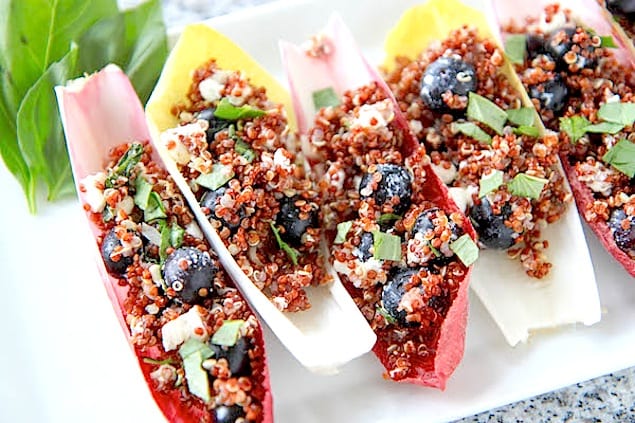 The combination of the blueberries and basil is delicious – it's like spring meets summer. I'll admit – the combo does sound weird but I promise, it works! Along with a light vinaigrette consisting of olive oil, honey, lemon juice, shallots, and garlic and goat cheese, the quinoa salad is so good you really could just eat it on it's own. However, after filling the endive leaves with the quinoa salad, they were great utensil-free appetizers at a BBQ .

Quinoa Stuffed Endive with Blueberry and Basil
The combination may sound strange, but trust us, it works. A light vinaigrette and goat cheese brings this delicious, utensil-free salad together. A perfect outdoor picnic or barbecue food.
Ingredients
½ cup uncooked quinoa, rinsed
1 cup water
for the dressing:
3 tbsp olive oil
2 tsp honey or maple syrup
1 tbsp lemon juice
1 finely chopped shallot
1 clove garlic, minced
¼ tsp salt
pepper, to taste
for the rest of the salad:
¾ cup fresh blueberries
3 tbsp fresh basil, chopped
¼ cup crumbled goat cheese
2 heads of endive
Instructions
Place quinoa and water in small pot.
Bring to a boil, then reduce heat and cover with lid.
Let simmer for 15-20 minutes, until water is absorbed.
Fluff and set aside to cool.
Make the dressing:
Place all ingredients in a small bowl and whisk well to combine.
Drizzle quinoa with dressing, to coat the quinoa evenly.
Add blueberries, basil, and goat cheese to dressed quinoa and stir gently to combine.
Cut the core off the endive, and then separate into individual leaves.
Spoon ~2 tbsp worth of quinoa mixture into each endive leave.
Serve immediately.
Taylor Kadlec
Taylor Kadlec is a lover of all things food including baking, cooking, and of course, eating. She is a self-taught baker and cook, and she shares her kitchen adventures on her blog Greens & Chocolate, where healthy cooking meets sinful indulgence.