This recipe calls for Kashmiri mirch, an Indian chili powder, but paprika will also work just fine to give these potato pancakes a kick.
By Chitra Agrawal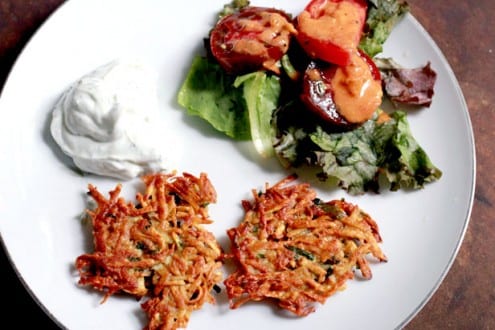 Spiced Yam Latkes
This recipe calls for Kashmiri mirch, an Indian chili powder, but paprika will also work just fine to give these potato pancakes a kick.
Ingredients
1 large yam (3/4 pound)
2 tablespoons oil
1 egg, beaten
1 tablespoon plain yogurt (Greek is what I used but I'm sure regular is fine)
1 tablespoon chickpea or all-purpose flour
½ teaspoon Kashmiri mirch, paprika or deggi mirch (more if you like hotter)
½ teaspoon cumin
1 tablespoon cilantro, chopped
salt & pepper to taste
Instructions
Peel your yam and grate it into a bowl. If there is moisture in your yams you can squeeze out with a cheese cloth. To the yams, add in your beaten egg, plain yogurt, Kashmiri mirch, cumin, salt and pepper. Next add in the chickpea flour – add more if you like your latkes more cakey and less if you like them a bit more hashy.
Place a plate lined with a paper towel on the side of the stove. Coat a non stick frying pan with oil under medium heat. When the oil is heated, put heaping teaspoons of the latke batter in the pan and flatten with your spatula. Make sure that your latkes comfortably fit in the pan because you will be flipping them. Cook until golden brown on bottom (1-2 minutes) and flip and cook until golden brown on the other side (1-2 minutes). Place the cooked latkes on the plate with the paper towel. Repeat for the remainder of your latke batter and add more oil as needed to the pan.
Chitra Agrawal
Chitra writes the food blog, The ABCD's of Cooking, which chronicles her adventures cooking American Born Confused Desi recipes. When she is not recipe blogging, Chitra can be found hosting her online cooking show and a supper club featuring Indian-inspired, vegetarian cuisine. She also teaches cooking classes and sells Indian street foods (sometimes yummy Indian tacos!) at events and artisanal markets in Brooklyn. Her cooking has appeared in the New York Times Dining Journal and she is a contributor to The Huffington Post, Gojee, The Daily Meal and Brooklyn Based.