Serve this delicate gnocchi with a simple garlic-sage brown butter sauce for a perfectly warming dinner.
By Bryan Picard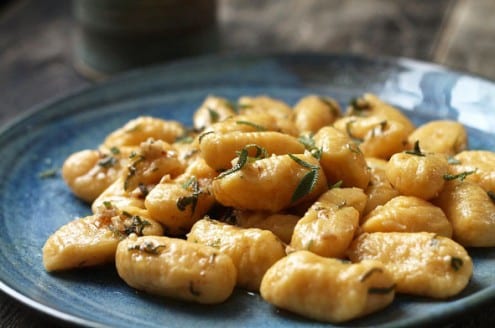 Butternut Squash Gnocchi
Serve this delicate gnocchi with a simple garlic-sage brown butter sauce for a perfectly warming dinner.
Ingredients
1 lb Yukon gold potatoes (about three medium)
½ cup pureed roasted butternut squash
1½ cup white flour, plus a little more for dusting
3 egg yolks
1 teaspoon sea salt
Instructions
Pre-heat the oven to 350°F.
Cut the potatoes in half and lay them on a baking sheet, face down.
Bake in the oven for about 45 minutes, until cooked thoroughly. You can roast your squash at the same time.
Remove the skin from the potatoes and mash them in a large bowl.
Add the squash and egg yolks and mix with a wooden spoon until well combined.
To this, add ¾ cup of the flour, the salt, and roughly mix together.
Add the rest of the flour and work with your hands until the dough is smooth and not to sticky on the outside. Add a bit more flour if needed.
Split the dough in four and roll them with your hands on a well-floured surface to form 1? thick logs, resembling long cigars.
With a dough cutter, cut each cigars into ½ inch pieces.
Roll each piece on a floured gnocchi board (or fork) with your thumb and lay them on a floured tray or sheet.
Bring a large pot of water to boil.
Cook the gnocchi in two batches for a few minutes, until they float to the surface.
Serve with you choice of sauce/cheese/herbs.
Bryan Picard
Bryan Picard is a wild and homegrown food enthusiast. He lives in the Maritimes in Canada and has worked the kitchens as a cook and chef for the past ten years. He writes on his blog The Bite House.