The various components of this towering, show-stopping dessert can be made ahead of time so all you need to do the day of is assemble and devour.
By Brittany Everett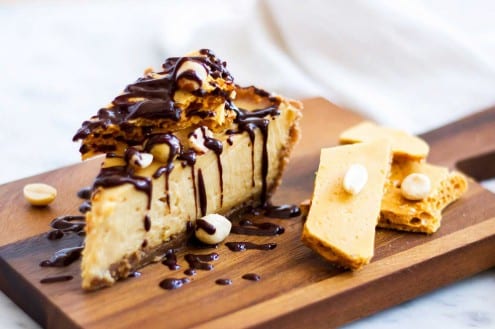 Chocolate Peanut Butter Honey Comb Pie
The various components of this towering, show-stopping dessert can be made ahead of time so all you need to do the day of is assemble and devour.
Ingredients
CRUST
9 graham crackers, coarsley crushed
¼ cup (packed) light brown sugar
¼ teaspoon kosher salt
⅛ teaspoon freshly grated nutmeg
6 tablespoons (3/4 stick) butter, melted
FILLING
8 large egg yolks
12 tablespoons sugar, divided
1½ cups whole milk
1 vanilla bean, split lengthwise
¾ cup (1½ sticks) unsalted butter, room temperature
1 cup creamy peanut butter
2 tablespoons powdered sugar
½ teaspoon kosher salt
TOPPING
2 ounces bittersweet chocolate (do not exceed 61% cacao), chopped
2½ tablespoons unsalted butter
Honeycomb (recipe below)
¼ cup roasted, salted peanuts
HONEYCOMB
1½ cups sugar
3 tablespoons corn syrup
1 tablespoon honey
1 tablespoon baking soda, sifted
Instructions
Honey Comb:
Line a baking sheet with parchment paper or foil.
Combine sugar, corn syrup, honey, and ¼ cup water in a heavy deep saucepan. Stir over medium-low heat until sugar dissolves. Increase heat to high; bring to a boil.
Cook without stirring, occasionally swirling pan and brushing down sides with a wet pastry brush, until sugar turns pale amber.
Working quickly, add baking soda (mixture will foam up dramatically); whisk quickly just to combine. Immediately pour candy over prepared sheet (do not spread out).
Let stand undisturbed until cool, about 20 minutes. Hit candy in several places with the handle of a knife to crack into pieces.
Crust:
Preheat oven to 325°.
Finely grind graham crackers, sugar, salt, and nutmeg in a food processor.
Transfer crumb mixture to a medium bowl. Add butter and stir to blend. Use bottom and sides of a measuring cup to pack crumbs onto bottom and up sides of 9" glass or metal pie pan.
Bake until golden brown, about 15 minutes. Let cool.
Filling:
Mix yolks and 6 Tbsp. sugar in the bowl of a stand mixer fitted with a whisk attachment. Beat at high speed until ribbons form, stopping once to scrape down sides of bowl, about 2 minutes.
Combine milk and remaining 6 Tbsp. sugar in a large saucepan; scrape in seeds from vanilla bean and add bean. Bring to a boil, stirring to dissolve sugar. Remove bean. With mixer running, gradually add hot milk mixture to yolk mixture.
Scrape mixture back into pan. Clean bowl. Whisking constantly, bring to a boil over medium heat. Remove pan from heat; whisk vigorously for 1 minute.
Return custard to mixing bowl, beat on high speed until cool, about 4 minutes. Mix in butter 1 Tbsp. at a time. Add peanut butter, powdered sugar, and salt; beat to blend. Scrape filling into cooled crust; smooth top. Chill until set, 2-3 hours.
Topping:
Stir chocolate and butter in a medium bowl set over a saucepan of simmering water until melted and smooth.
Drizzle some of the chocolate glaze over the peanut butter filling, making a circle in the middle of the pie and leaving a 1"-2" plain border.
Pile pieces of honeycomb and salted peanuts on top, then drizzle remaining chocolate glaze over.
Note: While this suggestion is delicious, I find it leads to serving issues. The circle of chocolate hardens immediately on the cold pie, and when you add the rest of the toppings it's pretty difficult to get a clean slice. I recommend piling the honeycomb on the pie, followed by the chocolate drizzle and peanuts. You can drizzle extra chocolate on each slice, if desired.
Brittany Everett
A graphic designer by day, Brittany enjoys cooking, eating, photographing and discussing food with every other waking moment. She created Kitchenette, a food blog dedicated to making delicious comfort foods from scratch and with love.