Learn how to make the whipped cream-filled brioche bons that no Roman – and to be honest, no one else either – can resist.
Maritozzi are fragrant, sweet-dough buns sliced in half and stuffed with smooth, fresh whipped cream. They are a staple in Rome's pasticcerie, and commonly found during the breakfast hours in coffee bars around the Eternal City. When my husband was a little boy, on special occasions his parents would bring maritozzi con la panna home from their favorite neighborhood pastry shop. Sometimes, when my husband joined his father Andrea for a morning caffè at the bar, Andrea would let him have a maritozzo.
Some traditional Roman maritozzi recipes call for sultans, pine nuts and candied orange peel. We prefer a simple sweet dough recipe with only orange zest providing a mild citrus flavor, just like those my husband recalls from his childhood.
See Also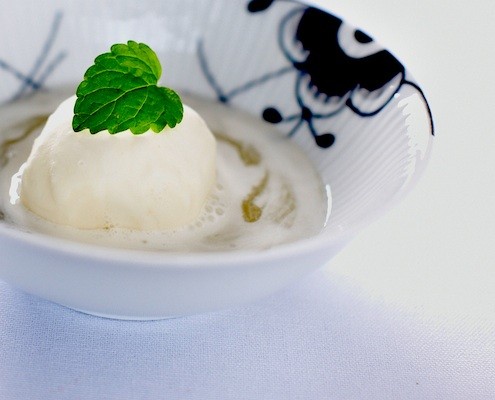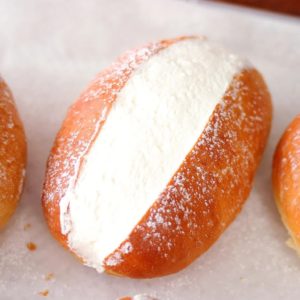 Maritozzi con la Panna: Cream Filled Italian Buns
Cara Quinn
Learn how to make the whipped cream-filled brioche bons that no Roman - and to be honest, no one else either - can resist.
Rising time
3
hrs
30
mins
Course
Baking, Dessert, Dolci
Ingredients
For the brioche
1 3/4

cup

Flour

250 grams plus extra for kneading

1/4

cup

Sugar

50 grams

1

pinch

Salt

1 pinch

1/2

cup

Water warm

125 ml

2

tsp

Active Dry Yeast

6 grams

1

tsp

Malted Milk

(or substitute honey)

3

tbsp

Butter

softened and cubed

1

Egg

yolk separated from the white

Zest of one orange
For the sugar glaze
1/2

cup

Water

50 ml

3/8

cup

Sugar

75 grams

Powdered sugar

to dust
For the filling
2

cups

Heavy Whipping Cream

500 ml

1/4

cup

Sugar

50 grams
Instructions
Stir the yeast in the warm (not hot) water until dissolved. Add the malted milk and stir until dissolved. Set aside. Measure the flour, sugar and salt into a medium bowl. Stir together. Form a well in the center and add the butter, egg yolk and orange zest. Slowly add the liquid, mixing with a fork to gradually incorporate the flour mixture from the inside out.

When all of the liquid has been added and the dry mixture incorporated, remove the dough from the bowl and turn it out onto a smooth, lightly floured surface. Knead gently for 5 minutes until it forms a smooth, round ball.

Sprinkle a bit of flour inside a smaller bowl, place the dough inside and cover it loosely with plastic wrap. Let the dough rise in a warm location for at least 2 hours.

After two hours, add a sprinkle of flour to your work surface and turn your dough back out onto it. Divide your dough into 6 equal small, oval (or football shaped) buns. We used our food scale to ensure that they were equal sized. Place the buns onto a baking pan lined with parchment paper. Cover with plastic wrap and let rise for 30 minutes.

Beat the egg white lightly with a fork. Uncover the buns and reshape into ovals if needed. Use a pastry brush to Carefully brush the buns with egg white. Cover once again with plastic wrap and let rise for one hour more.

Bake at 180º C, 350º F for approximately 20 minutes, until the maritozzi are a deep golden brown on top.

While the maritozzi are baking, prepare the sugar glaze. Heat water until almost a boil, and then turn off the heat. Add the sugar and let dissolve, stirring just once or twice. Let cool.

When the maritozzi are done, remove them from the oven and while still hot, brush them with the sugar glaze. Let cool.

While the maritozzi are cooling, whip the cream together with the sugar to firm peaks.

When the maritozzi are completely cool, slice into them diagonally without cutting all the way through. If helpful, moisten your fingers and hold each maritozzo carefully at its base, to avoid the sugar glaze sticking to your fingers and pulling pieces of the brioche away. Dust with powdered sugar.

Using a pastry spatula, open up the "mouth" of each maritozzo and fill it with whipped cream, using the spatula to create a smooth edge, and a moistened paper towel to wipe away any extra whipped cream.

Enjoy as a decadent, Roman-style breakfast or with your afternoon espresso as a special treat.
Keyword
baking, italian, pastry
Cara Quinn & Stefano Follega
Due Spaghetti is our blog on the food, wine and other marvels of Italy. We are Italian expatriates living in the wonderful city of Minneapolis. Our mission is to share our favorite recipes, pairings, and other tips with you, so that you too can have a taste of La Dolce Vita. Ciao! I'm Stefano. I was born and grew up in Rome, where I helped my family tend to our olive groves and make olive oil each year, learned the secrets of homemade cooking from my mother and grandmother, and watched my father and grandfather make wine with grapes grown in the hill towns outside of Rome. Since then, I've studied wine formally through the International Sommelier Guild. I love sharing my knowledge of wine with others, especially when accompanied by authentic Italian food. Buon Giorno! I'm Cara. I am from the U.S., but I lived in Rome for 9 years, becoming enamored first with the Eternal City and then with Stefano. I married Stefano, became an Italian citizen, started our family in Rome, and while I was there I learned from family and friends the art of preparing Italian food and of appreciating life Italian style. I unwind in the kitchen, and find pleasure in serving delicious food to friends and family.