This dish is hearty and satisfying, and perfect for a night when nothing less than soul-warming will do.
By Faith Gorsky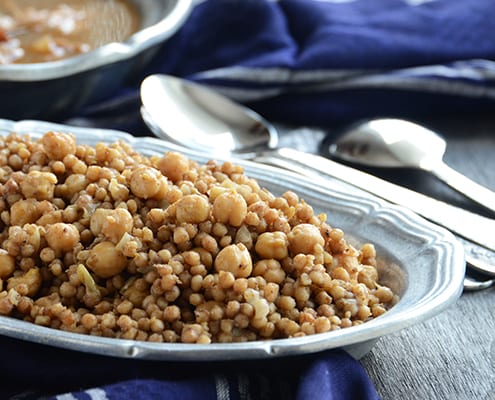 Cold weather comfort food varies across the world but shares one common thread: it's soul-warming, heating your body from the inside out. And if you're really lucky, it reminds you of home. When winter's frigid weather nipped at the door and howled at the windows, in Upstate New York I grew up eating savory veggie-laden stews, flaky crusted pot pies, and roast chicken or beef pot roast served with mashed potatoes and gravy. My husband, growing up in the Middle East, enjoyed maftoul.
Maftoul, known as Palestinian couscous, is made of wheat. According to Canaan Fair Trade, "The wheat is boiled, sun-dried and cracked, and hand-rolled in freshly ground organic whole wheat flour, then steamed and sun-dried." Like couscous, maftoul is traditionally cooked using special cooking equipment to steam it. Chickpeas are added to make it heartier, and onion to make it flavorful. Warm spices add depth and complexity to the dish.
See Also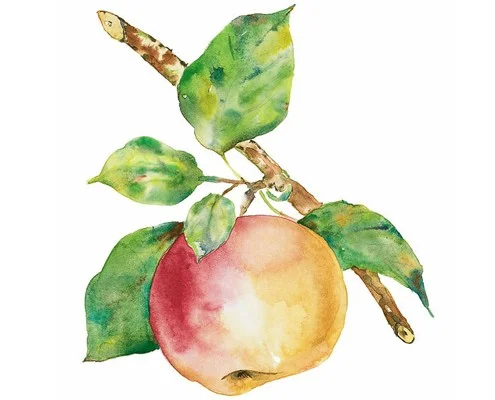 I don't have the special equipment for cooking this dish, so I make it using an easier method, very similar to the way I cook my rice. I start by melting down a good amount of onion into some ghee (clarified butter), which gives the dish a wonderfully nutty flavor. I add the maftoul and let it toast for a few minutes to let its own nutty flavor develop, and then I add hot stock, spices, and chickpeas. Once the stock is up to a boil, I cover the pot and turn the heat down to very low until the liquid is absorbed and the maftoul is tender.
When it comes to serving, the most common way to serve this dish is with a flavorful broth for spooning on top. If you used chicken stock to make the maftoul, it would be chicken broth, with pieces of boiled or roasted bone-in chicken; if you used beef or lamb stock, it would be beef or lamb broth with slow-cooked, falling-apart tender pieces of beef or lamb. Alternatively, to keep the dish vegetarian, maftoul can be served with a light tomato broth containing any veggies you like. Any way you make it, this dish is hearty and satisfying, and perfect for a night when nothing less than soul-warming will do.

Maftoul (Palestinian Couscous)
Perfect Middle Eastern comfort food for cold weather.
Ingredients
2 tablespoons ghee (clarified butter)
1 medium-large onion, chopped
2 cups (425 g) maftoul
1 teaspoon Middle Eastern 7 Spice Mix
1 teaspoon cumin
¼ teaspoon salt
¼ teaspoon black pepper
3 cups (.7 L) well-seasoned Middle Eastern lamb, beef, chicken, or vegetable stock, heated to boiling (see note below)
1 (16 oz/450 g) can chickpeas, rinsed and drained
Instructions
Melt the ghee in a medium saucepan over medium heat; add the onion and cook until softened but not browned, about 5 to 7 minutes, stirring occasionally.
Stir in the maftoul and cook until toasted and fragrant, about 3 to 5 minutes. Add the 7 Spice Mix, cumin, salt, black pepper, hot stock, and chickpeas.
Bring up to a boil, then cover the pot, turn the heat down to very low, and cook until the water is absorbed, about 15 to 20 minutes, stirring occasionally.
Turn the heat off and let the maftoul sit with the lid on for 15 minutes before fluffing and serving.
Notes
Stock: For this dish, I used a homemade lamb stock that I seasoned well with salt, pepper, Middle Eastern 7 Spice Mix, and several aromatics like carrot, celery, leek, onion, garlic, and parsley. If you prefer to use store-bought stock, you can add additional salt, pepper, and Middle Eastern 7 Spice Mix to taste. Serving: I served this with a lamb broth that had tender pieces of slow-cooked lamb to spoon on top.
Faith Gorsky
Faith Gorsky is the writer, recipe developer, photographer, and food stylist behind the blog An Edible Mosaic. Her recently-released first cookbook, An Edible Mosaic: Middle Eastern Fare with Extraordinary Flair (Tuttle Publishing), is a collection of authentic Middle Eastern recipes handed down to her from her husband's family during her extensive time spent in the Middle East. Faith loves to travel, especially to places steeped in rich culture and history.