Rich, dark, and decadent, these dark chocolate cookies have a double dose of chocolate and are only lacking a glass of milk or cup of tea to be dipped in.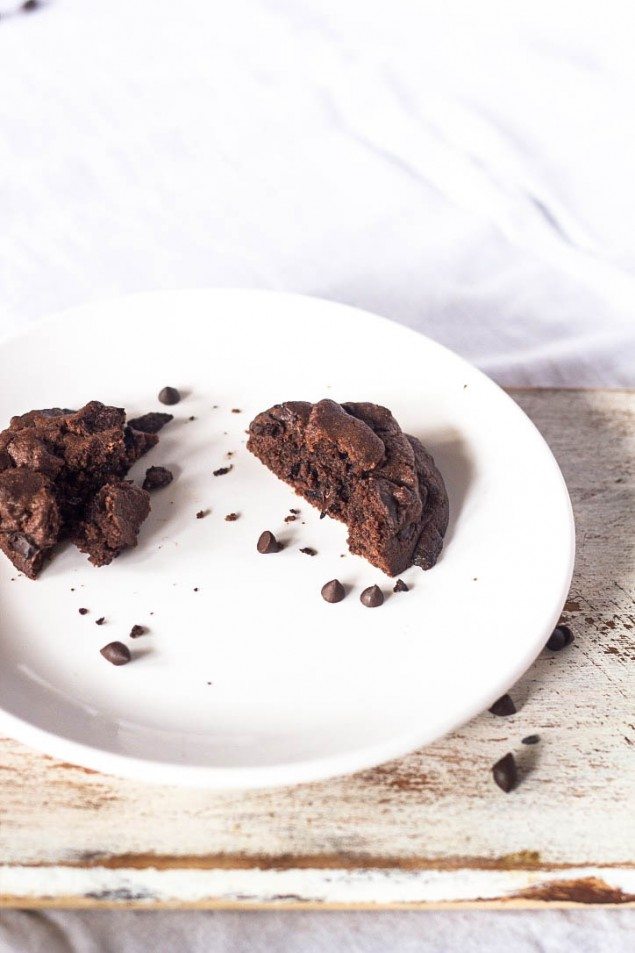 Here's the thing about cookies – they are a basic necessity. Boss gave you a earful? Here, grab this cookie. First date went well? Here's a plate of double dark chocolate cookies for celebration. PMSing? Well, duh! Cookies have the answer, of course!
There's a chocolate chip cookie and then there's a double dark chocolate cookie, which has all the same goodness but with the added divine goodness of dark chocolate.
Usually, my method is to add a spoonful of cocoa powder for the indulgent chocolate touch but this time, I decided to try something more luxurious; silky, smooth melted dark chocolate. There's just something decadent and indulgent about melted chocolate. It is almost like getting seduced by it and there absolutely cannot be anything better than that now, can there?
Imagine serving these double dark chocolate cookies at a party or a sleepover? They will be an instant hit! I mean I'm yet to come across a person who may have that kind of self control or restraint when it comes to saying no to cookies! You just don't do that kind of a thing, you know!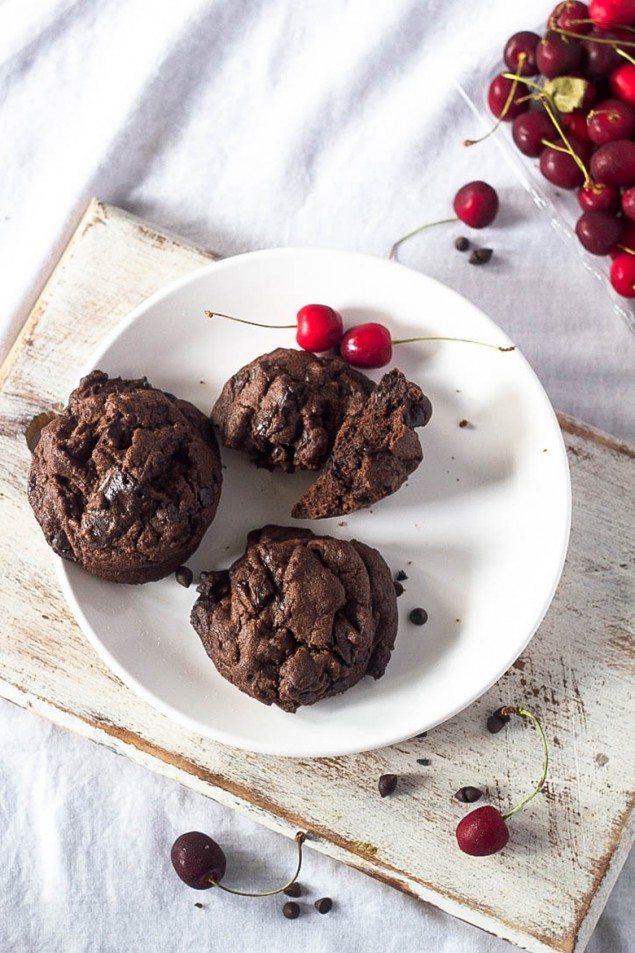 You first begin by melting together butter and dark chocolate.
Let me also warn you that this is also the most dangerous step when making these cookies. You need a tremendous amount of control over your will power so as to not dip your finger into this molten silky goodness or lick your spatula.
Okay, maybe you can do it once (or thrice) but stop right there, alright? You don't want your cookies to be any less chocolaty!
Everything that follows is then a breeze and also a possible impatience to have these cookies baked so you can smash them in your facial hole!
You then move ahead to add the sugars, beaten egg, flour, baking soda and last but most importantly, a tiny pinch of salt. You'd be surprised the difference that this small bit of salt can make to your cookies. Chocolate's chocolaty goodness intensifies x10.
Finally you add heaps of chocolate chunks and chocolate chips. I like to keep them frozen for a few hours before adding them to the cookie dough. I realized that by doing so, the chunks don't immediately melt and burn while baking and are still oozy and molten when out.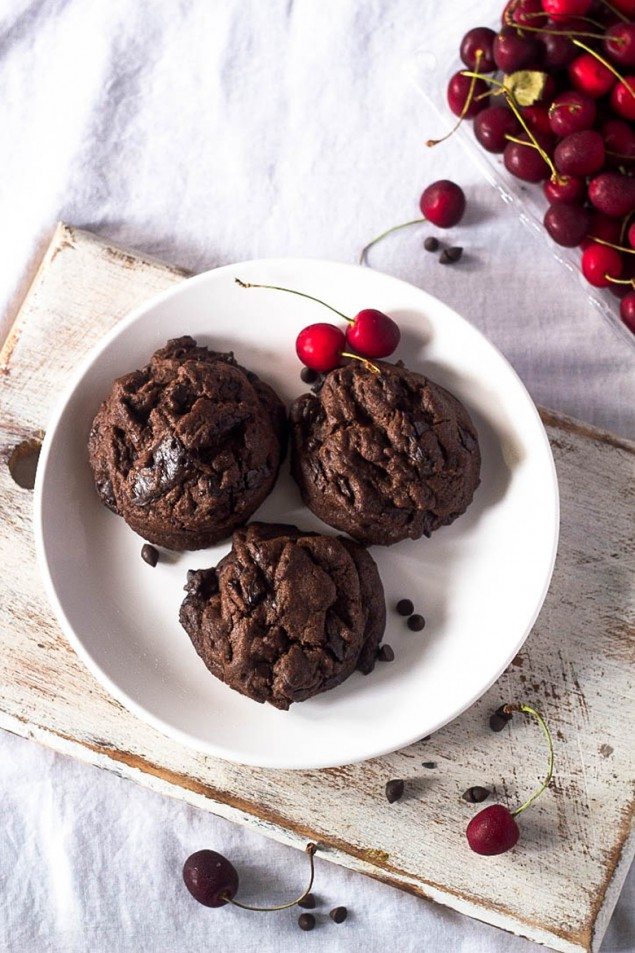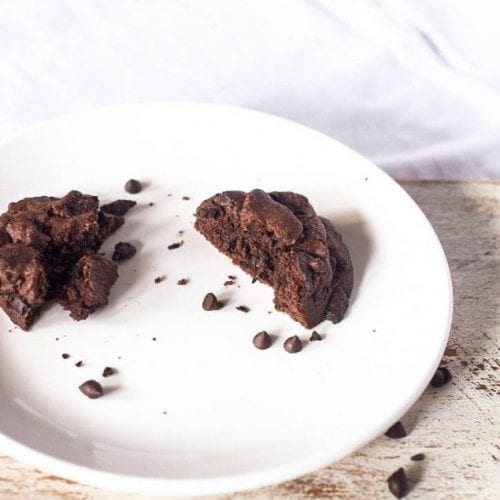 Samina Patel
Course
Baking, Chocolate, Cookies
Ingredients
50

grams

unsalted butter

50

grams

chopped dark chocolate

25

grams

brown sugar

25

grams

caster sugar

1/2

beaten egg

1/4

th teaspoon Vanilla extract

100

grams

flour

1/4

th teaspoon baking soda

1

small pinch of salt

50

grams

dark chocolate chunks

frozen for a couple of hours
Instructions
Preheat oven to 180 degrees Celsius (350F)

In a heavy bottom saucepan, fill water upto 2 inches and bring to boil. When it does, slow the heat to simmer.

Place your butter and chocolate in a clean glass / metal bowl and place over the simmering hot water. Melt them until just a few pieces of chocolate remain.

Take it off the heat and stir continuously to ensure the residual heat melt the tiny bits of chocolate.

Add both the sugar and stir well.

When the mix has cooled considerably, add half a beaten egg and mix well.

Add the Vanilla extract.

In another bowl, mix all dry ingredients (flour, salt and baking soda)

Add the dry ingredients in small increments into the melted chocolate mix and stir well until a firm dough forms.

Now add the chocolate chunks and mix well.

On a cookie tray lined with parchment paper, place scoops of the cookie dough about 2 -3 inches apart from each other as they will spread a fair bit.

Bake at 180 degrees C for 12 - 15 minutes, turning the tray halfway through bake time.

Take the tray out after baking, let the cookies sit for 10 - 15 minutes before transferring them to a wire rack to cool further.

However, these cookies are best enjoyed warm.
Samina Patel
Just a simple girl with a fancy camera and a well greased cake tin.